As I pointed out in an earlier post, European attempts to make the G-20 summits a platform to vent their frustrations about the financial crisis and the bonus system were ill-conceived since this is none of the G-20's business. That did not stop them from having a series of pre-summit, photo opp meetings where they claimed that they had arrived at a consensus. However the actual plan is so vague and is different within each country -- not a global standard.
Yet this year, President Obama, drove a very different agenda -- one focused on discussing how the world can form global governance and cooperate to stimulate the ailing economies.
In order to redefine that governance, the G 20 took a bold move to increase the share and voting rights of leading emerging nations in the IMF and the World Bank. For years, leading emerging nations, especially China, India and Brazil, have been asking for an increase of their quotas. The changes inacted at the G 20 are more symbolic (five percent in total) than substantial but they mark a major departure from previous refusals to even consider such changes, especially from Europe.
The leaders assembled in Pittsburgh also decided to give predominance to the G-20 over the G7 and the G8. This is a recognition that world affairs can no longer be dealt with among "rich nations" it is also recognition of the importance of Asia. Now China, India, South Korea, Indonesia and Australia are added as participants to the G-20. Both steps are essential and significant, even if it means a diluted influence of the "rich powers."
In this sense, the G-20 Pittsburgh meeting has been successful by focusing at last on its real mission to be the 'premier forum for international economic cooperation'. The G-20 is now followed this week by the General Assembly of the IMF and the World Bank in Istanbul.
But we should not dream: consensus at these international forums is very difficult even at the G7 and G8. Within the G 20, it will be even more complex. But, at least, this time, world leaders have accepted that they are only a forum and not a decisive regulatory body with the authority to execute their objectives.
World leaders need to empower the institutions that can act with authority and impact change such as the Board for Financial Stability and the Bank of International Settlements. Institutions like this are charged with reaching an agreement on capitalization of the financial services industry by 2012. While meetings of these organizations don't offer flashy photo opps like the G 20, they get the real work done which is where it belongs.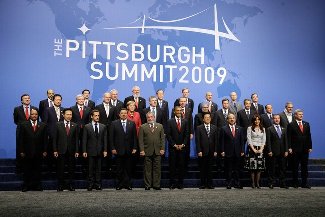 SUBSCRIBE AND FOLLOW
Get top stories and blog posts emailed to me each day. Newsletters may offer personalized content or advertisements.
Learn more