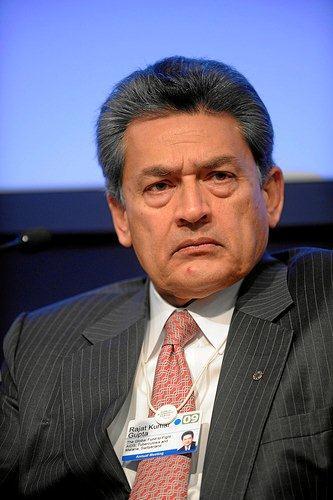 The SEC has decided to sue Rajat Gupta for insider trading: he allegedly passed on inside information of the Boards of Goldman Sachs and Procter & Gamble to his hedge fund friend Raj Rajaratnam, the manager of the Galleon hedge fund, now under bail.
I have known Rajat Gupta like many of us for over a decade, and often sought his advice on important matters. He is one of the most iconic Indian-American executives and made his career advising companies and ultimately running the "Vatican of Capitalism", McKinsey. "McKinsey is the closest thing the business world has to a confessional and he (Gupta) was the high priest" one US business school dean was quoted saying in Business Week. For a firm that thrives on its reputation, proximity to misdeeds of this sort could be fatal, according to former McKinsey consultants who spoke on the condition of anonymity. Former senior partner at consulting firm McKinsey & Co. Anil Kumar pleaded guilty to sharing secrets about clients and receiving $2 million in payments from his friend Rajaratnam, who has denied the assertion.
It is therefore for many of us a huge disappointment to see him involved in one of the dumbest things one could do on Wall Street.
I tried to figure out how this happened concretely and picked two examples from the TheStreet.com, a well known industry watcher and participant. They are absolutely damning for Rajat. Goldman Sachs CEO Lloyd Blankfein has agreed to testify for the prosecution in the trial that will start next week.
SEC alleges that Gupta took part in a special meeting of the Goldman Sachs board during the height of the 2008 financial crisis that considered, and eventually won, a $5 billion injection by Warren Buffett's Berkshire Hathaway. That meeting ended around 3:53 p.m.
By 3:57 p.m., the SEC says, Gupta had placed a call to Rajaratnam and Galleon had snapped up 175,000 shares of Goldman Sachs before the Buffett news hit the streets. A $900,000 trade was completed in less than four minutes.
A more profitable and equally impressive Goldman Sachs trade took place earlier in the year when, according to the SEC, Gupta tipped off Galleon to the fact that Goldman Sachs would have a better than expected quarter. Rajaratnam hit the markets immediately, snapping up 5,500 out-of-the-money Goldman options and more than 350,000 Goldman shares. When Galleon dumped the options in June -- just after the Goldman earnings announcement --they made a profit of $13.6 million.
There are several lessons to this sad story.
The first one is that Wall Street never learns and that even the smartest and the best act as if the rules apply to everybody, except to them. Insider trading never was totally eradicated after the Michael Milken Drexel Burnham Lambert story.
The second one is about greed. Most scandals of that type are performed by people who are wealthy: that is definitely the case of Rajat Gupta, and for that matter Bernie Madoff or Ramalinga Raju. Michael Milken cashed the same year a bonus of $500 million. There seems to be a run for more money that is gripping the imagination of the smartest and the wealthiest make them commit mistakes and forget any basic rule of prudence. Have they translated their super-ego into a dollar number?
The third one is more painful: this is happening on a large scale in India. The regulatory structure makes it possible for Board Members to benefit from their inside knowledge and that form of insider trading seems to be acceptable. In the meantime, the case has rocked not just Indian and NRI corporate circles but also Wall Street, where Gupta is highly-regarded as a management icon who epitomized immigrant industry and success.
The fourth one is whether Rajat Gupta was a victim of his friend or benefited from it. "Let me assure you, I have done nothing wrong. The SEC's allegations are totally baseless. I am informed by my lawyers that the case is based on speculation and unreliable third hand hearsay. Just to be clear: there are no tapes or any other direct evidence of me tipping Mr. Rajaratnam. I did not trade any of the securities involved, nor did I share in any of Mr. Rajaratnam profits" Gupta wrote in an e-mail to the Dean of the Hyderabad-based Indian School of Business (of which he is a co-founder) which was forwarded to the faculty and alumni. We all hope that this is true. It is however carefully worded: was Rajat an investor in the hedge fund? Does it matter whether he personally benefited if he betrayed his fiduciary responsibility as a Director?
In today's world, leaders, especially when they are iconic, are expected to display the highest standards of ethical behavior. Let's not let the lesson go without seriously reflecting on the standards that, beyond the letter of the law, we are expected to display.
SUBSCRIBE TO & FOLLOW THE MORNING EMAIL
The Morning Email helps you start your workday with everything you need to know: breaking news, entertainment and a dash of fun. Learn more