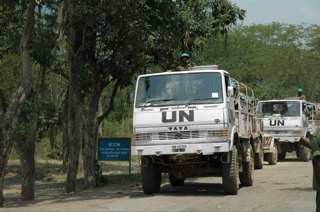 MONUC north of Goma, 2007
As America jubilantly celebrates the election of Barack Obama and the freedoms that predicated this historic moment, we should take pause and realize that nothing has changed for war-ravaged Central Africa. As writers for OffTheBus pack up our laptops and head on to other assignments, journalists in the Democratic Republic of Congo (DRC) are working under deadly conditions. Congolese journalist Alfred Nzonzo Bitwahiki Munyamariza was killed in the town of Rutshuru and Belgian journalist Thomas Scheen was kidnapped nearby. The International Federation of Journalists (IFJ) released a statement today warning, "journalists in Democratic Republic of Congo are facing extreme danger."
""Our colleagues covering the conflict in the Eastern part of the Democratic Republic of Congo are incredibly vulnerable to violence and abduction," said Gabriel Baglo, director of the IFJ Africa office.
As it is, coverage of this war has been spotty at best in the United States, with foreign journalists providing much of the on-the-ground coverage.
"The world cannot look away again as thousands suffer in eastern Congo. The people of Congo deserve more," said Juliette Prodhan, head of Oxfam in the Democratic Republic of Congo. "We have had fine words and important meetings but these must now be put into action by providing additional troops to safeguard the people. We need more urgency, more action and more commitment."
Munyamariza was a 27-year-old presenter on community radio station Radio Communautaire Ushikira( Racou). He was was killed on Tuesday by a single bullet in Rutshuru during a stampede that followed the attack on the village of Kiwanja, IFJ says.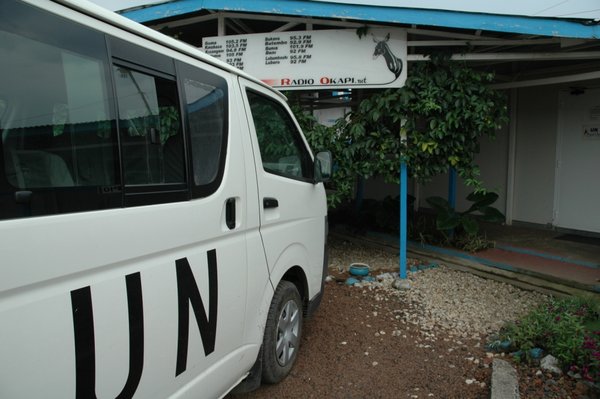 Community radio stations and Radio Okapi (MONUC) are often the only source of information villagers in these areas have regarding troop movements. MONUC and relief agencies report that over 60,000 children are affected and many of them have been separated from family and caretakers during the exodus of over 250,000 people.
The Belgian foreign ministry reports that Scheen,a Belgian reporter working for the German newspaper Frankfurter Allgemeine Zeitung, was kidnapped near Rutshuru on Tuesday by pro-government Mai Mai rebels.
Congolese Tutsi rebels under General Laurent Nkunda have captured villages in eastern Kivu province, which has seen over 1.5 million refugees in the months leading up to the latest offensive. MONUC reports the rebels are breaking their own ceasefire.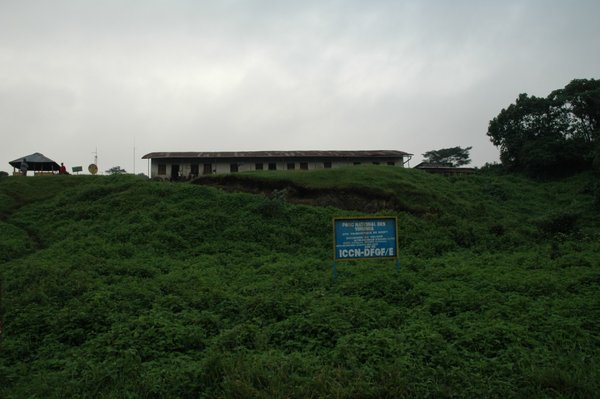 Image: Kibati station 2007
MONUC also reports plans for a summit of Great Lakes leaders on Friday, but relief organizations including Medecins Sans Frontieres (MSF) says armed aid convoys to Goma and Rutshuru are posing a risk to relief work. At least 50,000 inhabitants of Kibati and Rutshuru are on the move and unreachable, since there is literally nowhere to run.
United Nations Secretary-General Ban Ki-moon and other world leaders are meeting in Nairobi, Kenya to address the situation. There is an immediate need for a solution to this crisis, since aid organizations cannot reach those in need.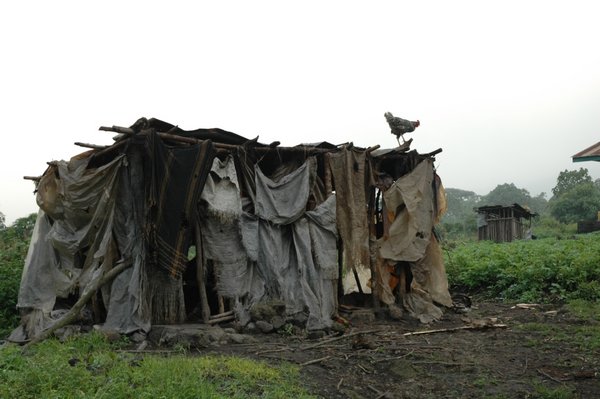 I was in Kibati and Rutshuru in January 2007. Conditions for all except the military and park rangers were primitive at that time. Touted as a tourist stop, Kibati had a maggot-infested latrine surrounded with burlap sacks for privacy, and a rooster -- it was no weather vane -- perched on top. Along the road, the entrance sign to Virunga National Park was riddled with bullet holes. Kibati has functioned as a stop-over for tourist excursions to the Nyiragongo volcano.
Some legends say the active Nyirangongo crater serves as the entrance to hell -- a fact not lost to the dying, displaced, and dispossessed in this region today.
For more images of this region, see YouTube for a tribute to Congolese journalist Serge Maheshe, murdered by militia in 2007.
Note: All photos by author who was a MONUC accredited journalist in DRC in 2007.