You don't need satellite photos to get an idea where the 5,000 barrels of oil per day spilling from the ruined Deepwater Horizon will make landfall.
We spent the day driving the I-10 from Tallahassee to New Orleans and past the Gulf Islands National Seashore off the Mississippi Coast. There is a pungent odor hanging over the Crescent City and it has nothing to do with what is being smoked at Jazz Fest. Residents have been complaining all day about a "fuel-like" smell. Officials are puzzled and say it is "most likely" from the offshore spill, but have no definitive proof it is from the massive spill which has crept to within three miles of the Louisiana coast and will likely impact Plaquemines Parish.
Plaquemines Parish President Billy Nungesser said, based on his observations from a Coast Guard helicopter, that the spill could be hitting the Mississippi River Delta now, according to a report just posted by WWL-TV.
This spit of Delta is noteworthy for having the most land and water combined in the continental United States. At a press conference conducted by the "unified command" of State, Federal, and British Petroleum officials in Roberts, Louisiana this afternoon, officials confirmed that the oil is expected to make landfall "near the Birdsfoot Gulf Outlet."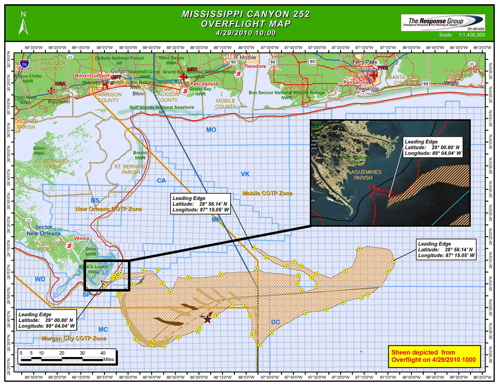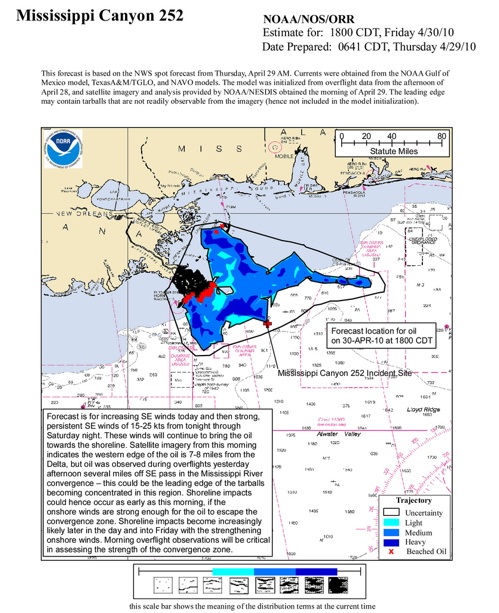 British Petroleum was leasing and operating the Deepwater Horizon well when it exploded 40 miles offshore on April 20. Oil is flowing from an open vent in 5,000 feet of water. Homeland Security is now involved in what Secretary Janet Napolitano is calling an event of "national significance." At today's press conference U.S. Coast Guard Rear Adm. Mary Landry said that she is still the person in charge and that if BP does not request the necessary federal assistance, "I will request it."
Landry went on to characterize the Coast Guard response as assuming the worst case scenario from the beginning and cited lessons learned after Hurricane Katrina. There is no doubt "oil spills are difficult," Landry said, adding "we will seek excellence in our response."
Louisiana Governor Bobby Jindal finally declared a state of disaster one week after the explosion. A statement from the Governor's office said it was "due to the predicted impact of oil along the Louisiana coast leaking from the Deepwater Horizon which threatens the state's natural resources, including land, water, fish, wildlife, fowl and other biota, and likewise threatens the livelihoods of Louisiana's citizens living along the coast which increases the economic impact of this incident."
Senator Mary Landrieu (D-LA) in a speech on the Senate floor late today, acknowledged the scope of the disaster, but also requested a measured response after experts admitted 5000, and not 1000 barrels of oil are flowing from the broken well pipe daily.
But, with all that we've done -- generating almost $5 billion in taxes off of the Gulf Coast, $5 billion a year come to the Federal Treasury - the fishermen in Plaquemines Parish, the fishermen in St. Bernard, the school children in Orleans Parish and in Jefferson Parish have not received one penny, even though many people along the coast are standing watch to keep this oil spill from our shores. We have come here time and time again and said, 'we are proud to be partners in this industry even today, in the midst of this disaster, we still are.' But you must understand the risk. We do and we'd like to have a portion of that funding to help us either have the kind of technology in place to invest in our wetlands, to fill up some of these canals that have been left, even as we make the industry reach to higher and better standards. I hope that as people watch this disaster unfold they will hear again the call of the Gulf Coast Senators and House Members to allow us to share these revenues in a fair way, so we can all benefit from the upside, and most certainly share the down side, as we will do in the next weeks and months ahead.
Audio can be accessed here.
Meanwhile officials from Louisiana Delta parishes were holding meetings to discuss protection of wildlife and the fishing industry. Brown shrimp have already hatched and remain in shallow waters that will be impacted by the creeping spill.
No matter that more than 174,060 feet of boom (barrier) has been assigned to contain the spill, with an additional 243,260 feet available and 265,460 feet on order.
Officials say the oil spill response team has recovered 18,180 barrels (763,560 gallons) of an oil-water mix. Vessels are in place and continuing recovery operations. A total of 76 response vessels are being used including skimmers, tugs, barges and recovery vessels.
98,361 gallons of dispersant have been deployed, an additional 75,000 gallons are available, and a new approach of using underwater dispersal chemicals is under consideration.
Five staging areas are in place and ready to protect sensitive shorelines. These areas include: Biloxi, MS, Pensacola, FL, Venice, LA, Pascagoula, MS, and Theodore, AL.
Weather conditions for April 29 forecast winds from the southeast at 5-15 mph, and choppy rough seas--a very bad scenario.
Ecologically sensitive Horn Island, a long, thin barrier island off the Gulf Coast of Mississippi, and south of Ocean Springs is in the path of the spill. It is part of the Gulf Islands National Seashore.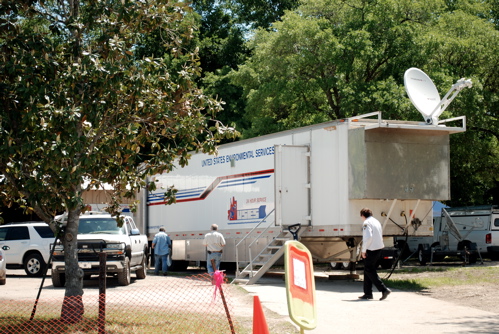 We were in Biloxi today and were disconcerted that media was banned from entering the main staging area on Woolmarket Road. A yellow line was scrawled across the driveway--a maginot line that no media may dare cross. As this disaster unfolds, it would seem that more and not less transparency on the part of entities involved in managing the crisis is required. One look at Biloxi Bay and it is obvious that "there is not enough boom material in the world" to contain this massive spill. Hal Lawrence, retired military and a member of the Ocean Springs Yacht Club gave us that quote as he took us up on the deck for a panoramic view of Deer Island and the vulnerable bay.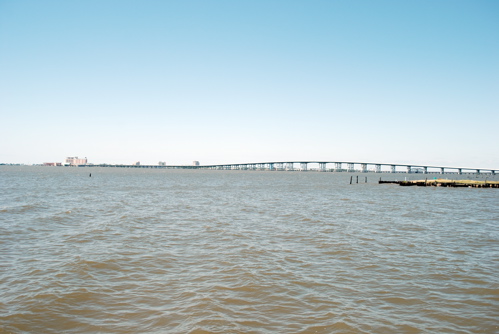 One official did brave the scrawled yellow line. Earl Etheridge of the Mississippi Department of Environmental Quality allowed us to tag along while a local TV crew of one interviewed him. Etheridge said so far there is no oil in Mississippi State waters and that 25,000 feet of boom was deployed at Point Cadet yesterday. At least he had a number. He was candid in saying "I do not know what the worst case scenario will be," when asked the question.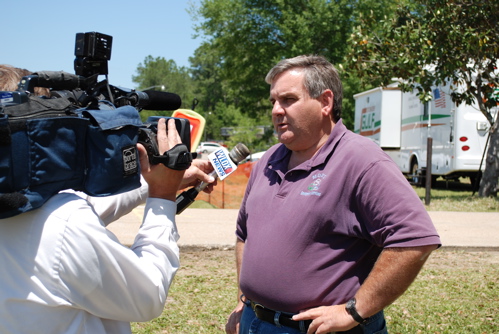 It is also important for all of us to remember that 126 people were on the Deepwater Horizon drilling rig when the incident occurred. 11 remain unaccounted for; 17 were injured, 3 of them critically, and 1 injured person remains in the hospital.
We mourn the loss of coal miners, as we should, but there seems to be a deep-seated blame that society places on BIG OIL.
I thought about that as I gassed up at a BP station in Gulfport.
This Blogger's Books and Other Items from...
SUBSCRIBE AND FOLLOW
Get top stories and blog posts emailed to me each day. Newsletters may offer personalized content or advertisements.
Learn more