The United Nations working group on peacekeeping met Friday, July 19 to discuss the use of technology as a peace tool. However, the scheduled delivery of UAV's (unarmed drones) to the U.N. Mission in Congo (MONUSCO) in support of the national army of Congo (FARDC) suggests the use of common sense would be a more useful topic.
MONUSCO Force Commander, Lieutenant General Carlos Alberto dos Santos Cruz, briefing the Council in June, noted that the mission already benefits from infrared systems on aircraft and helicopters and GPS technology in vehicles, while adding that night-sight capacity for weapons and man-portable surveillance radar would also be very useful.
The question no one is asking is why the international community is providing military aid to FARDC. Why are we sending drones to MONUSCO while they are supporting FARDC's monstrous abuses of M23 casualties this week and the rapes last year of 102 women and 33 girls, some as young as 6, in Minova by US-trained troops?
In a brutal and disturbing report by France 24, Congo government soldiers describe the killing and raping spree.
"It wasn't as if you knew how many women you were going to raped -- that day there weren't many -- maybe three," a FARDC soldier says.
"When we came across other people, we killed them just for the sake of it," another says.
In response to allegations of corpse desecrations by FARDC during fighting this week, the U.N. announced that is reviewing its support of the Congo army.
Getty has posted heinous photos of FARDC soldiers desecrating the body of an alleged M23 corpse, but René Abandi, the Head of Foreign Affairs and deputy head of the M23 delegation at peace talks in Kampala, denied that the widely circulated photos depicted an M23 casualty.
In a phone interview, Abandi said that the photo is actually one of a FARDC casualty who was Tutsi. While aware of desecrations and tortures of M23 combatants by members of FARDC, Abandi characterized the photos as possibly indicative of ethnic hatred.
Abandi was careful in his choice of words, but the implications are obvious and disturbing. For FARDC soldiers to not recognize one of their own, just because he was a Tutsi, shows that the level of ethnic hatred has not diminished since 800,000 Tutsis were massacred in the Rwandan genocide in 1994.
During several days of heavy fighting FARDC, supported by helicopter gunships, attacked M23 rebel positions near the provincial capitol of Goma. Depending on the news source, FARDC either caused a retreat of the M23 while inflicting heavy losses, or were routed across the border into Rwanda where they were asked by Rwandan officials to use the main border gate.
No major media outlet reported on an urgent press release provided by M23 spokesman Amani Kabasha. According to the presser, MONUSCO allowed FARDC to occupy strategic U.N. positions at Munigi and Kanyaruchinya, which are located near population centers. In effect, FARDC was using the United Nations and the local population as human shields. "If we act, we risk doing damage," said Bertrand Bisimwa, President of the M23 political arm. "We may invite a war with MONUSCO." Bisimwa went on to call the situation "a trap," while international media interpreted M23's refusal to act as weakness.
"It is therefore a big risk for the civilians and the MONUSCO military base who have been placed by such a strategy in the war zone. The directorate of our movement has just been informed that during the attack conducted this Wednesday July, 17th 2013 by the government army using heavy weapons, the MONUSCO military base has been hit by the shootings which have damaged its facilities. Once again our movement condemns this deadly strategy which full responsibility falls on the MONUSCO and the DRC Army."
VOA NEWS also reported on the fighting, but Abandi refuted some of the claims made in the VOA report.
The scene described in the audio feed is a government army position at mid-afternoon on Wednesday. As soon as mortars land near FARDC positions, they start to retreat. The commander shouts at them, "You men get forward. What are you retreating for? Get in front of the tanks."
Is M23 Really Losing the War?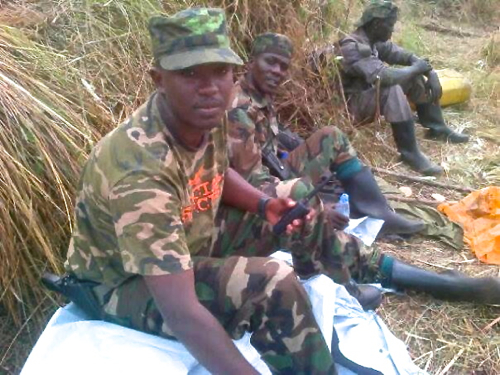 M23 Twitter feed showing combatants resting near Munigi, 5km from Goma, on Thursday
Is it a fact, as reported in international media, that the M23 has lost ground, is running out of ammunition and suffering heavy casualties?
Abandi says the battlefront between M23 and the Congolese Army, has been "quiet for two days." Meanwhile peace negotiations in Kampala are "stuck" because the leadership of Congo has not reported to the negotiations for a month, and Abandi says this explains the renewed fighting. "The Congo government does not want to negotiate; they want a military solution."
Despite reports by Reuters and Voice of America about losses suffered by M23, Abandi says that M23 retains control over the same amount of territory it had before the renewed fighting. Reports of loss of ground by M23 are a result of MONUSCO giving access to FARDC to advance on the M23 from behind their own lines.
Abandi also accuses the Congo government and MONUSCO of "lying" about casualty numbers. Declining to give exact numbers Abandi said, "There have obviously been some casualties within M23 ranks, but the numbers are a lot less than what is being reported in international media."
As far as casualties within FARDC, Abandi says media is not reporting numbers there because "M23 does not celebrate the deaths of Congolese." The enemy are considered "brothers," in the eyes of the M23 political movement.
Given the reports of U.N. supported FARDC rapes, desecrations and desertions, perhaps the U.N. working group on peacekeeping could focus more on the use of brain analysis of U.N. commanders rather than drone analysis of eastern Congo.