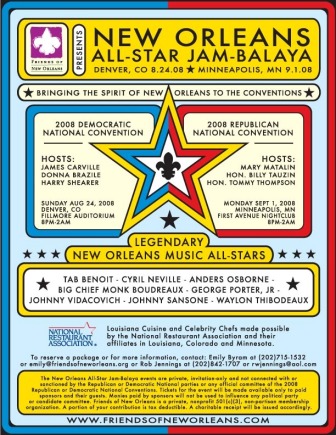 There are a lot of terrific things about southern Louisiana and New Orleans, but the most inspiring is how the good folks there always seem able to get it together, roll up their sleeves and get the job done. Race, color, social status and political affiliation don't matter. It is the music that brings everyone together, feeds the soul, and helps everyone get on with the business of living.
To that end, on August 24 Tab Benoit and the Voice of the Wetlands All Stars have accomplished something that is quite remarkable. They will open the Democratic Convention in Denver and continue with a string of non-partisan fund- raisers road show that will end on September 1st in Minneapolis for an invitation only, non-partisan Republican Convention after party.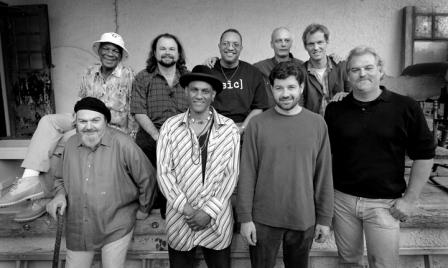 Image: Voices of the Wetlands
The "invitation only" part is a little bothersome, but, hey, to get a road show of this magnitude together in order to get the message out regarding the destruction of the wetlands is nothing short of amazing.
Tab Benoit and the band will use this opportunity to speak to guests at each convention and after-party about the importance of the wetlands and New Orleans to the entire country. This man does not give up easily and he is bringing New Orleans' finest musicians with him to make the point that the delta needs help now.
Award winning blues guitarist Benoit has been a passionate advocate of wetlands restoration, which he sees as integral to the preservation of South Louisiana culture. To that end, the organization Voice of the Wetlands (VOW) was born.
"Being able to have a forum because of the music is incredible," Benoit says. "When I made a decision to do this, I told myself it has to be for a bigger reason. It has to be something that I can do to help. I asked myself, 'How can I help the most people in the time I am allowed?' and music seemed to be that way. All I really want out of life is to make the world a little bit better than the day I was born and the Voice of the Wetlands is a way to do that."
The music here is used with the permission of Tab Benoit and VOW. Those of you who have seen the IMAX presentation on the Louisiana Wetlands, Hurricane on the Bayou, will understand how passionate Benoit is. He is fighting ferociously for the preservation of the Gulf Coast wetlands and for a way of life that will be lost forever if Americans do not pull together and do something to heal the water and estuaries.
The DNC welcoming party in Denver will feature the Voice of the Wetlands All-Stars (Tab Benoit, George Porter Jr., Cyril Neville, Waylon Thibodeaux, Johnny Sansone, Anders Osborne and Johnny Vidacovich).
They will be joined by Grammy winner Irma Thomas, Marva Wright and Marcia Ball. The all-star horn section will feature saxophonist Donald Harrison Jr., sousaphone player and Dirty Dozen founder Kirk Joseph, Troy "Trombone Shorty" Andrews, Funky Nation front man Big Sam and trumpeter James Andrews. The opening of each evening will feature New Orleans brass band the Soul Rebels, the Wild Tchoupitoulas Mardi Gras Indians and New Orleans natives Lauren Barrett and Mary McBride.
Amazing.
Hosts for the Denver event are Louisiana Lt. Gov. Mitch Landrieu, actors Harry Shearer and Wendell Pierce and Democrat strategists James Carville and Donna Brazile.
In Minneapolis, the hosts include former Health and Human Services Secretary Tommy Thompson and Republican strategist Mary Matalin. Friends of New Orleans (FONO) Board Chairman Gloria Dittus, Walter Isaacson, former Congressman Billy Tauzin and actor and FONO Board Member John Larroquette will host both events.
Events are also the culmination of FONO's "Heroes of the Storm" campaign, an effort to honor organizations that have made significant contributions to the recovery and rebuilding effort in the Gulf region.
Post Script
As a postscript and since I wield the sword-arm here, mention MUST be made of Grammy winner Irma Thomas stepping up to the plate to help Friends of the Congo in their efforts to help victims of the war in DRC. When Irma learned that FOC was working on a CD compilation of songs by women singer/songwriters she immediately came on board saying, "Just tell me what you need," and ended up donating a song from her Grammy Album to the women of DRC. That is the spirit of New Orleans and hopefully that spirit will take center stage at both political conventions.