Diplomacy is one thing; enabling is another. It seems Rwanda and the United States have been caught with their diplomatic pants down.
Congolese and international human rights organizations are calling on the United States to pressure the government of Rwanda to support the arrest of Bosco "The Terminator" Ntaganda and not provide him sanctuary. In a letter to Secretary of State Hillary Clinton, the organizations call out the Obama administration and its ally, Rwanda, for inaction that has resulted in the brutalization and displacement of hundreds of thousands of civilians in eastern Congo.
As you will know, Ntaganda is wanted on an arrest warrant from the International Criminal Court (ICC) for the war crime of conscripting and enlisting children under the age of 15 and using them to actively participate in hostilities in 2002-2003 in Ituri district, northeastern Congo. Despite the warrant, and the Congolese government's legal obligation to execute it as a state party to the ICC, Ntaganda was made a general in the Congolese army in 2009 and continues to be implicated in other grave violations of human rights, including unlawful killings, sexual violence, torture, and the recruitment of child soldiers.
The letter, while forceful, glosses over the fact that Rwanda, in a 2009 ugly blood pact with Congo, facilitated the illegal arrest and detention of CNDP rebel general General Laurent Nkunda. This resulted in a bloodless coup, allowing The Terminator Ntaganda to gain control of rebel forces. The result has been disastrous for civilians, who are the collateral damage in this ugly game of diplomacy.
The international press has so far refused to retract accusations leveled against Nkunda for atrocities committed by Ntaganda at Kiwanja and other sites.


The United Nations High Commission on Refugees (UNHCR) released briefing notes for May 4, 2012 that paint a grim picture for civilians. Since January 300,000 people have fled renewed fighting in the Walikale and Masisi areas. A total of 2 million people are now on the run, including 1.4 million in North and South Kivu Provinces. Many of the spontaneous IDP camps are in areas controlled by rebel militias, which does not bode well for defenseless women and children who will certainly be raped and brutalized.
Margot Wallström, the Secretary-General's Special Representative on Sexual Violence in Conflict, expressed concern that there will be increased sexual violence against civilians by members of the rebel militias. "Once again, a new wave of violence is being perpetrated by actors such as the Mai Mai leader Sheka Ntabo Ntaberi and Gen. Bosco Ntaganda, both of whom have been sanctioned by the United Nations Security Council for various violations including sexual violence crimes," Wallström said.
UNHCR field staff say people are still coming to Goma and its environs from their homes in the Masisi and Walikale areas, but the flow has eased a bit. UNHCR staff have registered 10,300 people at a spontaneous site 25 kilometres from Goma and 9,000 in Mugunga III, one of 31 UNHCR-run settlements for internally displaced people in North Kivu. Hundreds are sleeping in a school and church at the spontaneous site, while about 1,000 people are heading to South Kivu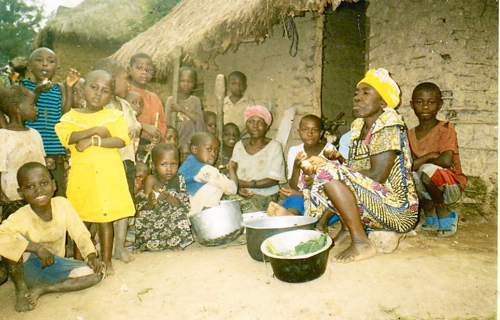 Walikale villagers displaced in January 2012 (Photo by Paluku Mbusa Omer)

38,000 displaced people remain in the areas of Masisi and Walikale. UNHCR is unable to access these people because of the insecurity. Walikale leaders sent out a cry for help early this year, which went unheeded.
Human rights organizations believe that the political commitment of the U.S. government would pressure the Rwandan government to intervene in a situation Rwanda created in early 2009 when they arrested CNDP General Laurent Nkunda.
The United States is complicitous and culpable in the bloodletting and mayhem. As usual, our government seems curiously disengaged. Or is it? One must consider the little reported fact that a United Nation's investigation implicated President Obama's trade advisor, Kase Lawal, in a gold smuggling scheme with the Terminator Ntaganda. Lawal is also a bundler for the Obama re-election campaign.
The elevation of Ntaganda has been a dirty, dirty deal for the Congolese people. Will a letter to Secretary Clinton have any effect? Rwanda won't sneeze without the approval of the United States. Does Obama care? The UN's Margot Wallström says, "the world is watching." We can only hope that it is.