Email from Congo:
In Goma people are very worried. The volcano eruption might happen once more for both volcanoes Nyamulagira and Nyiragongo. Nyamulagira spits lava in the park [Virunga Park] while Nyiragongo which is the most dangerous for the Goma people spits its lava in town. We keep on praying. As you know, Goma is where our families live and where we work.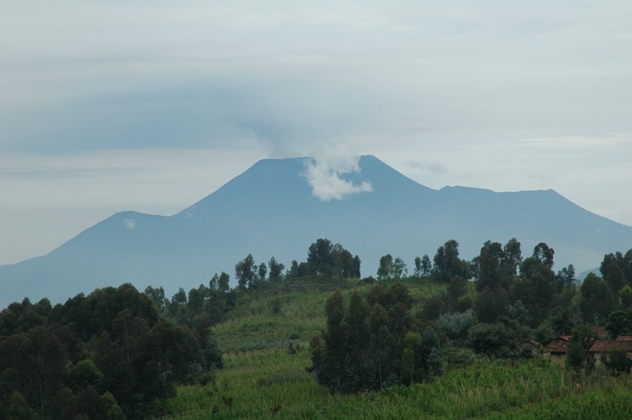 IMAGE: Nyiragongo viewed from Rwanda (2006) © G. Nienaber
The news from Kivu Provinces in the eastern Democratic Republic of Congo can't seem to get any worse, but it does. After over a decade of killing, rapes, and disease 1.3 million people now face a possible eruption of the Nyiragongo and Nyamulagira volcanoes. The murdered primatologist, Dian Fossey, wrote about watching the lava flows from Nyiragongo in letters to her friends in 1977, and likened the red glow to anger and retribution from "Mother Gongo."
Reports are now coming in that villagers are fleeing due to tremors and increased lava flows. With 1.2 million already in refugee camps because of the war, and a province already overrun with 28,000 militia of varying alliances, the situation is grave. Perhaps Fossey was correct in saying that Gongo is capable of vengeance. She wrote the words while visiting her friend Rosamond Carr's home at Mugongo Plantation near Gisenyi in Rwanda.
One wonders if Mother Gongo is just plain fed up with the senseless violence, which dates back to Fossey's time, and wants to put an end to it all. When Mount Nyiragongo last erupted in 2002, half of the city of Goma was destroyed and the rest of the area was flooded with lava, which remains to this day. Second story entrances to buildings became the first floor and first floors remain underground.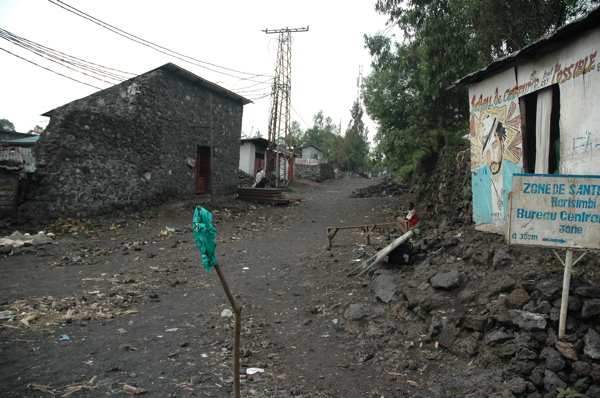 Image: Goma (2009) © G. Nienaber
Scientists now predict that Nyamulagira, which is located 16 miles (24 km) away, will erupt any day now. Nyiragongo crater is 11 miles north of Lake Kivu. The Provincial capitol Goma is located on the shores of Kivu and so is the Rwandan border town of Gisenyi. Both towns lie in the path of possible eruptions from the twin volcanoes, when lava can flow at the rate of sixty miles per hour.
The glow from Nyiragongo is always visible from Gisenyi and Goma. It is something fascinating to observe on clear evenings along the border, but the glow has morphed into something much more sinister. Nyiragongo is considered one of the eight most dangerous volcanoes in the world, but Nyamulagira is considered most likely to erupt first. It has erupted 30 times since 1880.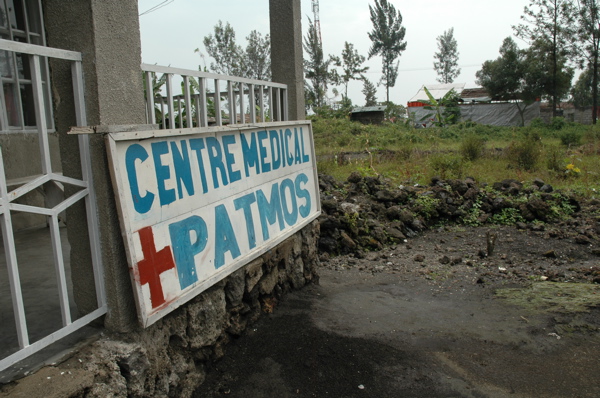 Image: Medical Clinic in Goma (2009) © G. Nienaber
The Red Cross is mobilizing, but what is important for people to understand is that there is absolutely no infrastructure in this part of the world to handle the humanitarian crisis which will occur if a major eruption takes place. Scientists say the eruption "is imminent," and that more than half a million people are in danger.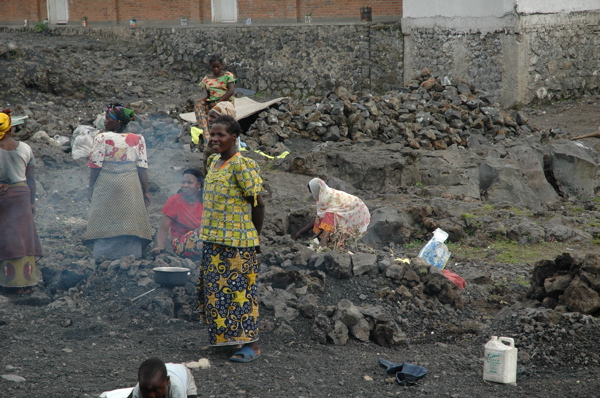 Image: Refugees In Goma now in harm's way (2009) © G. Nienaber
Scientists from Goma's Volcanological Observatory are reporting "Intense volcanic activity, including tremors, pools of lava and plumes of smoke."
Reports say the air in Goma is thick with smoke today. For people who have endured a conflict resulting in close to six million dead and a humanitarian crisis that grows daily because of the war, this news is just too much to bear.
SUBSCRIBE TO & FOLLOW WORLD POST