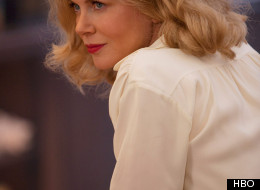 For women on the front lines of war, the glass ceiling is lined with barbed wire.
A few weeks ago, two female soldiers filed a suit against the Army and the Department of Defense "to end policies prohibiting women from serving in a combat role," according to the LA Times.
In WWII it was women journalists who were demanding to go to war, to report on it. "Women get bombed same as men," says Nicole Kidman as war correspondent Martha Gellhorn in the lush new HBO movie Hemingway & Gellhorn. Her offhand comment was borne out in inspiring and heartbreaking detail in the groundbreaking PBS series Women, War and Peace last fall.
Women like Gellhorn, Ruth Cowan and Dickey Chappelle, profiled in Michele Midori Fillion's haunting documentary, No Job for a Woman, revealed the underbelly and collateral damage of war, but they had to fight hard to be able to tell the stories of war their way. Women didn't belong anywhere near war, they couldn't handle it, and what about makeup, hair and bathroom facilities -- these were the prevailing objections.
Pendulum in suspension
History repeats itself. Even the slightest change in the story renders everyone incapable of seeing the parallels. Women's suffrage, property ownership, job restrictions and benchmarks of inequality simply morph into new incarnations, such as the recent controversial Paycheck Fairness Act, the "War on Women" in the health care sphere and the aforementioned women in combat lawsuit.

There's always a pendulum swing, but in the sphere of women's equality it seems more like the second hand on a surreal grandfather clock. Women have been the dominant population since the mid 20th century (largely because of the loss of men in all the 20th century wars) even though recent proclamations suggest it is new. But the 52% (or thereabouts) is really the tipping point of women in the workplace. That threat, of job loss and competition, is what engenders the contentious us vs. them struggle -- actually a male paradigm in itself -- cruelly present in the story of Hemingway & Gellhorn.
Rule of 3
Despite being a majority for more than half a century, women haven't found their own voice yet. The attempt in the '70s ended up more as competition or emulation of the male paradigm -- it didn't fit, it wasn't comfortable, it receded. Perhaps that's why the pendulum is suspended -- it's waiting for us to find our authentic leadership voice.
Billie Jean King gave a speech some months ago where she said her aim for equality was never meant to be Women vs. Men. She wanted the general dynamic, in tennis and beyond, to be everyone together (she continues to work toward that goal). Maybe that was the pendulum swinging in the other direction. Now we're waiting for it to find its equilibrium.
We haven't been operating at half capacity; we've been at one-third. True equilibrium is a triumvirate: Him, Her, Us -- voices equal, individual, alongside each other. But also, a new sound when humming along simultaneously.
Repaving the Backward Path
To reach that goal, I think we have to repave the historical path. This is not revisionist history -- it is making room for the stories that were always there. We just couldn't hear them because the lower octaves were too loud.
Really hearing the fascinating stories of the three women profiled in No Job for a Woman helps to rebalance the historical record, so we're on surer footing going forward and can more quickly find our present voice.
She was praised for her political coverage -- filed under Baldwin Cowan -- until UP discovered she was female and fired her on the spot. But at 42, Ruth Cowan became the first accredited woman war reporter, even though Margaret Bourke-White got the spotlight due to Life magazine's PR machine. But Cowan's reporting forever changed the perception that "war is a man's story."

Though poor eyesight kept her from being a pilot, "Dickey" Chapelle (adopting aviation pioneer Admiral Richard "Dickey" Byrd's nickname in homage) combined her eagerness, aviation knowledge and sharp eye with a camera to carve out a career as one of the first female war correspondent photojournalists. She wangled her stint on a hospital ship into covering the front lines in the Pacific, the first woman to do so.

Already a published author and foreign correspondent, Martha Gellhorn became the third wife of Ernest Hemingway after they'd traveled together covering the Spanish Civil War. She wanted to work alongside him, always asking him to go with her to the front, but he wanted to stay home and have her be a "wife in my bed." He eventually usurped her position, forcing her travel without the protection of credentials, but she continued to cover wars into her 80s.

No Job for a Woman mentions his treachery, but HBO's Hemingway & Gellhorn telescopes their tempestuous relationship culminating in Hemingway's betrayal. Heartbroken but not broken, Gellhorn still made it ashore on D-Day, saw more than he did and filed her story first*, but he still got the splashy cover story. She later refused to discuss him, saying she didn't want to be a footnote in someone else's life... Fillion was determined to make No Job for a Woman after reading Julia Edwards' Women of the World, "a history of female war correspondents... I was in journalism school... I could not put the book down, and I could not believe that I had never heard of any of these women."

The footnote fights back… Both Gellhorn and Hemingway wrote plays about war reporters, including thinly veiled accounts of their relationship -- different points of view of course, though startlingly fair, even complimentary in spots. Hers is smart, funny and tartly ironic, bombshell war reporters that "sail in like Vogue illustrations" -- a big hit in post-war London, but a bomb on Broadway; American audiences were apparently less inclined to see women choosing war over love as romantic. NYC's Mint Theater* mounted a run of Hemingway's The Fifth Column in 2008 & is now running a delicious production of Gellhorn's Love Goes to Press. It is maddeningly tantalizing to speculate whose play came first since it's outside both their milieus and the only one each ever wrote.

Read the footnotes first. Martha Gellhorn has been called one of the greatest war correspondents of the 20th century -- that no one knows. Fillion had to pare down her dreams of a series to three emblematic women of WWII. "Martha Gellhorn was a particularly good example; already a seasoned war reporter, her story is obviously compelling -- glamorous, elite, Hemingway, good friends of the Roosevelts, lots of drama." It took James Gandolfini 6 years to get her story to the screen. It's interesting, this story convergence now, each illuminating the other, as if these echoes know that this really is the century of the woman, as has been touted, and their voices can finally be heard.

"We got funds from the first application [to the NEH], which is almost unheard of," Fillion said, gratefully, and set about targeting "who would represent the trajectory of what happened during WWII". Ruth Cowan was "the wire service reporter and longtime newspaper woman covering the woman's angle...." which transformed war reporting into a "human cost of war story." Cowan may never have realized how valuable her contribution was in moving war reportage into the modern era, with a broader scope and a more honest face. After the war she was put back on woman's stories, covering recipes. Two weeks after mandatory retirement at 55 for women at the Associated Press, she married for the first time and moved away.

"A pool of blood, a clenched fist," these were Hollywood versions of war, said Dickey Chapelle. "Some guy trailing his innards - that's the real story of war." Though she was chastised for capturing injured soldiers on film, one before and after image of a dying Marine transformed by a transfusion of whole blood made her famous. "It is not a woman's place... There's only one other species... for whom a war zone is no place, and that's men." At 46, a respected and award-winning photojournalist, Dickey Chapelle was killed in a landmine in Vietnam, the first American female journalist to be killed on assignment.

It's seems simplistic somehow to call these women trailblazers, but they were. Contemporary war correspondent Deborah Amos of NPR puts their contribution in sharp focus in No Job for a Woman: "I thought that war was all about...the bang bang, but it's not. It's about... the spillover... You won't understand where the next war came from, unless you understand the destruction of people's lives in the one that went before. [These women] had it right." And it's the right thing to do to hear them out now. Listening to them will help us hear our own voice through the centuries.
Black & white archival images from No Job for a Woman; Hemingway & Gellhorn with Nicole Kidman & Clive Owen courtesy HBO; Mint Theater's Love Goes to Press, with Rob Breckenridge & Heidi Armbruster, photo: Richard Termine.
Gerit Quealy writes on Style & Substance at NBC's StyleGoesStrong.com.
Follow Gerit Quealy on Twitter: www.twitter.com/historychiq