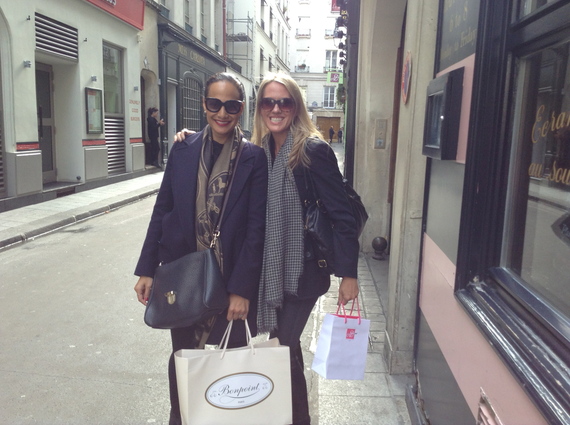 Recently I went "all in" on an extravagant girl's trip with Amy, my dear friend and business partner of 13 years. We spent more than a decade working like dogs for our long running internet startup (which was finally acquired!) and now it was time to celebrate the sale of our company Splendora in true Splendora style. While Paris on a shoestring is an admirable goal, this story chronicles the opposite. Here's our list on where to stay, eat and play with a Queen's ransom.

Where to stay:
BUDDHA-BAR HOTEL PARIS
4 rue d'Anjou - 75008 PARIS
+33 (0)1 83 96 88 88
I'm a firm believer that where you stay sets the tone for your trip and the Buddha-Bar Hotel Paris put us in the proper mood for the sensory delights that awaited. Bathed in hues of onyx and vermilion and tempered with contemporary European sophistication, the hotel is enveloped in a kind of permanent twilight -- a sultry welcome after a long day ... or night. The staff is also gorgeous, helpful and always smiling, not exactly the norm at other Parisian hotels.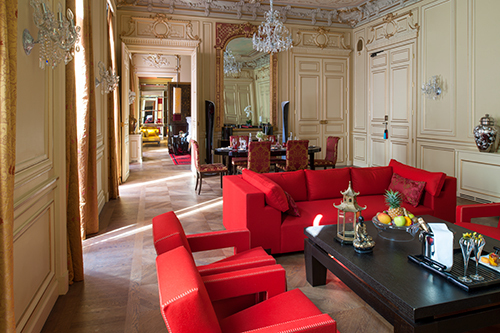 Amy and I splurged on a colossal three room Historic Suite, which included a spacious living room, dining table for 6, master bedroom and a bathroom as big as most hotel rooms. Its central location on Rue D'Anjou just across from the Tuileries and the Louvre made it a quick jaunt to museums, bridges and the Left Bank, not to mention the hotel's nearest cross street, Rue du Faubourg Saint-Honoré, is the Madison Avenue of Paris. The Buddha-Bar Hotel Paris has all the sexy chic of Hotel Costes sans the attitude and pomposity.
Our Moveable Feast:
#ConnoisseursOnly
JIN was my favorite restaurant in Paris and many weeks later I'm still thinking about my meal. It's an authentic Japanese experience and an absolute must for Japanophiles and sushi lovers. The space is intimate and seductive with room for only a dozen diners per seating. There's also a downstairs, but the bar is where you want to be.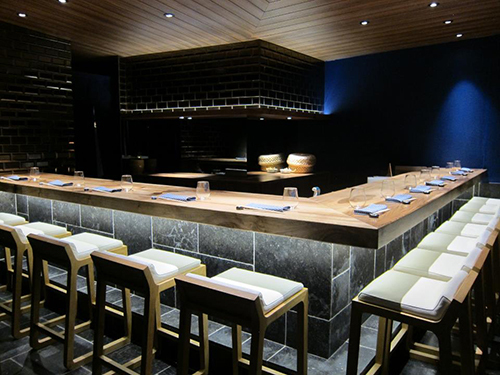 The set menu features courses that are presented, jewel-like, on beautifully crafted dishware. Every morsel unfolds with flavor especially the sea urchin and toro with smoked sea salt, which nearly brought me to tears. Every patron, like us, was unable to resist moans of ecstasy after every bite and every course. It's just that fresh. It's just that good. Reservations are a must.
JIN ST. HONORE
6 rue de la Sourdière, 75001
011 33 1 42 61 60 71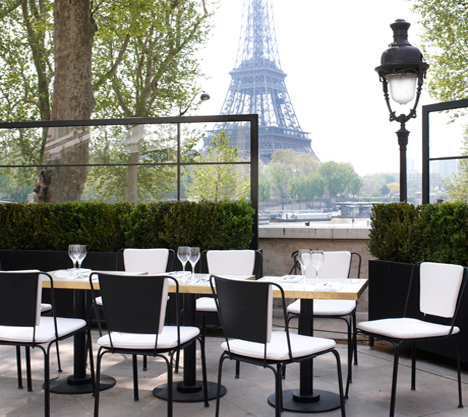 #TheInCrowd
Monsieur Bleu is modern, metropolitan, and feels very Manhattan It's the hot, happening spot where the beautiful people dine and boasts a majestic view of La Tour Eiffel from the terrace where outdoor dining and cocktails are mandatory during warmer months. The menu is deliciously straightforward. We feasted on French caviar, champagne, oysters and a squid ink pasta and truffle risotto that was rich and flavorful. It's often booked weeks in advance so reserve before you go.
Monsieur Bleu
Restaurant, Bar, Mezzanine, Terrasse
20 Avenue de New York 75116, Paris
tél: +331 47 20 90 47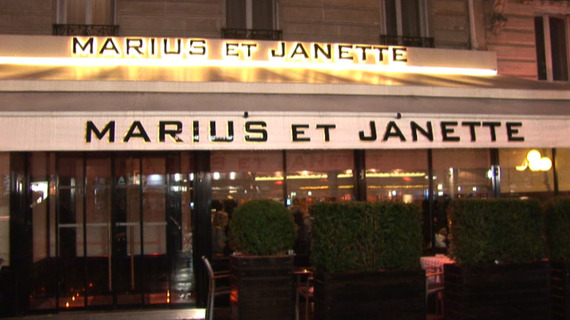 #ClassicElegance
Marius et Janette has the best fish in Paris and a highbrow history of hosting epicures and dignitaries (the night we went we caught sight of former French President Jacques Chirac). Whet your palate with a platter of oysters then order the whole grilled fish crusted in sea salt. Pair it with a crisp white Cordonieu and polish it off with a plate of wild strawberries. Absolument divine! Just try not to swoon when the check arrives.
Marius et Janette
Réservation : 01 82 28 77 40
4, AVENUE GEORGE V 75008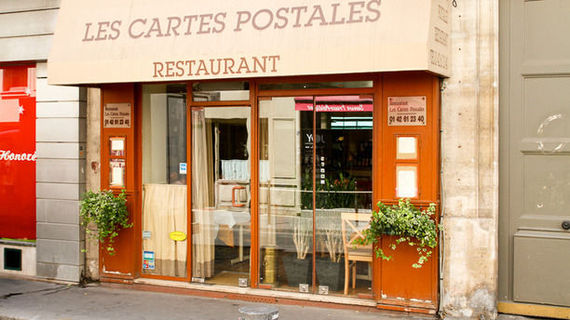 #HiddenGem
Les Cartes Postales
Here's a wonderful little spot very close to the Louvre that we found for lunch. What makes it special is the unique and delightful blending of French and Asian cuisine. We loved the fresh fish carpaccio delicately flavored with soy and vinegar as well as other dishes that were French in concept but not weighed down with cream and butter. The portions are also surprisingly large so if you're dining with a girlfriend, ask for a share plate or you'll never squeeze into that YSL later.
Les Cartes Postales
7 Rue Gomboust
75001 Paris, France
01 42 61 02 93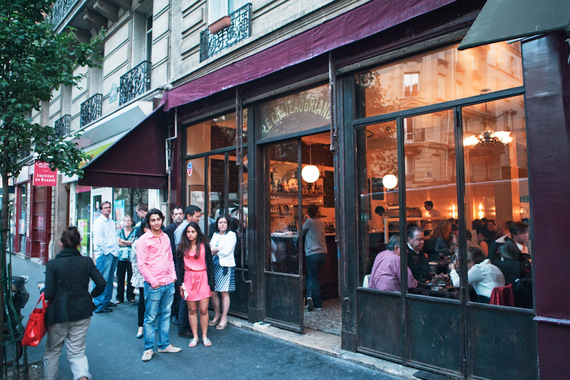 #Hipster Haven
Le Chateaubriand is located in a section of Paris that's akin to the Mission in San Francisco or the Lower East Side in New York. Its no frills, Brooklyn-esque ambience combined with a slow cook philosophy may have impressed me more if I did not already frequent establishments like this in my own city. Each course was interesting and tasty but the earnest explanation about the origin of every dish and wine was a bit much for my jetlagged brain. However, many of my European friends were over the moon about the experience so I should probably return when I am well-rested and more patient.
Le Chateaubriand
129 Avenue de Parmentier
75011 Paris
33 1 43 57 45 95
Where to Drink:
There were not enough hours in the night to swill cocktails but these three swanky watering holes: Le Mary Celeste, Candelaria and Glass come highly recommended by a chic, trusted source.
We did, however, enjoy a late night at the posh, Russian themed Raspoutine, a former bordello turned nightclub where you'll rub elbows with models, millionaires and other exotic creatures canoodling over bottle service in red velvet upholstered booths and (if it's a wild night) dancing on table tops. To avoid hassles at the door make sure you go with a member or have your concierge call ahead and get a late dinner reservation. Action usually starts after midnight.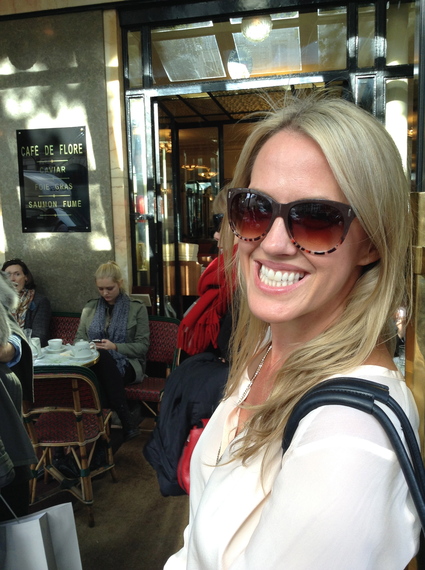 For me a visit to Paris is not complete without a café crème at Café de Flore or Les Deux Magots. Both are tourist magnets and not exactly "insider secrets" but as an American I find it magical to think that at one time Hemingway, Fitzgerald, Picasso and many of my Modernist heroes frequented these same cafes.
A Few Places to Shop: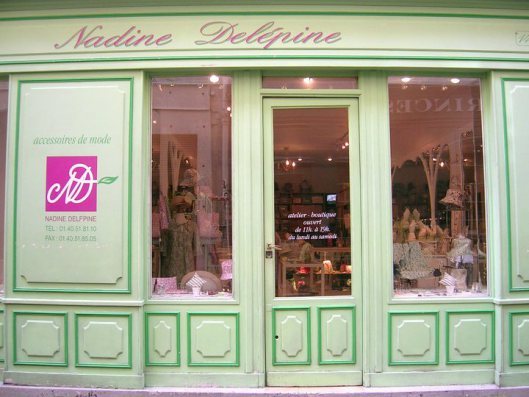 Nadine Delepine Make this sweet little boutique on the Left Bank your first stop and get gift buying out of the way. You can load up on handcrafted costume jewelry and girlie prezzies for family and friends that won't break the bank. I found something for every lady on my list from ages 5 to 75.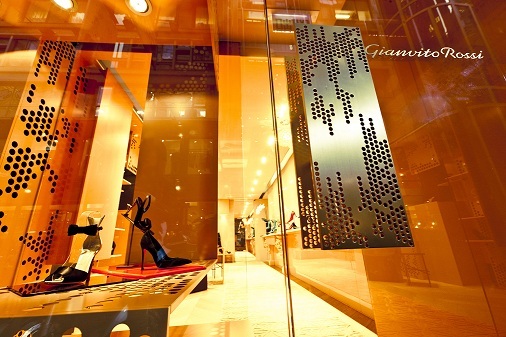 Gianvito Rossi, son of the famed Sergio Rossi, is the new darling of the well-heeled. His designs are sexy, classic, and surprisingly comfortable though a pair might set you back around 400 €.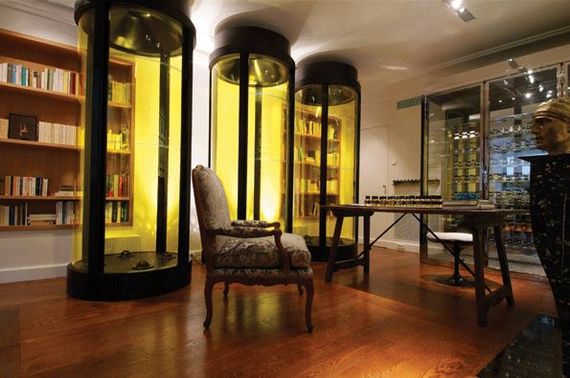 Frederic Malle located across from Gianvito Rossi is a not-to-be-missed fragrance experience. All parfums are curated and hand crafted by artisans who have the best noses in the world.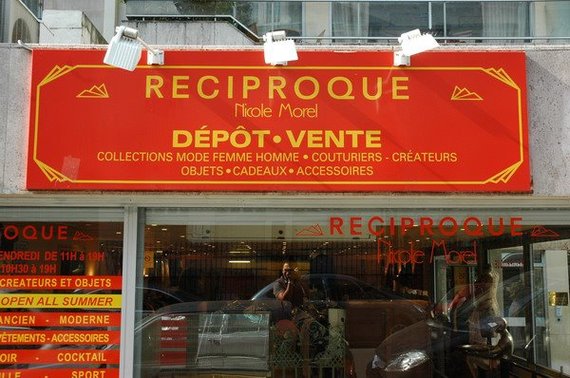 Reciproque on Rue du Pompe is the largest consignment store in Paris where you can find gently worn Chanel, Hermes, Lanvin and labels galore at a fraction of the cost.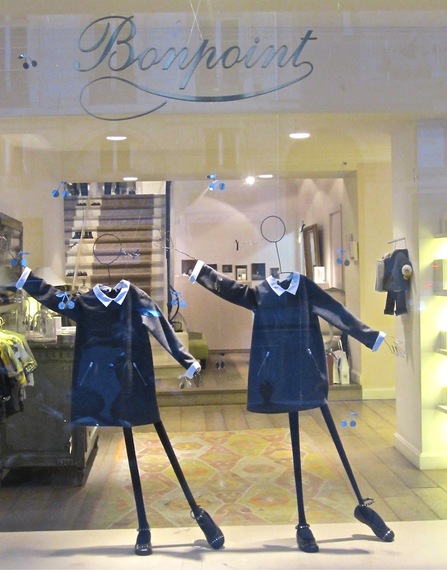 Bonpoint carries the most exquisite children's clothing and accessories and their boutique on rue de Tournon in St. Germain is an experience in itself. My American son wouldn't be caught dead in these fancy lad togs but my daughter felt like a princess in the leather bow flats and pearly pink velvet dress I found for her.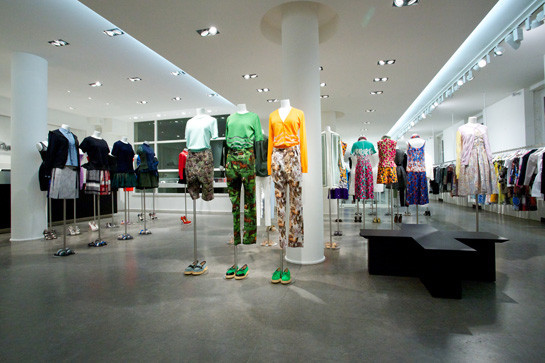 Colette is where I let things got a little out of control with my purchase of a Comme des Garcons jacket. Make this your last day visit so you don't break the bank too early.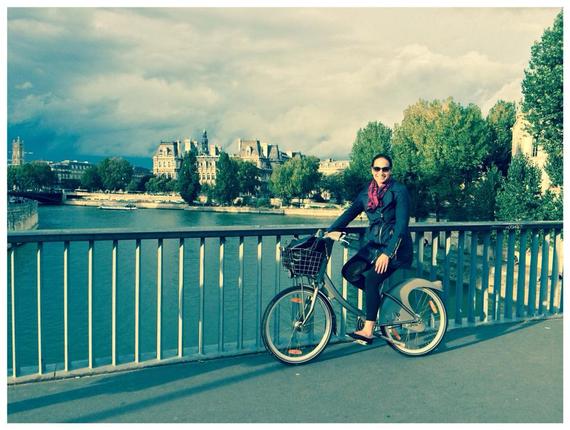 And finally, you don't really need a fat bankroll to enjoy Paris. One of the best and most memorable things I did was totally free (at least for the first half hour). Simply check out one of the self-service bicycles located on most street corners (Velib) and pedal your way across one of the most beautiful cities in the world.