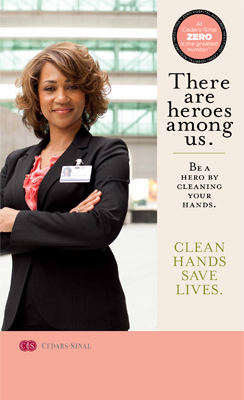 The leadership of my own hospital, Cedars-Sinai Medical Center, has taken an aggressive approach to hand hygiene, even calling out doctors who don't comply with stringent new rules. Our hand hygiene campaign began half a dozen years ago. At first, the leaders reminded doctors with emails, faxes and posters to wash their hands. They gave out bottles of hand sanitizer to doctors arriving in the parking lot. They followed up by creating a "hygiene safety posse" to roam units, handing out coffee gift cards to those who sanitized their hands. Hand washing rates improved but not enough. And so the medical staff took a radical step. In a meeting of 20 top doctors, hospital epidemiologist Rekha Murthy handed each a sterile petri dish, via which she cultured their hands. The result: loads of bacteria. One nasty sample was photographed and turned into a screen saver, emblazoned on every Cedars-Sinai computer. That picture was worth a thousand directives as hand-hygiene rose to nearly 100 percent compliance.
SUBSCRIBE AND FOLLOW
Get top stories and blog posts emailed to me each day. Newsletters may offer personalized content or advertisements.
Learn more