The Rwandan government has long committed to reduce maternal mortality in order to achieve United Nation's Millennium Development Goal 5. The MDG5 target is to halve maternal and child deaths by 2015.
The commitment spans three focal points. These include:
To increase heath sector spending from 10.9 percent to 15 percent by 2012,
To reduce maternal mortality from 750 per 100,000 live births to 268 per 100,000 live births by 2015 and,
To halve neonatal mortality among women who deliver in a health facility by training five times more midwives in order to increase the ratio from 1/100,000 to 1/20,000.
Attaining the above would greatly require community involvement and commitment of organizations that promote maternal and child health in Rwanda. One such organisation is the White Ribbon Alliance for Safe motherhood (WRA), a global coalition of countries, several organisations, and individuals, who advocate and promote maternal health causes. Rwanda is among its 15 national alliances and at the country level, looks toward ensuring that no woman dies needlessly at childbirth.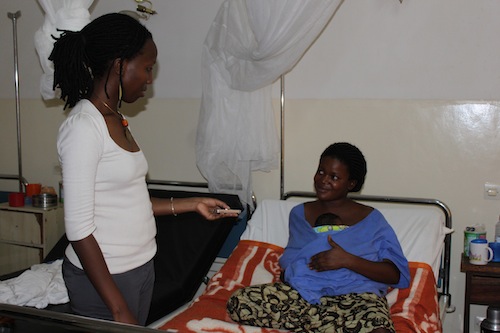 Changing the stakes for Rwanda, to become the safest place for women to give birth in Sub-Saharan Africa, calls for persistent commitment and determination in the maternal and child health cause. As ambitious as this statement may sound, Rwanda has proved to be successful in implementing community-orientated policies that have improved its development rate -- one of the fastest in Africa.
With a country population of 11 million (among the most densely populated nations on earth), only 45 percent of women between the ages of 15 to 49, use family planning methods. This comes as no surprise as Rwanda women on average, give birth to 4.6 children throughout their lifetime (RDHS 2010).
As a result, 31 percent of women undergo unsafe delivery mostly in their homes, in the absence of trained midwives. Moreover, only 35 percent attend antenatal care at least four times during pregnancy.
Even when public health insurance is available, many women do not access it and do not deliver in health centres. Reasons span from poverty, misleading traditional beliefs, ignorance, irresponsible behaviour, and the country's hilly terrain.
Already successful integrated approaches to eradicate these challenges have been implemented such as; training more Community Health Workers, providing them with mobile phones for contacting hospitals in cases of emergency and increasing the access of ambulances to rural health centres among others.
However, Rwanda still has a long way to go when it comes to mobilising entire communities to access these facilities and services. More has to be done to make the already established health facilities accessible, build more in remote areas, engage women in villages in poverty eradication activities so that they can earn an income to look after their families and at the same time pay for costs related to maternity care. Considering that, poor women are the most vulnerable to pregnancy and childbirth-related complications and death; it is only through an integrated approach to sustainable development based on economic progress and education, that the mindsets of communities can be changed for the greater good of the society.
The White Ribbon Alliance creates holistic campaigns to sensitise local leaders, parents, children, organisations and the donor community will contribute towards overcoming the plight of poor and vulnerable mothers in Rwanda and the developing world.
Therefore, Rwanda will become the safest place for women to give birth when everyone understands the value of eradicating maternal and child mortality.
You can donate here. By giving to the Alliance, you can make a difference in the lives of thousands of women and newborns.
Visit www.whiteribbonalliance.org to learn more about how you can help.