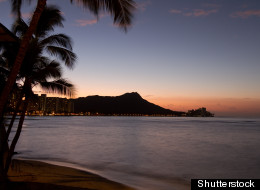 The Hawaiian Islands are newer and fresher than any land on the planet. Nature's beauty has never been on a brighter display. The flora and the fauna are breathtaking. For the seeker of divinity and transcendence, mo betta' beauty can always be found. The Honolulu Museum of Art serves as a chapel of the fine arts.
Founded in 1922, the Honolulu Museum of Art resides in the sprawling Beretania Street estate of the Cooke family, descendants of missionaries who became farmers and landowners. Many buildings and bright courtyards offer a variety of exhibits, classical to modern. Recently, the museum has absorbed the Contemporary Museum, nestled in the hills of Makiki Heights above Honolulu. The Contemporary Museum is a gift of newspaper publisher Thurston Twigg-Smith and his family. Twigg-Smith is the son of William Twigg-Smith, a New Zealand-born painter who made a life in the Hawaiian Islands.
The permanent collection offers much, most importantly a rich history of Hawaii. So many of the early works serve as documentation of undiscovered lands. As the world began to shrink and the Hawaiian population grew, painters began to gesture rather than detail. In the 1920s, a crew of artists in Hawaii began to express light, color and space, standing alongside the California Plein Air movement. The Volcano School is another revelation of operatic scale. The Honolulu Museum of Art has much to offer.
Photographs are courtesy of the Honolulu Museum of Art. More information of the Hawaiian arts follows below the slideshow.
------------------------
GORDY GRUNDY is a Los Angeles based artist. His visual and literary work can be found at www.GordyGrundy.com

Finding Mo Betta' Beauty in Paradise
William Twigg-Smith, New Zealand, 1883-1950 Rice Fields, Hanalei, ca. 1929, Oil on chipboard Gift of Anna Rice Cooke, 1929 (5162.1)

The Honolulu Museum of Art is located in the center of the city. A satellite contemporary space is located in Makiki Heights, a gift of Thurston Twigg-Smith and family. Twigg-Smith, the newspaper publisher, is the son of painter William Twigg-Smith (1883-1950).

D. Howard Hitchcock, United States, 1861–1943 Halema'uma'u Eruption at Night, 1917, Oil on canvas Gift of Aaron G. Marcus, 1978 (4612.1)

William Twigg-Smith, New Zealand, 1883-1950 Lava Beds, 1916, Oil on panel Purchase, 1992 (7066.1)

Charles W. Bartlett, Born England, active Hawai'i, 1860–1940 Twilight on Tantalus, ca. 1930, Oil on canvas Gift of Anna Rice Cooke, 1932 (4970)

Lionel Walden, United States, 1861–1933 Luakaha [Afternoon], c. 1916, Oil on canvas Gift of the Cooke Family, 1935 (74.1) Academy founder Anna Rice Cooke and her family maintained a summer residence in Nu'uanu Valley at Luakaha, from whose windows this view of the falls illuminated by the glowing light of late afternoon could be seen.

William Twigg-Smith, New Zealand, 1883-1950 Kaho'olawe, 1928, Oil on panel Gift of Honolulu Art Society, 1929 (5161.1)

Hubert Vos, United States, 1855–1935 Study of Hawaiian Fish, 1898, Oil on canvas Gift of Robert and Deanna Levy, 1987 (5626.1) The Dutch-born American painter Hubert Vos moved to Hawai'i around 1897 where he set out to paint the portraits of Hawaiian people in their various occupations. In this work, Vos depicts a fishmonger with a display of fifty-seven types of fish and crustaceans in the tradition of 17th-century Dutch still-life painting.

Jules Tavernier, France, 1844–1889 An Eruption, Hawai'i, late 1880s, Oil on canvas Gift of Hiroshi Isono, 1997 (8706.1)

Jules Tavernier, France, 1844–1889 Sunrise Over Diamond Head, 1888, Oil on canvas Gift of Frances Damon Holt in Memory of John Dominis Holt, 2001 (9500.1)

Cornelia Macintyre Foley, United States, b. 1909- Hawaiian Woman in White Holoku, 1937, Oil on canvas Gift of the artist, 1997 (8649.1) Cornelia Macintyre Foley first studied at the University of Hawai'i before taking art classes at the University of Washington and the Slade School in London. She returned to her birthplace, Honolulu, in the early 1930s where she was best known for figurative subjects. The quiet monumentality of the Hawaiian woman depicted in this work reflects the influence of British-born Hawai'i artist Madge Tennent.

Enoch Wood Perry, Jr., United States, 1831–1915 Rose Ranch, 'Ulupalakua, On the Slopes of Haleakal_, Maui, 1865, Oil on canvas By the time he reached Hawai'i in 1864, the American painter Enoch Wood Perry was well traveled. He studied with the academicians Emanuel Leutze in Düsseldorf and Thomas Couture in Paris, and later followed the itinerary of the Grand Tour through Italy. In Hawai'i, he painted portraits and landscapes. This view of Rose Ranch, 'Ulupalakua, Maui, a sugar plantation on the slope of Haleakal_, provides a bird's-eye view of a panorama extending across the isthmus of central Maui to the West Maui Mountains.

Anders Elias Jorgensen, Denmark, 1838–1876 View of Honolulu from Punchbowl, 1875, Oil on canvas mounted on board Gift of Hester M., Richard C., and David E., Vanderburgh in memory of Richard M. Vanderburgh, 1981 (4954.1)
Clarke Reilly of the Honolulu Museum of Art has graciously provided us with additional information on the Hawaiian arts.
The First One Hundred Years Art in and of Hawai'i 1780-1880
In the decades following the first contact of European explorers in the late 18th century, Hawai'i was depicted in charts, drawings and paintings to provide a visual record of the newly encountered islands for the European Court and its public. The images and artifacts which accompanied the narrative accounts of European explorers provided scientific information about Hawai'i's geography, cartography, natural environment, and civilization at the close of the Age of Enlightenment when the acquisition of knowledge was considered essential to the betterment of society. This information was also applied to political, economic and religious interests of Europe and the United States.
Artists such as John Webber (Great Britain, 1752-1793), and later, Jacques Arago (France, 1790-1855), and Auguste Borget (France, 1808-1877), Louis Choris (Russia, 1795-1828), and Robert Dampier (Great Britain, 1800-1874) traveled to Hawai'i to document its landscape and indigenous people. Whereas, by the middle of the nineteenth century, others including George Henry Burgess (Great Britain, 1831-1905), Paul Emmert (Switzerland, 1826-1867) and James Gay Sawkins (Great Britain, 1806-1878) focused on the indoctrination of Western customs, business, and religion by American missionaries who arrived in 1820.
By the third quarter of the 19th-century, due largely to the cultural interests and influence of the missionaries who brought with them traditions of art making and appreciation, artists including Jules Tavernier (France, 1844-1889), Charles Furneaux (United States, ca. 1835-1913), and Enoch Wood Perry, Jr. (United States, 1831-1915) traveled to Hawai'i in search of the picturesque in order to articulate contemporary artistic concerns. Some strove to faithfully represent daily life in Hawai'i and its natural environment reflecting the contemporary aims of the Barbizon School in France while others from America drew upon the more romantic and ideological tradition of the Hudson River School to invest the Hawaiian landscape with poetic and spiritual meaning.
The Volcano School
In the 1880s, the Volcano School emerged in Hawai'i as a synthesis of Europe's realist tradition and the romantic, symbolically latent penchant of American painting. The resulting images are often otherworldly views of Kilauea Volcano at night characterized by spectacular light effects and, at times, nearly abstract or surreal compositions. Since the 1770s when the activity of Mount Vesuvius drew artists and writers to Italy, images of volcanic eruptions have represented geological phenomena while also serving as a metaphor for the transformation of society and reminder of humankind's limitations at the dawn of the Industrial Revolution. From these early European volcano pictures to Frederic Edwin Church's primordial scenes of the erupting Cotopaxi in South America, volcano imagery has embodied the enquiries of philosophers such as Edmund Burke (Ireland, 1729-1797) who wrote of the terror inspiring majesty of the sublime, or the criticism of John Ruskin (Great Britain, 1819-1900) who reasoned for the moral and spiritual responsibility of art.
With the newness of Hawai'i in the Western imagination, Volcano School artists whom included Jules Tavernier (France, 1844-1889) and Charles Furneaux (United States, ca. 1835-1913) as well as Constance Fredericka Gordon Cumming (Scotland, 1837-1924), Ogura Yonesuke Itoh (Japan, 1870-1940) and David Howard Hitchcock (Hawai'i, 1861-1943), literally represented the birth of a new and awesome frontier for their audiences with theatrically choreographed depictions of spewing and flowing lava. Theatrics aside, the Volcano School painters accurately conveyed the drama with which news of Kilauea's activity was received within and outside of Hawai'i as illustrated by a column from the Honolulu (Hawai'i) Bulletin published in the New York Times on October 23, 1890: "The latest news and photographs from the volcano, supplemented with reliable stories from eye witnesses, testify that Hawai'i's natural wonder is probably at present the greatest volcanic phenomenon in the entire world."
Modernism in Hawai'i
The nascence of Hawai'i society roughly coincided with the birth of modern art in Europe. Thus the history of art in Hawai'i is largely portrayed in the visual language of modernism from realism, to plein air painting and impressionism, to Art Deco.
Artists such as Hubert Vos (United States, 1855-1935) and Theodore Wores (United States, 1859-1939) painted realistic, yet romanticized portraits of Hawaiians in genre scenes. Their paintings describe impressions of "Old Hawai'i" rather than anthropological studies of indigenous people. Landscape painting in Hawai'i was transformed by such artists as Lionel Walden (United States, 1861-1933), David Howard Hitchcock (Hawai'i, 1861-1943) and William Twigg-Smith (New Zealand, 1883-1950) who bridged the realistic manner of landscape painting in the late 19th century with impressionism and its emphasis on the effects of light on human perception of form, color, and movement.

Before World War II, artists in Hawai'i experimented with decorative pattern using natural forms, especially tropical foliage and flowers as in the highly stylized work of Lloyd Sexton (United States, 1912-1990). Others such as John Kelly (United States, 1878-1962) Marguerite Louis Blasingame (United States, 1906-1947) and Cornelia Macintyre Foley (United States, b. 1909) used stylized imagery of Hawaiian figures in work that mirrored the similarly romanticized and exoticized Art Deco imagery depicting the people of French colonial Polynesia and South East Asia.
Around that time, art in Hawai'i was influenced by currents in Europe and the U.S., from Art Deco to Surrealism to Abstract Expressionism, and the Honolulu Academy of Arts became a locus for contemporary art, exhibiting and collecting the work of such artists as Alexander Calder, Joan Miro, and Isamu Noguchi. Extended visits to Hawai'i by such artists as Georgia O'Keeffe, Max Ernst, and Dorothea Tanning provided further stimulation among members of the local artist community.
Follow Gordy Grundy on Twitter: www.twitter.com/Gordy_Grundy