They are beautiful. They are polished, well coiffed and camera ready. They are smart, armed with acid wits and a scathing sense of humor. Not to be trifled with, they are brave and fearless, always ready to attack. Ladies and gentlemen, fresh from Russia's harsh gulags, Nadya Tolokonnikova and Masha Alyokhina of Pussy Riot are free and ready for the world stage.
This moment marks a transition for several artists. Pussy Riot, the Russian performance art collective, has emerged from great trial and travail. Once punks and pranksters, they have been reborn as international celebrities. Their future is bright, full of promise and endless possibilities. The objectives of a related collaboration have also been successfully met. The two-year efforts of Pussy Riot Vodka have now ended. Pussy Riot Vodka is the creation of two Los Angeles based artists. The work was designed to help keep media attention on Pussy Riot while they sat in jail, dulled to celebrity association and media attentions.
Most recently, Tolokonnikova and Alyokhina made a much-publicized appearance on the Colbert Report. Despite the difficulty of speaking through a translator, the interview remained lively, fresh and very funny. Pussy Riot is clearly in command of their stage. Stephen Colbert signed off with a friendly request for his "pal" Putin: "Vladimir, I don't ask much, and I don't ask often, but you leave those girls alone."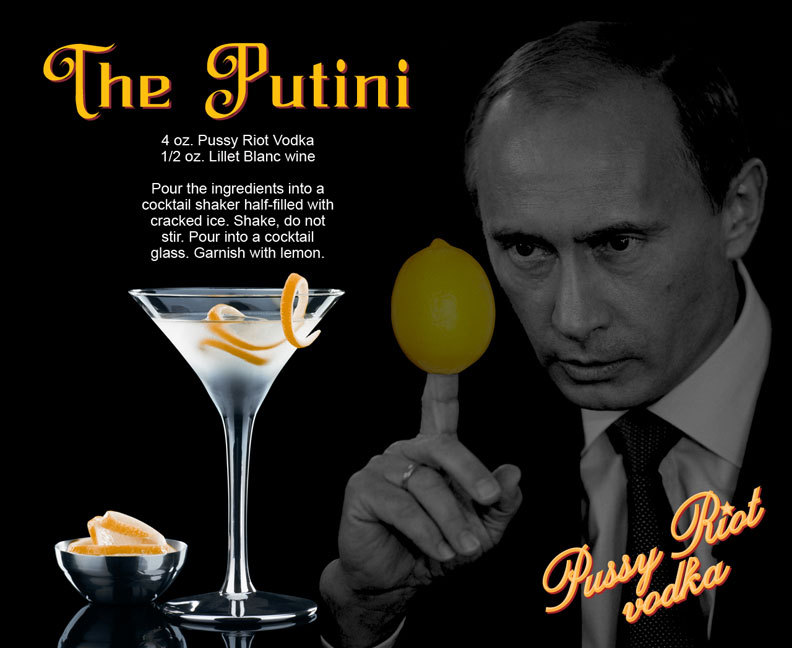 Within the same news cycle, Pussy Riot made an appearance with Madonna, their best celeb supporter, at the "Bringing Human Rights Back Home" concert, a fundraiser for Amnesty International at the Barclays Center in Brooklyn. Amnesty International has been a constant and ardent supporter of Pussy Riot. The concert was timed to the start of the Sochi Olympic Winter Games. While the world may be full of human rights abuses, the target of the concert was Mother Russia and the election shenanigans of President Vladimir Putin. It seems that any verbal protest against Putin's barechested regime could land the warbler up to six years in prison. A group of protesters, currently standing trial, are about to find out.
Many believe that Pussy Riot was released from jail as a publicity stunt, with Putin wanting to demonstrate his kind-hearted and democratic largess. True or not, the move shows the Presidents lack of public relations savvy and basic good judgment. This point alone demonstrates that he is unfit for office. Pussy Riot is the last group Putin needs running around the globe. Nadya Tolokonnikova and Masha Alyokhina are a threat, a clear and present danger. Together, their heat may generate true social and political change. The duo is smart and vicious. I have great respect for anyone who can flip the bird to snarling Russian prison authorities while still behind bars. Pussy Riot is a smiling tiger.
The world shall be their oyster. Pussy Riot has nothing but shining opportunity. It will be interesting to see what they do with it. Their life back in Russia will be closely monitored. The fate of their families will always be a threat. As leaders, Pussy Riot has proven to be a very successful organizer. No one really knows the actual size of the Pussy Riot collective. One can only speculate how large it could grow. To join, all you need is a brave heart and a balaclava. The world media loves Pussy Riot. As evidenced over the last several years, Pussy Riot has a large and growing platform. Immigration is an open option; many governments would receive them with open arms. Artistically, Pussy Riot can pick any medium and command a deal only a superstar might ponder. Hollywood must be in a tizzy to land these wild Russians. The future of Pussy Riot offers a blank check of radical possibility.
Small steps can leave a large footprint. Over this weekend, at an event related to the Berlin Film Festival, Alyokhina and Tolokonnikova hinted that they may enter the political arena, running for seats in the Moscow assembly.
Much to my dismay, the emancipation of Pussy Riot brings an end to the Pussy Riot Vodka project. When Pussy Riot was first arrested for their cathedral stunt, I was horrified by the strong-arm suppression of artistic freedom. It could happen here, in these United States. This threat grows more likely. With our loss of privacy, the militarization of our police and the faceless and unaccountable powers of government security agencies, American individual rights and freedoms face a greater risk every day. The Pussy Riot story must remain paramount.
Artist Michael Delgado and I knew that the celebrity outrage over the Pussy Riot arrest would fade quickly once the women were jailed and the last spotlight unplugged. Hollywood is forever fickle. "The celebrity support vanished, just when the world could use more riotous pussy," Delgado sighed. To keep the story of the collective alive, we created Pussy Riot Vodka and presented it to the world as a very viable product.
Business plans, marketing campaigns and promotional videos went viral and international. Recipes for the political mixologist were showcased monthly. Advertisements hit social media. Most fun, no such product ever existed. That fact was lost to many with hilarious results, even to Pussy Riot's legal and licensing team. Over the two-year period, many articles have appeared in the Huffington Post. Stories have been written and ping ponged across the internet. In a lifestyle piece, the Los Angeles Times printed a cocktail recipe that demanded one and a half ounces of Pussy Riot Vodka.
Today, we shall mix our last Putini and raise the glass with a toast to the emancipation and future freedoms of Pussy Riot. Long may they sing and shout! Loudly.
Gordy Grundy is a Los Angeles based artist and arts writer. His visual and literary work can be found at www.GordyGrundy.com.
Michael Delgado is an artist. His brushwork can be found at www.akaDelgado.com

PHOTO GALLERY
BEFORE YOU GO
Drink Pussy Riot Vodka! Join Our Art Performance!
PHOTO GALLERY
Drink Pussy Riot Vodka! Join Our Art Performance!