On Saturday, the 15th of December 2012, Maria Alyokhina and Nadezhda Tolokonnikova, the persecuted members of Pussy Riot sit alone in a Russian gulag of untold horrors. The young mothers and artists are dangerously imprisoned for their act of art and free speech. At the same time, hundreds of miles away in Moscow, Russian police arrested the leaders of a movement that opposes the dictatorial policies of Russian President Vladimir Putin.
A rally was disrupted and arrests were made because the proper permits had not been obtained. Thousands of Russian freedom thinkers filled Lubyanka Square and held white flowers in defiance of government oppression. Some permits are harder to get than others. Disruption of the rally was promised by the State. Russia is a young democracy, fighting to define itself against the inhuman foibles of power, greed and control.
Russian police made their presence known to the citizens who gathered. A helicopter overhead, web cams and batons played a heavy hand. Leaders were arrested and jailed.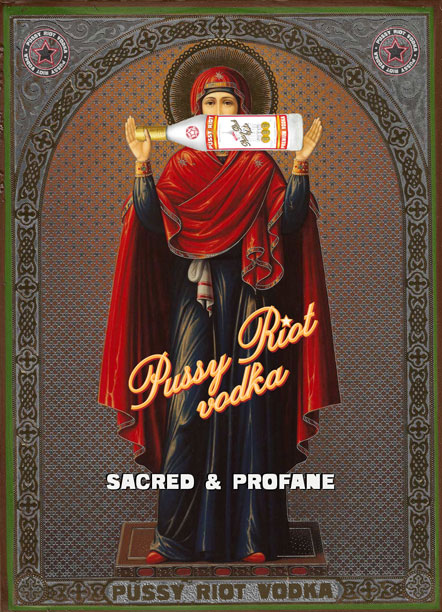 Last February, the brightly dressed members of a Russian all girl art collective staged a punk rock concert in Moscow's largest Russian Orthodox cathedral at midnight. Their concert was spontaneous. Three were arrested. The only song they played that night was titled Punk Prayer. The lyrics, sharply dismissive of Putin and his corrupt leadership, called upon the Virgin Mary to save the Motherland. Today, two are serving two-year prison terms, far away from family and friends.
Bully behavior is quite simple and historically effective. Sometimes it backfires, but most times not. The operations of a dictator are simple. Single out the troublemakers and get rid of 'em. Natch. The artist group Pussy Riot was too vocal and attractive. Western celebrities used to love them. The limelight has shifted. Pussy Riot is now quietly in jail and jeopardy.
There are many tricks to oppress people. The Lubyanka Square rally of December 15 was designed to honor the victims of Stalinist oppression. Everyone gathered to lay white flowers, roses, lilies and chrysthanthemums, at the base of the commemorative statue. The temperature was close to freezing.
For the oppressor, it is effective to arrest and jail those with the loudest voice. The authorities singled out the leadership at the rally. Soon, those arrested will be fined with outrageous amounts in order to bankrupt them. To set an example, it is best to beat them down and keep beating.
While in custody, the arrested were videotaped to record their actions and statements. New laws have upped the ante. A broadened definition of treason and hooliganism can land one in hot water rather easily.
Russian history is full of brave and vocal freedom lovers who have paid a lethal price for their democratic ideas. Pussy Riot is one of them. They are suffering now.
Fellow artist Michael Delgado and I have created Pussy Riot Vodka in order to keep the artists in our international consciousness. We have used satire and our pop culture to manufacture the world of Pussy Riot Vodka. Visit www.PussyRiotVodka.com and share it.
CLICK HERE for the amusing origin story. CLICK HERE for Article Two in the Huffington Post.
Gordy Grundy is a Los Angeles based artist and arts writer. His visual and literary work can be found at www.GordyGrundy.com.
Michael Delgado is an artist. His brushwork can be found at www.akaDelgado.com
+ Money is the bane of every entrepreneur and Marxist. Investors: Discover the dynamic Business Plan! CLICK HERE
+ LIKE Pussy Riot Vodka on Facebook. CLICK HERE. Share!
+ Send us an email to receive our newsletter for updates and new music releases: CLICK HERE.

PHOTO GALLERY
BEFORE YOU GO
Drink Pussy Riot Vodka! Join Our Art Performance!
PHOTO GALLERY
Drink Pussy Riot Vodka! Join Our Art Performance!