The hard battle to end AIDS is far from over. As victories are made, the disease remains vicious and unrelenting. The uneasy topic is still taboo. The public is weary of death and destruction. Yet history cannot be denied. There are more victims than we had once thought. In his very personal memoir, Gary Cross details another fraternity that was decimated by the disease. When the gay community first began to panic, the hemophiliac population was attacked. AIDS killed half of the twenty thousand living with hemophilia in America.
The author writes of a 1982 photograph, a group portrait of forty-five boys, age six through eighteen, at a Southern summer camp for hemophiliac boys. His seventeen-year old son is among them. This was a special-needs camp, designed to give the high-risk kids an adventurous outdoor experience. Out of the group, only one is alive today. Most were infected in the mid-eighties and died within five years.
It is a cruel death. Not only are the symptoms of the disease devastating, the fear, ignorance and persecution wrought more terror. Young Ryan White was the first hemophiliac to be infected with the virus. He was kicked out of his grammar school in Kokomo, Ind. In Florida, the home of Ricky Ray was burned to the ground by concerned neighbors. Also a hemophiliac, Ray died at the age of fifteen in 1992.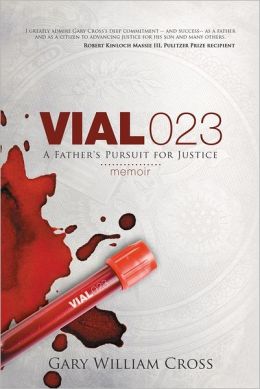 There is blood on many hands in this sector of the AIDS battle. Pharmaceutical companies placed profits before standards and our own federal government was lax in leadership and oversight. VIAL 023 is a story that many institutions do not want you to hear.
Women are the carriers. Hemophilia is a bleeding disorder for men. Factor 8 and Factor 9 is a clotting protein. In normal males, the clotting factor is thirty to forty percent of their blood stream. A hemophiliac contains one percent. Internally or externally, a hemophiliac bleeds longer than you or I. In the sixties, it was discovered that Factor 8 or Factor 9 can be removed from a healthy donor and injected into the hemophiliac. In an emergency, this infusion would allow the afflicted a period of relief to heal and stop the bleeding. This injection was a lifesaver. In the early eighties, it became lethal.
Where can a pharmaceutical company find clean, fresh blood? Church and community blood drives provide a supply. A faster solution yielding greater volume might be a men's prison. Big Pharma paid the prison system for product that was obtained, not by medical professionals, but by the inmates themselves. Quality had no control. Also according to the book, volunteers were even solicited at gay bathhouses where the clientele was known to have strong antibodies against jaundice. Within a short period of time, the lifesaving injection for the hemophiliac was tainted by high-risk sexual behavior and chronic drug users.
VIAL 023 is a saga of happy family living with a medically challenged son whose life is suddenly compromised by a mysterious and unknown disease. At the onset, AIDS was called the Gay-Related Immune Deficiency or GRID. Doctors advised the Cross family to keep their secret.
Author and good father Gary Cross is a steadfast David to a flamboyantly powerful and moneyed Goliath. Big Pharma raised their hands and exclaimed, "Not us!" The family is aptly named. They had a large cross to bear. Not only was a son dying in agony, father, mother and daughter were persecuted and even physically assaulted. With dogged resolve, they bury their boy and go after the perpetrators.
VIAL 023 is a story of patience and perseverance. Cross is a simple man who led the American hemophiliac community to victory after a series of legal doubts and misfortunes. The odds were very much against them. Calamity was heaped upon them. When all was lost, Cross and his team took a risk with several clever approaches. This generated the approval of the Federal Ricky Ray Bill that brought financial relief to over 8,000 hemophilia families. A settlement with Big Pharma was conceived, not in the courtroom, but behind closed doors. David got Goliath where it hurt.
Donna Shalala, then Secretary of Health and Human Services, launched a study that determined the Federal Government provided inadequate decision-making processes and failed to lead in this crisis. There are many players on all sides who would rather let the public remain unaware of the "hemophilia holocaust." Once again, the steadfast Cross took action and wrote a book.
VIAL 023, named after his son's blood test identification number, is available on Amazon, iTunes and Barnes & Noble digital formats. Every David with a battle to pick might find inspiration from this book. They are many ways to sling a stone and fell a giant.