DJ Pauly D, Mike "The Situation" Sorrentino, and Nicole "Snooki" Polizzi were each sent tumbling through trap doors located beneath them, Dr. Evil style, after failing to answer simple New Jersey-themed questions.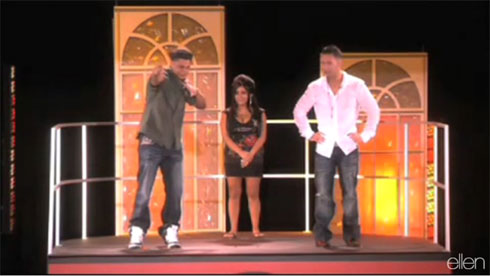 DJ Pauly D breezed through the first two questions, which included - *cough* - "Which New Jersey city is Newark Airport in?" However, the music stopped for the DJ when he was unable to name the slogan for Olive Garden. After shuffling around for a few seconds, he ventured a guess: "We don't pump our gas, we pump our fists!" Off he went through the trap door. (For future reference, it's "When you're here, you're family!")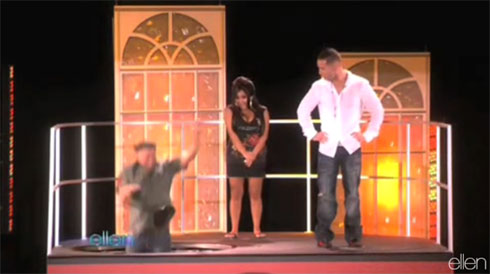 The Situation was given a free pass by Ellen when he was unable to translate the French word "bon" into English. Sighing in resignation he told her, "Might as well just drop me." Ellen allowed him to stay above ground, and he was able to name the four seasons after an infinitely long pause. The Situation was finally sent flying for not being able to identify the host of CNN's Situation Room. After asking Ellen for a hint, she pressed the eject button, and he was sent into the abyss.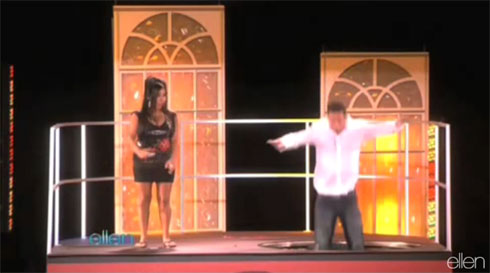 Perhaps this game show needs a "lifeline" option, like in previous seasons of Who Wants to be a Millionaire, although I doubt the rest of the cast would be at all helpful. While residing at the Jersey Shore house poor Snooki couldn't even pick up the receiver of the duck phone properly, much less answer a question posed through it.
Speaking of Snooki, she took the cake - or cannoli - in Ellen's game show. First she answered that New Jersey fought for the Confederacy in the Civil War, and Ellen, bless her patient heart, gave her a second chance. But then Ellen asked her to name the original 13 colonies. Snooki started, "New York, Pennsylvania, Rhode Island..." So far so good. "Canada," she continued. And down she went!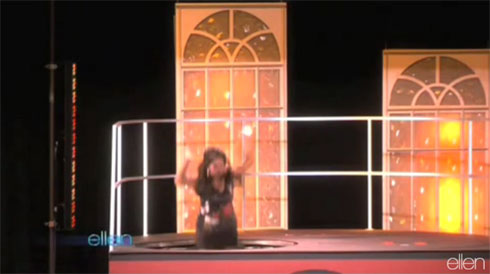 Those who hoped that the cast of Jersey Shore would be tossed from their television screens will finally get their wish when Ellen airs tomorrow. Check your local listings for the air time.
FOLLOW HUFFPOST