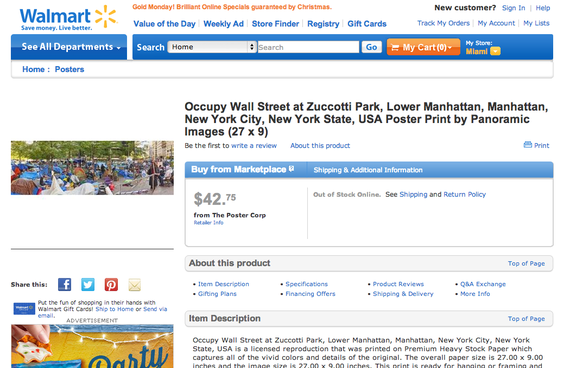 Occupy Wall Street started in 2011 with a meme questioning the wisdom of corporate America.
In an ironic turn, Walmart.com -- the online wing of America's largest retailer -- decided that questioning corporate values sells. Accordingly, Walmart now offers "Occupy Wall Street" posters for sale online for $42 a piece as reported by Yahoo! Finance.
"As an OWS Organizer, I am disturbed but not shocked that Walmart would seek to commodify and corporatize products of an anti corporate movement" said Yoni Miller, a veteran of the Zucotti Square protests that caught the world's attention.
"They also recognize, the immense popularity of Occupy's narrative, so rather than explicitly oppose it, they're seeking to historicize and mythologize the concept of occupations and income inequality."
Only two short weeks ago, the mega retailer Wal-Mart Stores, Inc was busted selling counterfeit prints of street artist Banksy according to a Huffington Post blogger.
The beleaguered Mega Retailer faces regular strikes these days, in addition to a federal bribery investigation and continuing worries about same store sales shrinkage.
"That's a complete abomination towards everything Occupy stands for" said Kevin Young, a participant in Miami's Occupy movement, "and people should print their own posters."