In North Charleston, in what's shaping up to be another shocker of a semi-battleground state, South Carolina, citizen journalist Grayson Daughters YouTubed Obama volunteers registering voters. The state has a history of ugly partisan and race-baiting politics. "We're most of us new to politics. Most of us have stayed out and it's mostly because of negative ads that you see on TV," says Charlie Cyr. Reverend Randolf Scipio says: "Our effort is to reach out and make contact with those people who will support Barack Obama as their candidate. We're not concerned with what the other parties are doing -- on the volunteer level, that's really not on us."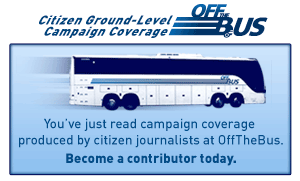 SUBSCRIBE AND FOLLOW
Get top stories and blog posts emailed to me each day. Newsletters may offer personalized content or advertisements.
Learn more