There's nothing like a psychedelic "mock operetta" to boost your spirits during an economic downturn, especially one as rich, savage and delicious as Pearls Over Shanghai. Then again, there is nothing as rich, savage and delicious as Pearls.
The one-of-a-kind stage jewel, which just extended its run again (now through December 2010) in San Francisco, is, quite simply, a mesmerizing headturner from beginning to end that wonderfully captures the fun, the froth and the theatrical excitement of an era that gave birth to the civil rights movement.
But Pearls also does more that. It brings together the most provocative, uninhibited performers for a yarn that successfully relies more on personality than plot. The good news is that anybody who was breathing before Twitter, Facebook, cell phones and MTV consumed the culture will get a kick out of how cleverly this romp performs creative CPR on a significant portion of San Francisco history that would have otherwise been left gasping for air.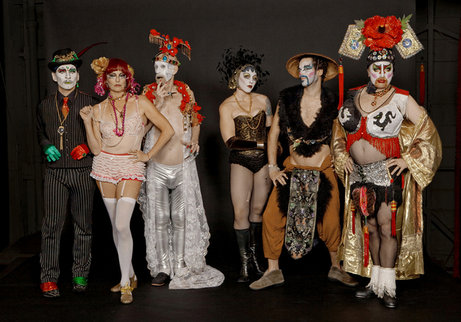 Photo by Daniel Nicoletta
Pearls was originally performed 40 years ago by The Cockettes, a headturning yet prominent gender-bending theatrical troupe (from 1969-72) who not only originated the show, but manages to become a profound influence on the culture -- from the rise of midnight movies to glitter rock stars (David Bowie, the New York Dolls) and outlandish fashions. The group became part of San Francisco's colorful LGBT tapestry for many reasons but the most significant one has a great to do with balls -- as in, guts. The Cockettes so boldly pushed envelopes and, during its heyday, morphed into a powerful poster child for freedom and creative expression. The troupe was chronicled to winning ends in the riveting doc The Cockettes a few years back as well.
In fact, two original members of the group appear in this redux -- musical director/piano accompanist "Scrumbly" Koldewyn (who also wrote the music here) and Rumi Missabu, who delivers an unforgettable turn as Madam Gin Sling.
About the plot. It's not rocket science, so don't ponder loopholes in the creative math. Sailors, streetwalkers, a troika of American crooners (gals) and a big brash Russian diva -- and so many more -- crawl under the covers with destiny (and a stellar musical score) in the exotic settings of 1937 Shanghai.
Misadventures ensue. (More than a gaggle of them.)
But what gives Shanghai its superior pep is the Busby Berkeley-inspired production numbers, which are downright inventive. Pieces like "White Slavery" and "Opium" playfully illuminate the roles of sinners and do-gooders back in the day. And director Russell Blackwood, who also plays a hilarious Mother Fu, does wonders with the book and lyrics by Link Martin.
In a day an age when really paying attention -- to anything -- has become somewhat of a luxury, and all things "real" seem more and more illusory (thank you, reality TV) Pearls could not have arrived at a better time. It's a breath of fresh air -- and a provocative spank on the derriere.
And ... we could all benefit from some of that.
This Blogger's Books and Other Items from...
SUBSCRIBE AND FOLLOW
Get top stories and blog posts emailed to me each day. Newsletters may offer personalized content or advertisements.
Learn more