The week may be fading to black but the curtain is just rising on a Ralph Lauren boycott.
In the wake of a cancelled segment last Sunday on CNN, indie filmmaker Darryl Roberts (America the Beautiful), has offered a request to the media giant. He says he is once again willing to discuss on air with a rep from Ralph Lauren why certain media images have been photoshopped, particularly the Fillipa Hamilton image that created a stir earlier this fall. (Not long after Ralph Lauren issued a statement of apology for the matter, Roberts discovered two additional, similar ads.)
What happens if CNN moves forward with the idea and Ralph Lauren's camp refuses to appear? Roberts says he and supporters will peacefully but firmly take to the streets in a boycott slated for 4 p.m. Tuesday, Dec. 15 at the Ralph Lauren portal on 750 N. Michigan Ave., in Chicago. About 100-200 people are reported to be attending. Other boycotts are tentatively slated for New York and San Francisco.
A representative from Ralph Lauren said they had not been contacted by CNN regarding Roberts' latest announcement and noted that the company had issued a public apology after the photoshopped image of Hamilton was discovered. It read, in part, "For over 42 years, we have built a brand based on quality and integrity. After further investigation, we have learned that we are responsible for the poor imaging and retouching that resulted in a very distorted image of a woman's body. We have addressed the problem and going forward will take every precaution to ensure that the calibre of our artwork represents our brand appropriately."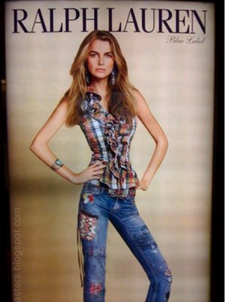 All this comes after last Sunday's cancelled CNN segment, which, according to Roberts, was to feature him, eating disorders expert Dr. Maria Rago and a rep from Ralph Lauren, which, according to a spokesperson, initially issued a statement in lieu of any on-air appearance.
Roberts says the boycott will be called off only if a rep from Ralph Lauren comes on CNN to discuss the issue with him.
As for that boycott, Roberts is asking that no one purchase any of the new U.S. Winter Olympic Gear that Ralph Lauren designed. "It's our position that he doesn't hold American womanhood values when he disrespects women through offensive advertising the way that he's done," he says.
But what do Roberts and his (hmm ... what's the term?) Patriots for Better Media Images actually crave? He says he told CNN that his conditions are:
1. That Ralph Lauren explain how and why the airbrushing of photos, especially the one featuring Fillipa Hamilton, happened earlier this year. (Basically, what happened in the first place.)
2. That Ralph Lauren apologize on CNN to every woman in the world for their offensive advertising.
3. That Ralph Lauren give a firm commitment that they will never put ads as egregious and photoshopped as the one's that were recently seen.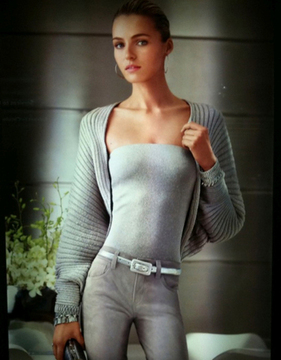 Roberts and his milieu seem to have their emotional weapons armed and ready to fire in what this HuffPo blogger believes could become a curious grassroots effort that may send an interesting ripple effect throughout some sectors of the advertising industry.
The brouhaha may (or may not) be a business blemish for Ralph Lauren and its ilk but one thing is certain: You can't photoshop something like a boycott away.
Stay tuned ...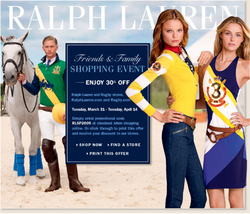 SUBSCRIBE TO & FOLLOW LIFESTYLE
We're basically your best friend… with better taste. Learn more