Reverend Billy: Is San Francisco Ready for Its 'Earthalujah' Moment? (VIDEO)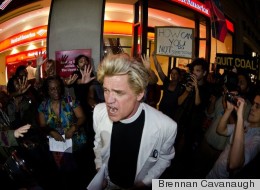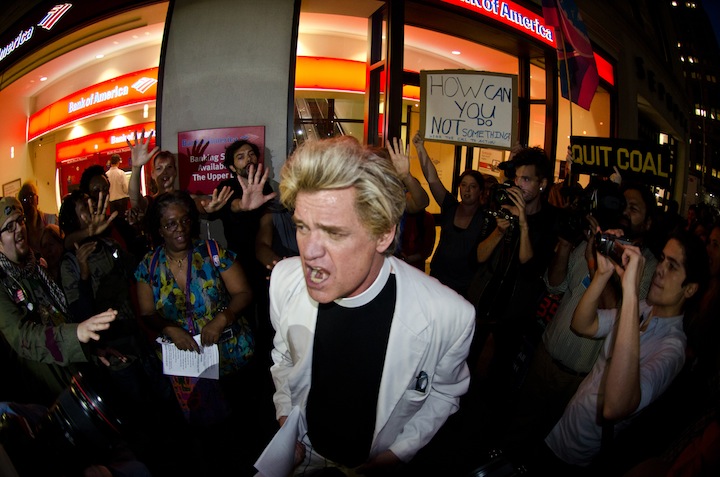 Photo by Brennan Cavanaugh
Few souls are blessed with proper amounts of spunk and Earth-justice panache as Reverend Billy. And even fewer of them have the ability to spawn a successful tour that raises the level of awareness about the link between big banks and the eroding environment. But leave it to this eclectic performing artist/preacher -- so robust, so postmodern-Elvis -- and his passionate posse to artfully descend upon the masses with something so distinctly one-of-a-kind.
Brace yourself: The Revolt of the Golden Toad Tour has arrived.
The gist of of the tour, which launched on Easter Sunday and hits the Bay Area the week of April 22 (a festive outing in Point Reyes on April 25 stands out), is to illuminate the environmental ripple effects of decisions made by big banks. In this case Rev. B and his energetic choir shine the light on the golden toad, which was once abundant in a remote, high-altitude region of a cloud-covered tropical forest in Costa Rica. There hasn't been any sign of the toads since 1989, and it's been classified as an extinct species.
"What killed the golden toad?" Rev. Billy exclaimed outside New York's JP Morgan Chase Bank on Easter Sunday this year. "Who was the Roman soldier? Who was the Pontius Pilate? JP Morgan Chase! This bank invests more money in industrial projects, which produce climate change!"
This wouldn't be the first time Rev. Billy generated major buzz. In fact, he has been doing so for more than a decade. Over the years his Church of Stop Shopping gospel choir has become delicious headline fodder, and the collective was chronicled in Morgan Spurlock's eye-opening documentary What Would Jesus Buy? a few years back. In between, the Rev. has been writing books (What Would Jesus Buy?, The Reverend Billy Project, The End of the World) and walking his talk ever since. It doesn't hurt to have a savvy musical director (Nehemiah Luckett) and performances designed and directed by his partner, Savitri D. This tour features a new song by the choir, "Extinction Revolution," which tells of the climate-change-killed golden toad returning from the dead to haunt Jamie Dimon's dreams and regulate Wall Street.
Bank on it raising eyebrows -- and a bevy of hands in applause, perhaps.
"To witness the Rev. back home in West Marin is a reason to believe in the power of play," says Jane Sullivan, event coordinator for the Pt. Reyes outing at Dance Palace. "I believe that the art-pranskters who use merriment as a medium, and whose underlying message is a matter of serious attention, are the the only righteous ones left in this world. Earthaluah!"
But what makes the spiritual beast tick? Listen and learn, dear child.
Greg Archer: The work you all are doing raises awareness about how some big banks fuel environmental dis-ease. During this tour, what do you want people to be focusing on right now?
Reverend Billy: Chase Bank, the golden toad. Most of us are musicians in the Church of Stop Shopping. We have sermons and songs, and we are politicized animals. We are also celebrating and educating. We all experienced Hurricane Sandy together, and there's this varied gap as to its cause, and we are going to identify the cause. Watching Hurricane Sandy at Wall Street as it did, flood the basement, and having them flee from the roof from the helicopters as they did, we decided these big banks are actually quite a disruption, JP Morgan Chase being the most destructive bank, and CitiBank and BofA in a second position, and HSBC and Royal Bank of Scotland, Deutsche Bank and all the others in the back of the pack.
Archer: In essence, during your "events," you are sharing little-known information about the banks?
Rev. Billy: The study that we refer to comes from banktrac.org. These are the researchers we find most compelling, and it is the biggest, most complete study. We started with the golden toad, and we will go on to honey bees in the fall, and then Siberian tigers. We will be the scourge of bank lobbies.
Archer: You say you began as a one-man entity back in 1999, a sidewalk preacher in Times Square. Tell me what you were "preaching" back then and why.
Rev. Billy: My main "devil" then was Mickey Mouse, the Disney Company. I did my preaching in front of the Disney Store. I lived up there [in that neighborhood], and interesting people I knew where all getting jailed and sheltered God knows where. They were privatizing the streets of Times Square for the purpose of retail, and I walked innocently into it. I didn't know. I thought the little businesses, longtime diners and such, were all shuttering at the same time. And I started mentioning it to my friends, performance artists and such, and after a while, I discovered it was Rudy Giuliani, and Disney was moving in with Lion King at that time, and they had a huge financial deal. Disney's owners were just blowing away small businesses in large numbers. It took us a while to know what was happening within the community, and then we started to share it with each other. Some people were more informed. So it was neighborhood defense, that first impulse. For us it will always remain defending the neighborhood and going from that to defending your local bio region, and then to a healthy economy being a sustainable economy. And when you have supermalls and chain stores, supply lines and sweatshops, and consumers wrapped in plastic and media, and traffic jams on the highway trying to get into the big boxes, we all think that going from our big devil being retail to consumer banking isn't that big of a jump.
Archer: So things shifted, and now you're raising awareness about environmental injustices?
Rev. Billy: Around the time of Hurricanes Katrina and Rita, we became more Earth-oriented. We went from Disney, Walmart and Starbucks to BofA and the big coal companies.
Archer: You're from South Dakota. When you were young, were you very much aware of the injustices happening in the country?
Rev. Billy: I was on the young end of the Baby Boom herd, peace and civil rights and the movements... women's and gender rights in the '70s and '80s. I just caught that wave. I went to the University of Wisconsin, and then to San Francisco State. But I would have to say that, around this time, a great influence, and certainly a great influence coming into this project, was a man that walked up to me in San Francisco when I ran a theater with a friend called Life on the Water. His name was Sidney Lanier [co-founder of the Foundation for Conscious Evolution]. He came to one of my plays. I wanted his approval, and I knew about his history. He cast me in a play as a character from his imagination, which eventually became a direction I went to for years. It became a mentor, like a mentor in an old Europeran art tradition. I left San Francisco under "his" guidance, and he put me in front of the Disney store. Sidney said, "We need a new kind of American preacher: post-religious." He taught me that Americans create their meaning through Bible stories, even secular Americans, and we have this way of looking at the world. Most Hollywood movies are still based on the prodigal son. Sidney himself learned this from his own background, coming out of the South, out of England. He was a close friend of Tennessee Williams. So Sidney taught me how Americans create their "meaning." With this new work I would say we are embodying these extinct animals. Now that's a Biblical idea, is it not?
Archer: But you have also raised awareness about mountaintop removal (MTR) mining and other environmental issues. But what is it like spreading your "word" on the streets, in front of a bank, and even inside a bank?
Rev. Billy: When you go into a strict conservative environment, you're going into a lockdown culture. There's only a limited amount of gestures that you are allowed, and that is true in a lot of retail firms. A surprising amount of limitations are put on people. In supermalls, if you raise your volume a little bit or even your hand, a security guard comes running. Certainly banks are very strict. If you come in with a gospel choir singing radical songs, or an Elvis impersonator like me, you'll have some people who are just laughing out loud, some people really afraid, others confused, others applauding. And we've had people join in with the choir. When you explode that retail monoculture, when you blow the monoculture into many cultures, people go off in many different directions. The point is when we are at a point where we're at now, where the physical life of the Earth is in a state of peril, you're supposed to be able to talk about it. We really don't have people standing up and saying, "I'm doing something very wrong." And there's an accelerated extinction wave going on, and it's going to include people pretty quickly.
Archer: There's a big need to take responsibility.
Rev. Billy: Well, there's nobody standing up and saying anything. We have these really namby-pamby David Cameron and Obama, and you have no idea what they believe. They talk depending on their poll and their audience. But we can't just blame it on those guys. All of us are participating in a collective censorship right now. It's eerie, and it has to be broken up. That's why we go into the lobbies; into the places that are the most strict outside of a military organization and, hopefully, make people go into another "place," getting them out of their consumer moment. We think that's the right thing to do.
Archer: So what do you dig most about what you do?
Rev. Billy: Singing gospels and preaching. As Sidney taught, it's sensual and so pleasurable. It's a damn shame the right wing had to steal it for so long. We have a wonderful community here in New York, and it's been going 10 years now. We are all in recovery from one Big Daddy god or another, but we are enjoying our recovery together in our reconstructed gospel songs.
Archer: I'm curious: After all you have done, what is one of the most interesting things you have learned about humanity?
Rev. Billy: I believe that people are always resisting the onslaught of consumerism. I am continually surprised by people. You scratch the surface just a little bit, and people have thought about it, about the life of the Earth. And the concern for what's happening right now is much more widespread than the polls would indicate or any columnist is lying about. Everybody knows about it. Everybody. We have Earth in us. Anybody from any walk of life will say, "Oh, the Earth will be fine. We are not going to make it ourselves, but the Earth will be fine!" People have a unique celebration of evolution, married with this very sad resignation that we can't reconstruct the economy or politics in a way that is sustainable to the Earth.
Archer: Sounds as if you have hope in people?
Rev. Billy: The Earth is still waiting for us to get it together. And people will say, "If we stood quickly, we could live, and our children could live too." People have something in them. Remember when the Stalinesque government collapsed? It was really like that 40-year night had been 48 hours. I might be being romantic, but I think Frank Zappa going out there, and that people kept their life in the culture... I think there's an Earthaluiah moment coming up, where we'll rise up and celebrate together. I really believe that's true.
* * * * *
Reverend Billy and the Church of Stopping Shopping descend upon Northern California this month. First up: Dance Palace at Pt. Reyes Station (Thursday, April 25, at 7 p.m.). Check out a Chalkupy event at City Plaza in Oakland (Friday, April 26, at 4 p.m.). On Saturday, April 27, the collective hits the Victoria Theatre in San Francisco. Keep track of other events here. In the meantime, grab a peek at the slideshow and video below:
Sign Of The Times: Rev. Billy Won't Let Big Banks Hop Over The Golden Toad Issue
Rev. Billy takes to the streets to spread the word on big banks, in this case Chase. (Photo by John Quilty)

Rev. Billy and his entourage keep the faith. Performances are designed and directed by Savitri D., with musical direction by Nehemiah Luckett. The lead singer is Laura Newman. (Photo by Brennan Cavanaugh)

New Yorkers gather as performance artist Rev. Billy expounds upon consumerism and big banking. (Photo courtesy of Rev. Billy and the Church of Stop Shopping)

Luminous Bank of America, Kodak and AOL ads infiltrate New York's epicenter, but that doesn't stop Rev. Billy from delivering the word. (Photo courtesy of Rev. Billy and the Church of Stop Shopping)

Onlookers watch on as Rev. Billy chats up environmental issues, from coal to the golden toad. (Photo by Brennan Cavanaugh)
Follow Greg Archer on Twitter: www.twitter.com/Greg_Archer