It's been more than a decade since Sandra Bernhard officially gave birth to a comedy album so it's fitting that, during Gay Pride month, she delivers a powerfully engaging gem in I Love Being Me, Don't You?
Yes--we do love you being you, dear Sandra.
Bernhard performed the new work--originally recorded live at San Francisco's historic Castro Theatre last fall--earlier this month in New York, attracting the likes of Liza Minnelli and Justin Bond. The buzz is suddenly growing. With bits devoted to such notables as Angelina Jolie, and other comedic entrees like Kabbalah Centre, Grindr and Where the F**k is Tina Turner, it's easy to see why. (Take note of two brilliant musical covers: Beautiful People and Kiss Me Deadly.)
Now, Bernhard is taking the show on the road. She hits San Francisco this weekend at the Marine's Memorial for two wild outings--just in time for The City's monstrous Gay Pride festivities--and ventures on to Vermont, New Hampshire and Maine in July.
I recently chatted with Bernhard to learn more about her new album and what the Roseanne alum and Grammy-nominated (Without You I'm Nothing; I'm Still Here ... Damn It!) lady is pondering these days. Dive in:

I can't help but appreciate some of the titles on your new album--and the overall vibe itself.
"That show was very improvisational. It was a comedy festival. I was just inspired to go up there and riff on things and do this kind of stream of consciousness. There was really no plan that night. That's why it turned out so uniquely. I love it when I can just get up there and riff. Sometimes it works and sometimes it doesn't work but that night, it definitely did."
Congrats. So ... what else has been on your mind lately? Obviously gay marriage in New York is in the news ...
"There's an important shift in thinking. I think gay marriage is really, really important, but until we get equal rights, in terms of tax breaks, insurance and all the rest of the benefits ... I mean, marriage is great but it's got to come with the full package."
What are you most excited about these days?
"I'm always excited about my inner sanctum--my daughter, my girlfriend and things we get to do; the life we get to lead and the fun we get to have. My family and my extended family excite me. I am around people I am comfortable with. But I have all kinds of creative friends, too, and we're always collaborating. I wrote a musical last summer with Justin Bond. It's called Arts and Crafts and we're in the process of getting all that set up. I mean, the world has always been in flux. That's just the human condition. Obviously, people's behaviors aren't always up to par but there's great positive people out there, and you are drawn to them, and that's what makes life interesting."
Anybody really inspiring you?
"Justin Bond. I think, 'Wow. He's taken these songs [we're working on] to another level. And Amber Martin who is a performer in New York. I am a title queen. I always try to outdo myself.
The title thing has become a whole project in and of itself. She helped me come up with the title for I Love Being Me, Don't You? Besides that, she is a great performer. But I recently got to go to Hawaii and shoot a part in Roseanne Barr's reality show. And it's Roseanne so it's not going to be crappy. It's going to be fun. I got to spend two days with Phyllis Diller, who also came over to do it. I was so blown away by her. She's going to be 94 and she's so with it, and so in touch and so connected. That was inspiring to me--that if you stay plugged into a creative mode, you can be doing it forever, basically. She paints and draws and she's a virtuoso on the piano and so hysterically funny. What a groundbreaker for the comedic world and her generation. It says so much to the underpinnings of what she was doing--that it was so inherently political and so smart. She's a warrior."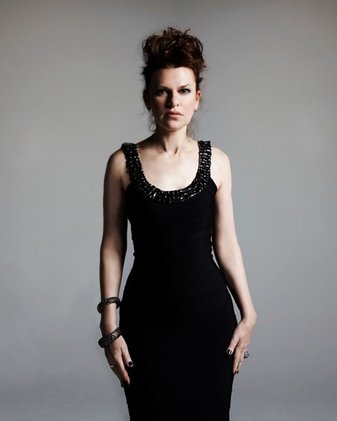 Photo courtesy of Charles Zukow & Associates

You love to Twitter. So how do you stay grounded in these full social media times?
"You can't take it very seriously. It's like talking to people on the phone and talking to a bunch of people all at once. You know what I mean? It's about trying to hone in on your message and also trying to make it a little fun at the same time, at least I do. Twitter has always been my medium, because I've always loved talking in short bursts, because that's what I do anyway. It's perfectly calibrated toward what I do. It's important. You know? It's the digital age we can reach millions of people at one time and there's nothing left to say. Humanity has evolved to this point and I don't know if it's the right way to communicate, but I've also honed my ability one on one, or talk to people from the stage; to focus. I don't walk down the street with a Blackberry of iPhone. I'm not particularly interested in always having to report back to the world what I am doing. I think you do it in increments of specific times and always say something that is a little insightful as much as you can, under those conditions."
What do you love most about performing?
"I like the whole process, actually. I like arriving at the city I haven't been at for a while ... and in terms of San Francisco, I love getting back and checking into my hotel and having lunch, and looking at the city; getting to sound check. I love the whole process of seeing the stage transform and seeing the transformation of getting dressed, doing my makeup and getting my hair done and then ... hitting the stage. It's all inspiring."
Show business is always challenging. What's helped you move through the twists and turns of having a career and maintaining it over the years?
"Balance. I mean, having a daughter and a long-term, great relationship, and staying close to my family. You have to have that kind of sanity in your life on a daily basis because you can't just focus on the career--the ups and downs and the frustrations. It's too overwhelming. It makes people crazy. It's so hard sometimes, even though I have that as an anchor in my life, there are moments when I'm like 'this is driving me crazy'--the business side of it. The creative side of it is 99 percent fulfilling most of the time. It's just finding that balance."
People really dig you. So what do think they're resonating with?
"Well, I think they are resonating with my honesty. My openness. My accessibility as a person. My humanity. Maybe that ironic thing I do: 'How dare you? I love you. I hate you!' That sort of thing everybody experiences; that 'Get out of my face but I love you, come back!' The duality of life."
What's some of the best advice you've been given about life?
"Nobody ever sat me down, per se, and gave me advice. It's more of what I've gleaned on my own--that you have to stay true to yourself and follow your own path in life, and not get sidetracked by things that are gleaming on the side of the road ... a little gold, and you try to pick it up and it's worthless. You've got to stay true to the things that inspire you; things that you love. And be a really unique, honest person in your own skin."
What's the most interesting thing you've been learning about yourself lately?
"My lesson everyday has to do with being patient. And that's not easy for me because of the creative aspects of my career--waiting for things to come to fruition. But I've gotten much much better at enjoying each day and whatever each day brings. And knowing that I am doing everything I can to facilitate my career and the future; things that I want to accomplish. I've learned that it will get done ... in the right time."

There's more! Check out these five wild Sandra Bernhard moments:
Five Wild Sandra Bernhard Moments