A funny thing happened on the way to my nervous breakdown. Sanity called.
Fortunately, I had a cell service.
I know this must sound horribly dramatic, but come to think of it, aren't most nervous breakdowns horribly dramatic? Even if you're just imagining you're having one?
The truth is, like a great many hard-working professionals in America, I've been skipping just south of the big NB for quite some time -- in a place called Burn Out. You may have heard of it. And if you have, you already know that the scenery just isn't all that pretty. The Ups, the Downs, the Farther Downs, the Even Farther Down than the Farther Downs. It's nuts, I tell you. Worse, when you scream (inside) that you've metaphorically "fallen down and can't get up," a hunky paramedic does not arrive at the door to save the day.
(That job, I've come to learn, is all up to you ... or, rather, me.)
So, in an effort to avoid sliding further into the abyss, and to water the vast desert landscape that I feel had become my heart and soul (You must know by now that when you have Burn Out, you tend to over-dramatize things), I decided to pull the plug on (most) everything in the world and take a three-week road trip.
Screw it, I thought. My office will be there when I get back.
Facebook will be there by the end of September.
The publishing industry will still be around when I return. (Well ...)
The bottom line: If I didn't do something significant and meaningful now to revive my inner world, my outer world would look even more sloppy. Worse, I'd be slurring my words like Paula Abdul or wandering around bug-eyed and confused like poor Jon Gosellin. And I couldn't have that. (But come to think of it, I already do.)
But this couldn't be just any road trip. My intention was create a modern-day vision quest. Well, a modern-day vision quest for a blond, Polish guy trying to write his family memoir who feels like he's losing his mind.
After brooding on it a while, I opted to create a journey that would begin with a drive down the California Coast from the San Francisco Bay Area. My first stop would be a personal retreat in Esalen in Big Sur, where I would be a visiting scholar for nearly a week. Afterward, I'd head to Santa Barbara, then Los Angeles and then ... into the deserts around Phoenix and Sedona, Arizona.
My biggest hope? That somewhere along this excursion I would look in the mirror and recognize myself again. And, maybe meet a gaggle of interesting individuals along the way that would remind that there is more to life than constantly working, constantly creating and constantly trying to get ahead.
The following are notes from my scattered mind during this three-week excursion, beginning with: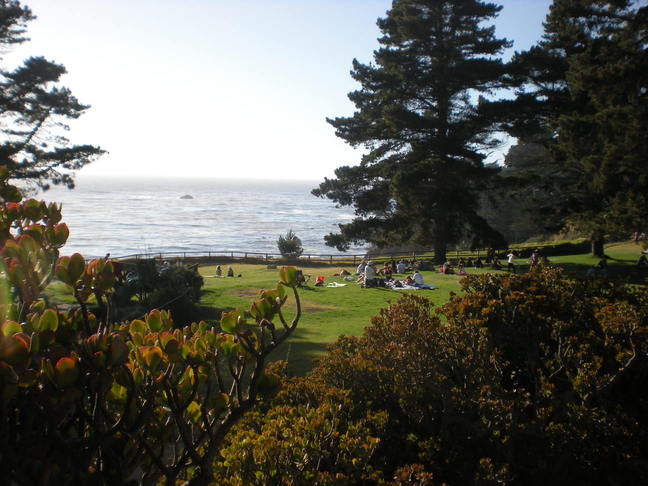 It's mid-afternoon the day before Labor Day. I don't want to leave and I just got here.
I had known about Esalen for quite some time. Nestled in Big Sur, just south of the famous restaurant Nepenthe's, which was once the private home of Orson Wells, there really are no words that truly capture Esalen's mysteries and beauty. I've been here less than an hour and I'm already convinced that one must "experience" Esalen, not read about it. But, for the brave souls who scrolled down this far, here you go: "Captivating, enchanting and simply transformative."
Yes, I smell something very good for the soul here at Esalen Institute. I spend a good amount of time just wandering around the grounds, my mind still racing from the frenzied life I've left behind. It's good to begin detoxing here, I think.
Perched on 120 acres of land sitting right on the magnanimous cliffs right along the Pacific Ocean, Esalen is home to many visiting scholars during the year. It boasts hundreds of workshops during that time as well, has a wildly inventive live-work program, a sustainable farm and from my research in the past, one of the best trainings for massage therapists on the planet. No kidding.
This little haven vibrates on an entirely different level from the "real" world. And that, I immediately decide, is a very good thing. I feel like I am in another country.
After losing myself in the hypnotic view for about 40 minutes, I head back to the main deck just outside the main hall, where food, grown and made at Esalen, is served daily to visitors. I stop in my tracks upon sighting a tall, happy-looking man with a smudge stick and big bird feather in his hand. The peaceful gent runs the smudge stick over an older man standing in front of him. Fascinated, I take a seat.
A smudge stick by the way -- because I can here you folks in the Midwest already moaning, "Oy, that is so California" -- is a festive bundle of herbs, mostly dried white sage. It was used in many indigenous American Indian traditions for rituals and purification, among other things. In other words, in a way, the incense you may be using, is a watered-down smudge stick.
But who cares? I want this intriguing man to run the smudge stick over me next. This entire trip is supposed to be Spiritual Drain-O, right?
First, the man has me stretch my arms out wide. Then he runs the big bird feather he's holding along each of my arms and underneath and over my palms. He also runs the smudge stick over the same areas. He asks me to raise one leg and he taps the bottom of my foot with the feather, then smudges away. The white sage burns wildly in large sea shell and I'm surrounded by smoke. He finishes off by tapping my heart with the feather, then my head. (Yes, I think, anything to help me put my bloated over-thinking brain on a diet.)
Afterward, I learn that the man's name is Hec Ace. He lived in the Monterey/Carmel area for some time and leads a spiritual life. Hec Ace, he tells me, stands for mountain lion. His birth name is Gregory. I chuckle when I find that out. To most, it may not be that big of a deal at all that I share the same name as this quasi-Shaman, but to me, it's just the delicious bit of serendipity I need.
I'm liking this road trip already. (There are no "accidents".)
More about Esalen next time ...
This Blogger's Books and Other Items from...
FOLLOW HUFFPOST