The stress and strains of our always-connected lives can sometimes take us off course. GPS For The Soul can help you find your way back to balance.
GPS Guides are our way of showing you what works for others in the hopes that you can find out what works for yourself. Whether it's photos that relax you or make you smile, songs that bring you back to your heart, quotes or poems that balance you or meditative exercises that help de-stress you, we all have tricks that we use when we get bent out of shape. We encourage you to look at the GPS Guide below, visit our other GPS Guides here, and share with us your own personal tips for finding peace, balance and harmony.
Five days a week I skip rope, run, box, something, anything for an hour. Rarely more, never less. During the workout I attempt to put away all angst and worries about deadlines and book sales and book talks and family bills and family problems. Instead I focus myself in prayer and meditation.
If I'm skipping rope I'll focus on a lone spot in the window, usually the logo on my shirt or a spot of sweat as it grows from the size of a drop and begins to spread outward into a broad swath. I never feel as though I'm staring at a reflection of myself, just at a reflection... of something. Of energy, of spirit, of ego, of things yin and yang.
Throughout the hour as I pray I imagine the perspiration as cleansing, a mental/physical/spiritual flushing of the day's pollutants. Somewhere in the last half of the workout I feel the bad things in my diet, my environment, my thoughts, my selfish nature evaporate. It's a baptism of sorts. Finishing, I am soaked -- but cleansed. I have a keen sense that I have been granted a fresh start.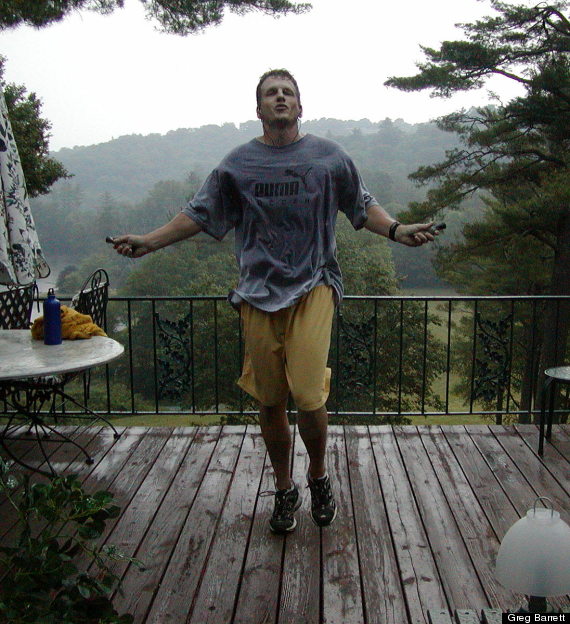 For more GPS Guides, click here.
SUBSCRIBE TO & FOLLOW LIFESTYLE
HuffPost Lifestyle is a daily newsletter that will make you happier and healthier — one email at a time. Learn more