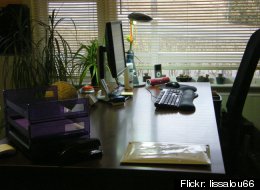 Nearly 70 percent of employees admit to coming into the office while sick, according to one study. Of course, it's at work that most of us transfer and contract the billions of germs that make us sick in the first place. One recent study found typical office keyboards hosting bacteria levels up to five times higher than toilet seats. Follow these simple tips to protect yourself and your coworkers from the billions of bacteria and viruses that cover the phones, keyboards and mice you handle every day.
According to the CDC, hand-sanitizing wipes are actually more effective than gels. Stock your desk drawer with wipes containing at least 60 percent alcohol content and you'll keep your hands cleaner than if you had freshly washed with hot, soapy water. Be aware that instant hand sanitizers can be overly harsh: Due to the vulnerability of dry and cracked skin, don't use wipes with alcohol levels exceeding 95 percent.

When you're away from your desk, rely on gels to rid your hands of the germs you'd otherwise return to your workstation. Frequent and liberal use is also important: Many experts warn that if your hands are dry within 15 seconds, you haven't maximized the gel's germ-killing potential. Rub your hands for a full 30 seconds to be certain.

Finding a heavy-duty sanitizing wipe without the heavy-duty chemical smell is the key to actually using them. Method offers wipes with all the disinfectant power of Lysol in milder scents like Lemon Verbena and Orange Zest. Sanitizing your desk once a day will not only drastically reduce your chances of getting a cold or flu at work, but will also force you to maintain a well-organized work space.

If you're working from a non-polyurethaned wooden desk, you'll need to get non-damaging sprays. Clorox makes an Anywhere Sanitizing Spray, or you can make your own with three tablespoons of white distilled water to one cup of water. To prevent marking, dry thoroughly with a clean cloth.

With one study finding its bacteria levels five times higher than a toilet, the keyboard is without a doubt the filthiest piece of equipment at our desks. But as it's such a hassle, fewer than 10 percent of us clean keyboards regularly. With the right tools, however, sanitizing your keyboard can be easy. Perform the following regimen weekly: stock your desk with cotton swabs, cleaning solution, a lint-free cloth and a can of compressed air. Use the compressed air to blow dust out from the nooks between your keys and run over the keyboard with the lint-free cloth. To sanitize, lightly dip your cotton swab in the solution (isopropyl alcohol works well) and run along the edge of each key. Finally, give the whole keyboard a thorough wipe down with a cloth moistened with the solution.

While reusable water bottles are a great office-mate, remember that signature water bottle funk is actually bacteria build-up. Just like any dish you use at home, water bottles require daily cleaning. Simply flushing the bottle with fresh water won't do; be sure to scour the bacteria-laden bottle with soap and hot water. Also, keep in mind doctors suggest stainless steel and glass bottles over plastic because they leach less chemicals and are less hospitable to bad-smelling bacteria.

Consider one easy way to keep your office snacks germ-free: Instead of repeatedly putting your dirty hands into a large bag, keep what you're eating in a smaller container. Similarly, keeping your papers and other bric-a-brac on your desk neatly put away will prevent the growth of bacteria on papers and debris that just can't be sanitized.

With a shocking 80 percent of infectious diseases transmitted through touch, hands are certainly the number one vector of colds and flus. Some studies put the number of times workers touch their faces at once every four minutes. Between sanitizing hands and limiting luxurious eye rubs, workers will likely cut their sick days by half.

This is obvious, but crucial. Hand washing is the single most important way to prevent the spread of infectious disease. And studies repeatedly prove that while 96 percent of people report regular and rigorous hand-washing, the number that actually do is lower than that. During cold and flu season, doubling up on soap and hot water and instant sanitizer is the only safe bet to protect yourself and your office.

Studies show adults who take vitamin C tend to get sick less often -- and when they do, they avoid nasty complications and heal more quickly. If you don't get enough fruits and vegetables in your diet, it's a good idea to up your dose: 2,000 milligrams per day is the upper limit of safe dosages for adults. If you're the forgetful in the morning or you feel weird munching kale at your desk, keep a stash of vitamins at your desk.
Taking small steps to take care of yourself and your workspace can do a great deal towards keeping you (and your coworkers) healthy. Avoid needlessly exposing yourself to germs when you can easily reduce your risk of getting sick and improve the sanitation of your work area, and enjoy a healthier, more productive lifestyle.
For more by Greg Voakes, click here.
For more on personal health, click here.
Follow Greg Voakes on Twitter: www.twitter.com/gvoakes