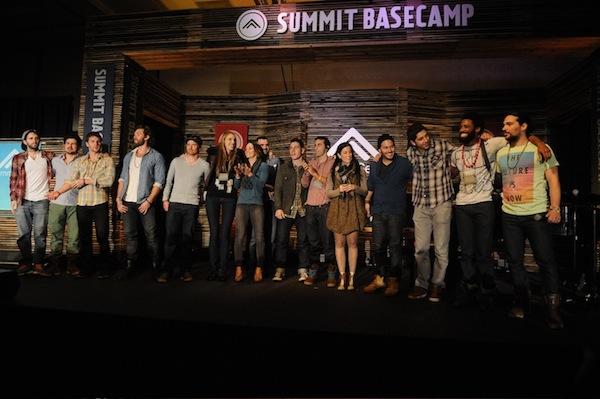 "Davos has the older generation of world-changing people and I think Summit has the people who are going to change the world in the next 30 years," says Leila Janah, CEO of Samasource, who flew in early from the elite gathering in Switzerland to join her peers in Tahoe for the annual Summit Series conference. In just four years, an invite to the breakout annual conference has become a coveted opportunity for emerging leaders in business, art, and government to co-mingle with their peers in adventurous activities and dream up ways to solve pressing social issues.
The idea of Summit is that a friend is more valuable than a colleague, both professionally and personally. The eclectic mix of activities and talks, from shark tagging on a private island to small lectures from the likes of Bill Clinton, encourage participants to discuss ideas, not interests. The result is a conversation more focused on impacting others, more comfortable exploring latent goals, and a greater willingness to offer prized personal resources.
The pricey ticket and elite gathering allows Summit to spend the whole year dreaming up an unusually ambitious conference, and fully stock the weekend for an immersive experience.
"Intimacy is accelerated through vulnerability," says Keith Ferrazzi, author of Never Eat Alone. Summit Series, he says, has found the sweet spot of unorthodoxy and appeal, which helps get participants out of their normal shell. From rebuilding coral reefs to lucid dreaming classes, memorable experiences build far stronger bonds than a handshake and business card swap. This year's Summit in Squaw Valley, Tahoe was no exception. Technology CEOs walked out of custom-built mountain top night club, sweat drenched and laughing with federal bureaucrats. Social entrepreneurs swapped videos of their close encounter with a mountain lion during an interactive lecture on the fragility of local wildlife. Little shop-talk was recognizable as participants shared stories about snowboarding, falconry classes, and a lecture on rebuilding public education.
"Its been a transformative thing for me personally and professionally" says Shervin Pishevar, a social gaming pioneer and influential Silicon Valley investor.
In my own experience at Summit Series, conversation is more professional than personal. But, there is an unusually strong drive to be as inclusive as possible in conversations, and for those conversations to be much longer and more personal. At the end of three days, I returned with more business cards than Facebook friend requests, but certainly more of both than I usually do at a conference.
Social impact is ubiquitous at each Summit Series conference, from activities to lectures. A top-notch political communications consultant led a seminar on how to advance gay rights, activities, such as falconry, educates participants on environmental issues, and auctions, such as a trip to build clean water wells in Ethiopia with Charity: Water, try to inspire life-long service. As such, nearly every hand-picked attendee, from directors at Fortune 500 companies to keynote speakers, such as Richard Branson, must have a charitable history.
Interestingly, the charitable orientation begets more charity. One attendee Joe Mahon, a Summit Series staff member, unexpectedly raised $35,000 in pledges when Zappos CEO Tony Hsieh dared him to shave his head at the makeshift barbershop. Mahon countered offered that he would shave his locks if Hsieh donated to Movember, a prostate cancer charity. Hsieh agreed to match up to $10,000, which inspired a viewing party that raised nearly four times his initial offer.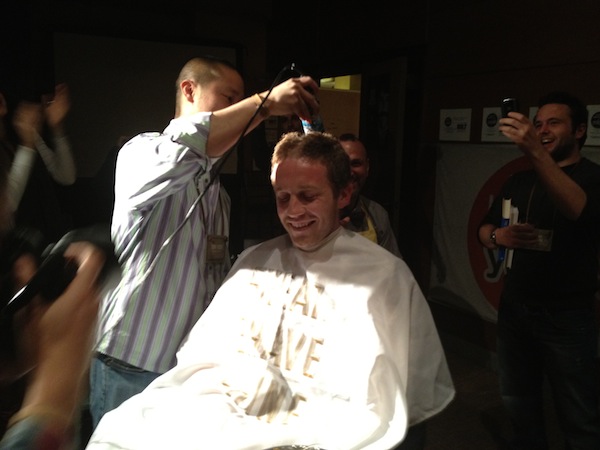 Frequent conference-goers have become all-too familiar with bland hotel carpet patterns and convention stadium lighting. At this most recent Summit Series, the organizers bought out most Squaw Valley Tahoe so that they could build two dance clubs (one at the top of a mountain), turn a meeting room into a Yoga studio, and construct a geodesic dome for IMAX-style movies.
The walls were refitted with custom art, including the designs of Lumi, founded by a young female industrial engineer who created a new type photo-receptive die. Jessica Genet's innovation permits images to be superimposed on any service (including couches and canvass).
A life-size, hand-painted infographic by Jane Kim of a marine zone that Summit Series had raised money to protect also adorned the walls.
Across from the lobby, a secret speakeasy was constructed, complete with early 20th century instruments. The entrance was in-closed with a lifelike broom closet, staffed with vest-fitted bartenders and whiskey-tasting teachers.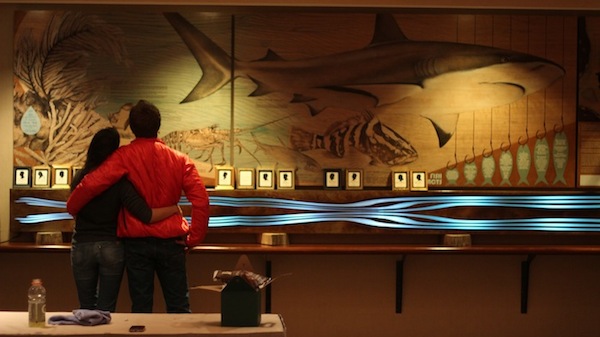 Despite a few gripes about isolated instances of lackluster lectures, every single participant I spoke to raved about their experience. The usually high reviews could be expected from a corporation dedicated to producing one conference all year-long. Last year, Summit Series was on a private cruise. This year, Summit bought out a ski resort. If the trend continues, next year should raise the bar again on what a group dedicated to one event all year can accomplish.
FOLLOW HUFFPOST