Too often, people's concept of motion pictures involves heated discussions over totally disposable information such as which movie will be, fleetingly, #1 at the box-office. You know what? Who cares! Let us never forget that cinema, however entertaining, is an art form. And like any art form, it has its Masters.
The world has just lost an undisputed Master of Cinema, English director Ken Russell. He was born in Southampton, England in 1927 and died Sunday in his sleep in the port town of Lymington, at the age of 84. You've never met such a character! Or, if you have, you'll never forget him. I have, last year at L.A.'s Academy Theatre, and under the auspices of the American Cinematheque, at Hollywood's Egyptian Theatre, and Santa Monica's Aero Theatre. A whole bunch of us got together and celebrated some of the astounding works of the visionary Mr. Russell: Tommy! The Devils! Women in Love! The Music Lovers! Lisztomania! Gothic! Altered States, even!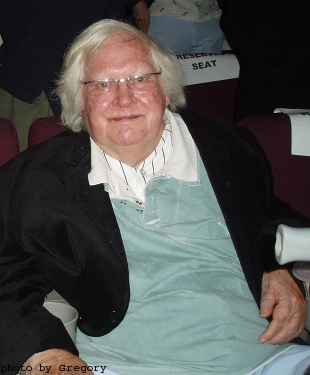 Ken Russell, Santa Monica, 2010
Truly, it's hard to believe -- in our current, corporate, cookie-cutter age of cinema -- that one man was responsible for so many outrageous and outstanding motion-picture experiences. Key word: Experiences! For when "Unkle Ken" (as he was known to his latter-day Facebook friends) went to work, the results were usually life-altering. Come on: Oliver Reed, Ann-Margret and Tina Turner belting the songs of Pete Townshend and The Who along with Roger Daltrey in Tommy? Transcendent! It's sitting right here on my shelf as I type this, and I watch it about twice a year, and it reminds me that cinema (note: even Western, commercial cinema) can be, literally, "a sensation." Or Gothic? Lord Byron, Percy Bysshe and Mary Shelley spending the night together in a Swiss villa with funky-strange music by Thomas Dolby? Find me a cooler movie from the '80s. Dare ya.
And then let us go back, back to the films that followed Mr. Russell's BBC documentaries on classical composers, which gradually made the man a legend. His docs for the Beeb (from '59-'70, on Debussy, Delius, Strauss, etc.) crystalized his vision, and meanwhile he broke out into features, first with the lesser French Dressing (1963), and then the bizarre and kind of wonderful Cold War spy flick, Billion Dollar Brain, with Michael Caine and Karl Malden (1967).
Then came the Earth-shaking stuff. Nowadays it's de rigueur for film journalists (or any journalists) to cite the nude male wrestling sequence in Russell's adaptation of D.H. Lawrence's Women in Love (1969), but upon release it raised plenty of eyebrows, and scored Russell a Best Director nomination on American shores. Even today, the between-the-wars drama can make you go, "Whoah." Hot on the heels of that success, he delivered one of his finest films, The Music Lovers (1970), featuring a stunning performance by Richard Chamberlain as Tchaikovsky, a film which also reunited Russell with one of his grandest leading ladies, Glenda Jackson.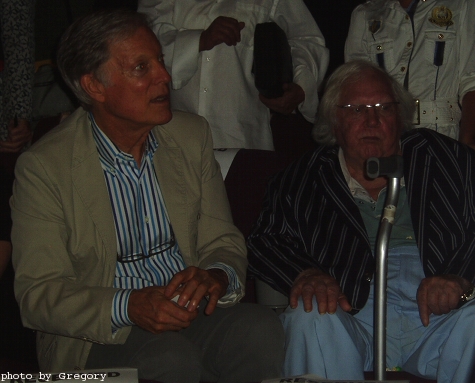 Richard Chamberlain and Ken Russell discuss The Music Lovers with fans.
In Mr. Russell's astonishing career, however, 1971 is the hot button: the year The Devils, his adaptation of Aldous Huxley's The Devils of Loudun, was released. A seething, shattering study of religious hypocrisy and political manipulation (by way of heresy, torture, human sacrifice and nun-orgies), The Devils is one of Russell's most impressive, if also most disturbing, cinematic statements. (Hard to believe we watched it onscreen with him only last year.) Coming out of Hammer classics as he did (The Curse of the Werewolf), Oliver Reed's gift for -- what shall we call it, "violent pathos"? -- will be indelibly printed (or perhaps charred) upon your brain, after watching this film. Banned in countries all over the world and released heavily edited where it was released at all, Russell's The Devils will finally see DVD release this March in its 111-minute U.K. cut.
My faves, though? Well, as spookhouse silly as it can be, I adore Russell's Gothic (1986) and Lair of the White Worm (1988). My goodness, in the latter (Russell's loose adaptation of a book by Dracula's Bram Stoker), watching Amadna Donohoe (as a swanky vampire priestess) putting the damage on Hugh Grant (as Hugh Grant back when he was cute, essentially) is hilarious and wonderful: part literature, part junk, all pleasure.
And then there's Tommy (1975). Films came before, and films followed, but, fully aware of the indulgence at hand, allow me to say that experiencing Tommy -- restored, with Quintaphonic Sound! -- twice last year, with Mr. Russell in attendance: these were some of the most exciting cinematic events I've ever attended (amongst many). Huge thanks, significantly, to entertainer, British musicologist, man-about-town and HuffPost columnist Martin Lewis, for bringing Ken to the City of Angels (before he became one), and making these amazing encounters possible. Note: Mr. Lewis is the expert; whereas I am here today to gush. I'm even wowed by Mr. Russell's latter-day indie movie, The Fall of the Louse of Usher (sic), which he produced with the swoony international vocal group Mediaeval Baebes, in their prime. Even if nobody's heard of it, it warms my heart that he made it.
Mr. Russell was married four times, had six children, and is survived by his wife, Lisi Tribble. He wrote novels, practiced photography and made many films you should see. He will be missed by millions, for many years to come.
FOLLOW HUFFPOST