The grand finale of L.A.'s eleventh annual Mods & Rockers Film Festival on Sunday night featured a triple-feature treasure trove of concert films by esteemed documentarian Murray Lerner, sending the packed house at Santa Monica's Aero Theatre into rapturous applause, a few spontaneous sing-alongs, and delight at the appearance of some very special guests. The subjects? Vintage Leonard Cohen. Vintage Bob Dylan. Plus a comprehensive appraisal of the Newport Folk Festival, via Lerner's Oscar-nominated, aptly-named Festival.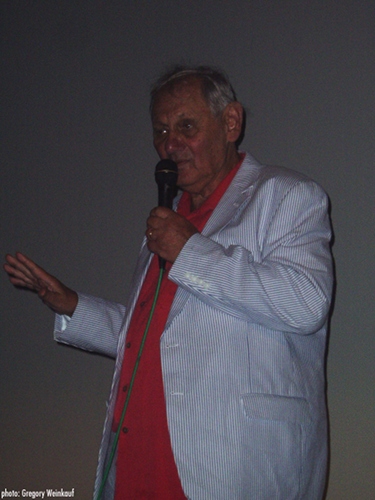 Murray Lerner: Man of the 400+ Hours
For the previous few nights at the Egyptian Theatre in Hollywood, Mods & Rockers devotees already had been treated to an Isle of Wight Festival 40th-anniversary Lerner love fest (given multiple cameras, the man has 400 hours of footage!), including The Moody Blues: Threshold of a Dream and Miles Electric, documenting Miles Davis at his Bitches Brew peak. Mods & Rockers XI launched with the massive 1970 Isle of Wight Festival concert film Message to Love on the exact 40th anniversary of that historic event, and carried on through dedicated single-artist films of legendary Isle of Wight sets from 1970 including Jimi Hendrix: Blue Wild Angel and The Who: Listening to You. Rock-royalty live guests abounded, including (amongst others) Robby Krieger of The Doors, Mike Pinder of The Moody Blues, plus of course Mr. Lerner himself -- whose efforts behind camera and crew have preserved a vast wealth of rich and diverse live material.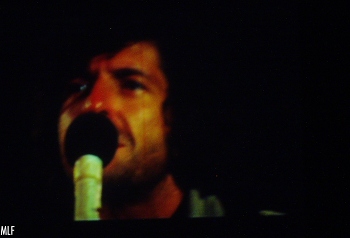 Cohen wows 'em.
Sunday's spectacle commenced with the Los Angeles première of the intimate concert portrait Leonard Cohen: Live at the Isle of Wight 1970 -- and one of the things I learned from this film and its fervent attendees is that if you want the freaky chicks to dig you, you should do stuff more like that guy! (Please pardon -- or embrace -- my generational awe, puzzlement and candor. Stop Making Sense was my Woodstock, man. I discovered Cohen via "Jazz Police.") Lensed before 600,000 revellers at 4AM 40 years ago, Lerner's film captures Cohen, then 35, doing what he does best, i.e. delivering dusky poetry over elegant finger-picking (plus noting more than once that when the crowd eventually grows "strong enough," they'll claim the land). If you love "Diamonds in the Mine," "Bird on the Wire" and especially "Suzanne," these, among others, are standout renditions (also on CD, but the DVD has the compelling visuals). The film also features current reflections from legendary producer Bob Johnston (Cohen, Cash, Dylan, etc.) as well as Isle of Wight stars Kris Kristofferson, Judy Collins and Joan Baez, who posits, "When people think that a song has to make sense, Leonard would prove otherwise." (Hm...not making sense...I think I like it!)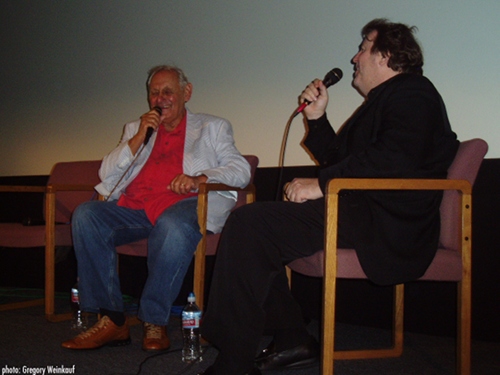 Murray and Martin share a laugh.
Mods & Rockers Festival creator and producer Martin Lewis then summoned Mr. Lerner to the stage, declaring the Cohen film "absolutely magnetic," and boldly asking, "Some of the performers that you've done these single films on -- you've worked with Miles Davis, Jethro Tull, Emerson, Lake & Palmer and The Who -- and on some of these you had a relationship with the artists; I know you did with The Who, especially. But some of the artists, like Leonard Cohen and perhaps Bob Dylan, have distanced themselves. They don't make themselves available to you. Is that a benefit in some way?"
"Yes," Lerner promptly replied (eliciting a hearty laugh from the crowd), "I really don't know what I'd say to either Cohen or Dylan. I don't know if we've got much to say to each other." His frankness continued: "I'd rather not get into the trap of trying to say things that would be irritating or foolish or immaterial, so I think it's much better this way. The interviews are only important when they help to give an insight into people, and the Cohen film gave enough of an insight." (Indeed.)
Lewis also asked how in the world Lerner juggled the Herculean feat of shooting nearly complete sets of so many artists at the festival, to which the director revealed, "I knew I wanted to do what you saw in the feature (Message to Love)... but I didn't know what the balance would be, or if there would be a series of films." Which, of course, decades later, is exactly what's coming to light.
Two unannounced special guests were then called forth: Chicago keyboardist (and live musician at Dylan's noteworthy '65 Newport show) Barry Goldberg; and manager/producer/"uncoverer" of The Rolling Stones (also dandy-about-town and self-proclaimed "pimpresario"), Andrew Loog Oldham. I've attended many Mods & Rockers sessions, and this was one of the most enlightening and entertaining.
Goldberg told some fun stories, reflecting on his sessions for Cohen's Phil Spector-produced Death of a Ladies Man album, as well as encountering an elegant blues musician in Newport who turned out to be Son House -- plus the tale of his legendary live performance (you know that organ) with Dylan in '65:
It was actually a lucky thing for me. I came to Newport with a bunch of guys from Chicago, some blues guys, to play with the Paul Butterfield Blues Band. He said, 'Man, do you want to play with me at Newport,' and I said, 'Yeah, that would be wonderful.' And I really never loved Chicago that much, so we all went to Newport. And when we got there, Paul Rothchild, who was Paul Butterfield's producer, said, 'Oh, I don't hear a keyboard with the Butterfield Band.' And I said, 'Oh, no. Really?' He said, 'No. No keyboard.' So I was there stranded in Newport, without anything to do, and I was pretty bummed out. And the next night there was a party at one of the houses, and Bob Dylan was there. Michael Bloomfield, who had played with Bob, recorded with him and had done 'Like a Rolling Stone' a few months before that, introduced me to Bob. And Bob said, 'Oh, glad to meet you. I don't know if my keyboard player is going to show up or not. Do you want to play with me tomorrow night?
The crowd guffawed knowingly as Goldberg continued, "I said, 'Are you kidding? This is unbelievable.' And you know, I started to shake, and had my first anxiety attack -- I've had many more since then." He summed up the sound-checks and taking the stage, and continued,
The sound wasn't all that great, but we tore into 'Maggie's Farm,' and that was an electrifying experience for me, and then we did 'Like a Rolling Stone,' and that was the first time it was performed live. And I instinctively felt that something really heavy was going on.
(Quick -- somebody tell Jann Wenner.)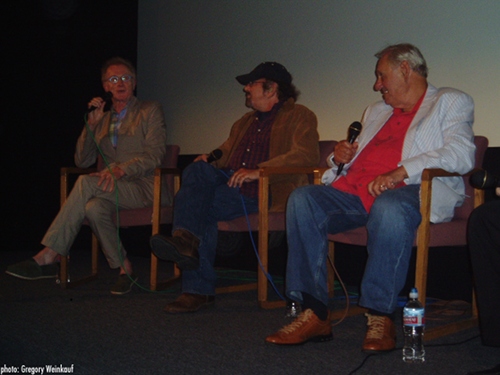 Loog Oldham regales Goldberg and Lerner with tales from BritRock's infancy.
Andrew Loog Oldham -- dapper as hell and sans socks -- took the stage and gushed with enthusiasm for Lerner's films:
Thank you for making me come out -- as Reg would have it. Last night we had the privilege to see The Who film. Martin kept carrying on, 'Oh, The Who, The Who, they were the best' -- they certainly were! As you said, the Stones were busy hanging out with Ahmet Ertegun, and The Who were on the stage at the Isle of Wight!
Lewis soon coaxed from Loog Oldham a reflection of his earliest memory of Dylan:
This was '61 or '62. I was a press agent in London, and Bob Dylan and Albert Grossman showed up way before their time to appear...he and Grossman were put into the Cumberland. My job was to go and knock on doors to get work, right? And a guy from Melody Maker tipped me off to which room number it was, and I knocked on it, and I got in, and I was paid five pounds for ten days work. But in terms of that I was very happy to be a press agent -- this was before I became the manager / "uncoverer" of The Rolling Stones and other people -- I was like in a seance, man. Sitting there with Bob Dylan and Albert Grossman for maybe twelve minutes, I knew that this was what I wanted to do. This was beyond marriage, this was an incredible conspiracy between these two people -- which has since been disowned by Bob Dylan as he shoves Roy Silver to the forefront. But it was an apparition. It was better than anything Scorsese (director: No Direction Home) could dream of. Because these two people finished each other's sentences... they were a true Barnum & Bailey rolled together.
As for Dylan's impact in England, Loog Oldham revealed, "Actually, it was the records. He kind of changed where the goalposts were as far as the records went."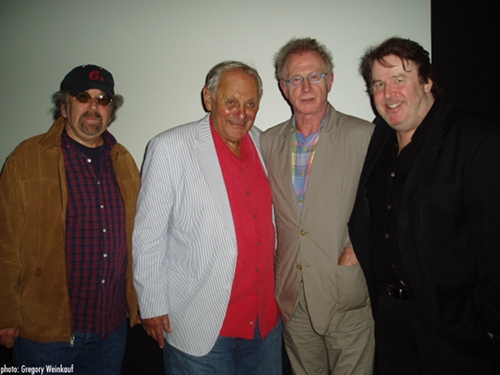 Barry Goldberg, Murray Lerner, Andrew Loog Oldham & Martin Lewis rock the Aero.
After a quick break and some swarming fans (just like in the movies!), Mr. Lerner took the stage again to introduce his recently-completed film, Bob Dylan: The Other Side of the Mirror -- plus some very rare and exclusive outtakes of Dylan -- all lensed at Newport from 1963-1965, revealing Dylan's evolution from Guthrie-esque folkster to swaggering electric icon.
I'd like to point out the reason for the title. My feeling about Dylan was that everyone called him 'the mirror of his generation,' and I felt in a way that the generation was the mirror of him -- so I played with that idea and called it The Other Side of the Mirror, which was Dylan.
Joan and Bobby
As with Lerner's Cohen film, the audience couldn't take their eyes, and ears, off it. I'm not even a Dylan fan, plus hideously-honked harmonica I find punishing, and yet I still found the energy of the piece captivating. (How the hell does he remember all those words?!) As promised, the film was followed by three never-before-seen song-clips from Dylan's Newport days, and then Festival -- Lerner's Oscar-nominated documentary of the extravaganza itself -- a singing/dancing/revelling party of a film featuring a plethora of performers including Dylan and Baez, a dewy Donovan, blues greats Howlin' Wolf and Son House and... if you weren't there for the beautiful 35mm print, just see it any way you can.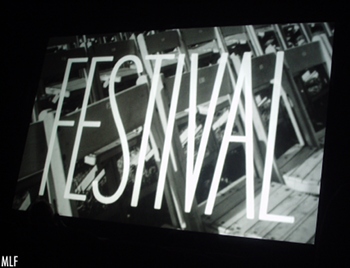 A Murray Lerner Masterpiece
Thus did Mods & Rockers XI conclude -- and yet there's more to come. John Lennon fans, take note: Beginning on September 30th, Mr. Lewis and his Mods & Rockers festival will be bringing a special 70th birthday cinematic tribute to Lennon and his legacy to the Egyptian Theatre in Hollywood. Details will be at www.ModsAndRockers.com soon.