The first of many, many, many screams of approval came early in Paul McCartney's epic concert Tuesday night as he and his stunning band commenced with the dulcet "Venus and Mars" from 1975's eponymous album, leading directly to the gassed-up "Rock Show" with its self-reflexive lyric: "You've got Rock & Roll at the Hollywood Bowl!" Indeed.
It had been 45 years (!) since Sir Paul and three other mop-topped Liverpudlian lads graced that glorious stage, but the payoff was truly sensational. Excepting perhaps Queen with Freddie Mercury (which, alas, I was too young to experience live in America), McCartney, who hadn't appeared at the Bowl since 1993, proved beyond doubt that the form does not get any better than this.

While devotees probably got the set they expected -- a high-octane, craftily-modulated blend of Beatles, Wings and solo material reminiscent of last year's massive Coachella and Citi Field shows -- the fresh factor was sustained throughout. McCartney darted boldly amongst his various catalogues, enthusiastically delivering Beatles hits such as "All My Loving" and "Paperback Writer" like he'd written them yesterday (yes, he played that, too), as well as rocking half of Wings' landmark 1973 album, Band on the Run. (I liked that a lot; I'm a Christopher Lee fan.) Some newer material proved sturdy but slightly less hooky, and in the midst of the otherwise enchanting light show I mistook the Lite-Brite Obama head image for Alfred E. Neuman -- but otherwise the "Up and Coming" tour is a hot ticket, a rich series of ecstatic peaks. Rather than condensing it to a play-by-play, let's say that, for instance, hearing "Mrs. Vandebilt" and "Eleanor Rigby" juxtaposed brings on a state of lyrical and melodic euphoria.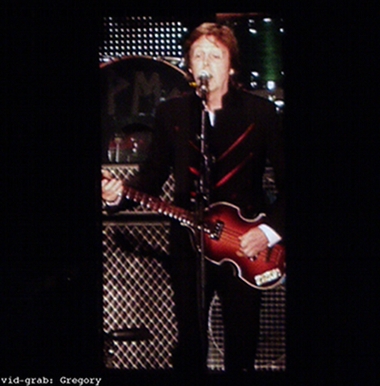 Sir Paul McCartney -- rocking all night long.
McCartney appeared onstage in a dapper black suit with only one big wardrobe change: removing jacket and rolling up shirtsleeves. Throughout the evening he exhibited the vitality and drive of a man a third his age, and a millionth his net worth. The icon's voice quavered during "Blackbird," but otherwise his pipes astounded, particularly during tributes to his late lady Linda ("My Love"), to John Lennon ("Here Today") and especially in my fave bit of the evening, George Harrison's "Something," begun elegantly on Harrison's gift to McCartney -- a Gibson ukulele -- then getting the full-on band treatment -- via keyboardist Paul "Wix" Wickens, drummer Abe Laboriel, Jr., and guitar heroes Rusty Anderson and Brian Ray. The band also segued into Jimi Hendrix's "Foxy Lady," after which McCartney marveled: "I knew Jimi a little bit in the '60s, and we released Sgt. Pepper's Lonely Hearts Club Band on a Friday, and by the Sunday, Jimi had learned it, and was playing it to open his show; so what about that for me, huh? A memory to treasure." (The Gen-Xer in me suggests: Maybe that will help Jann Wenner sell a few more copies of his no-longer-revolutionary-at-all magazine.)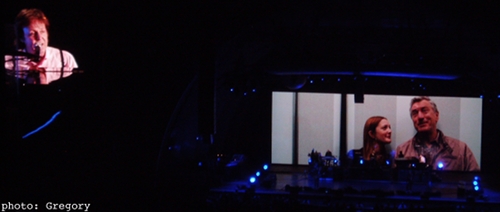 Sir Paul serenades Drew 'n' Bobby with his "Golden Globule"-nominated song,
"(I Want to) Come Home," from the movie Everybody's Fine.
The long and winding road back to the historic (and awesome, and sold-out) Hollywood Bowl wasn't lost on McCartney, who cheerily reflected, "There used to be a pond here [the Bowl's front-row Pool Circle], where you all are." He later added, "Yeah, it's great for me to be back at the Hollywood Bowl, you know. The first time we came here, we were little kids! It looks like that now; then we thought we were great big men! The only thing is, we couldn't hear a word we were singing -- with all the girls screaming throughout the whole thing." After the audience appropriately obliged him, he slyly noted: "But nowadays, we're a lot louder."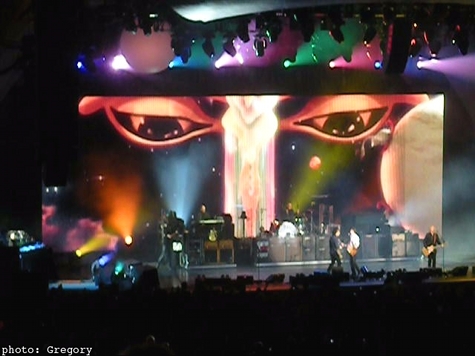 This McCartney tour does not skimp on pageantry.
Hey, when it comes to the rock giants of the Boomer era, I've seen most of 'em: The Who, the Stones, Ray Davies, the Monkees, Gerry & the Pacemakers, etc., etc. Within this context, however, it must be said that McCartney, much like Davies, emanates a tuneful timelessness which spans decades and renders generational lines absurd (the long, prerecorded warm-up medley of remixed McCartney material leaned heavily on McCartney II -- a terrific 1980 album essentially like mother's milk to me). After his show's eccentricities and gentle nuances had won us over, he and his band regaled us with one familiar Beatles classic after another -- an unlikely string of brilliant thematic and tonal incongruities, sing-a-longs included -- and with skills bordering on magic, made everything old new again.
Paul McCartney plays the Hollywood Bowl again 31 March, and his "Up and Coming" tour rolls out through 2010.
(Kind thanks to Terry Keefe, Martin Lewis and Brian Ray.)
SUBSCRIBE AND FOLLOW
Get top stories and blog posts emailed to me each day. Newsletters may offer personalized content or advertisements.
Learn more