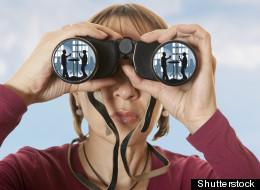 I am over 50 and I should know better. I should know that life isn't always what it seems, that everyone is just doing their best and that perfect is a dangerous fantasy. But somehow, deep, deep into adulthood, I still hold on to childish dreams.
It is much easier to imagine that other's lives are perfect and that I can never measure up, than to realize no one's life is perfect and I just need to work hard to make mine better.
Perfect Marriage: I have a very close friend, a go-on-vacation-together, close friend. We brought our children up from birth and forged a deep friendship that comes from sharing that pivotal moment in life. Geography eventually separated us, but we barely missed a beat. I love her and her husband, but my love for my friend was mixed with deep envy. I wanted her marriage.
She had the best marriage I had ever seen. It appeared to be almost effortless perfection. I would have sworn that to you any minute of the day, any day of the week until the day she called me in tears. Her marriage was not as it had seemed to her or to me. There had been deceit and the pain and shock of it was tearing her apart.
Over the course of years, she and I would spend hours examining why women stay in marriages and why we leave. We drew even closer together, and found greater honesty in our friendship. We delved deeply into what we loved about the men we had married, the men we had chosen to be the fathers of our children, and why marriage is hard.
I watched my friend rebuild her marriage, an effort that was never effortless to begin with. In the end, her less-than-perfect marriage taught me far more than a perfect one ever could.
Perfect Mother: I have another friend who is the perfect mother. Before you laugh, let me explain. She has seven children, some she received in the delivery room, some from other countries, some are multiple births and some are singletons and they all arrived in her home in the space of seven years. It is a lively, happy well-adjusted brood of thriving kids.
My friend has a huge corporate job and never seems to be anxious, out of control, or even in-over-her head. When many of us seem to barely be able to manage with one, two or three kids, she appears to effortlessly manage with seven. If she were not one of the sweetest people to grace the Earth, you could hate her. But instead, you just want to be her.
We are longtime sideline pals and I have stood beside her, or her equally calm and wonderful husband, at countless soccer games. Never has either of them said a sour word about a child or made a disparaging comment about a coach. But yesterday she told me she was nervous, really nervous. I looked at her face and saw something I had never seen before. The kids were in a big game and as a mom she couldn't help feeling tense for her son. She was truly shaken, and suddenly she looked quite mortal to me.
The danger, of course, in admiring what isn't, is failing to see what is. It is a lesson I should have learned watching the Wizard of Oz at age five, but somehow I missed it, or simply chose to ignore it. I am over 50 and I should know better.
Earlier on Huff/Post50:
7 Ways To Make Friends Post 50
What you want is someone to hang with near where you live. Approach this scientifically. Having a friend who lives an hour's drive away will mean you won't see them as much as the person who lives closer. So think global, but stay local. That means your local coffee shop, the local branch of the public library, they local chapter of the Sierra Club, or the local college that offers evening courses.

If you play tennis, join a club or take a few lessons at the community center. If you like to throw parties, volunteer to run the annual fund-raiser at your synagogue or church; when the board thanks you publicly at the dinner, everyone will learn your name. If you hike, join the Sierra Club. If you bicycle, join a biking group or enter a race in your age category. Here's the one caveat about following your interests: Nobody ever met anyone while watching "American Idol" from the couch.

Be open to the idea that it's OK to have friends who are older or younger. The fact that they are in different stages in life just means they bring a different perspective to the table. While a 14-year-old won't be interested in socializing with a toddler, that 10-year age gap dissipates when they get older. Why not say yes to the 30-somethings who invite you to join them for drinks after work? Invite them over for dinner with their families and get to know their kids. Their views on the world may not match yours precisely, but variety is the spice of life.

If you are post 50 and uncoupled, you might find that traveling isn't as much fun. Call it the Noah's Ark theory, but in general, we like to go places paired up. There are services that will help you find a travel room-mate. Not only does this give you someone to talk to over dinner, it cuts down those single supplements that some tours and cruises charge. Friendly Planet runs one such pairing-up service. Road Scholar offers many active adult adventure vacations here -- offers to find you a roommate if you want. Their programs and generally educationally based and draw a well-heeled and educated crowd. Cruise ships do a pretty good job of making sure solo travelers find people to hang out with; group dining arrangements go a long way toward conversational icebreaking.

Even if you've never been a joiner, now may be the time to get yourself out there. Got a new puppy or an old dog who needs some new tricks? Find a community dog-training class. If you like to cook, take a cooking class. Participate in the 5K run for charity, even if you walk the final three.

Keep your smart phone with you and ask for numbers. Sure it may feel a little awkward to say to someone you just met "Hey, I really enjoyed talking to you on this Sierra Club hike but the next one isn't for two months. Would you like to get together for a hike before that?" Worst they can say is no.

With Skype and apps like FaceTime, it's easier than ever to have face-to-face visits. Don't assume your old friends are too busy to talk to you on the phone. Most cellphone plans include free long-distance calls and for those that don't, there's Skype. Invite friends who live a great distance to come and stay with you. Show them your city. Friendships are like gardens; it's often easier to tend to an existing one than grow a new one from seeds.
Follow Grown And Flown on Twitter: www.twitter.com/grownandflown