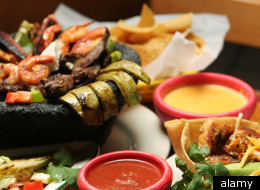 Almost from the moment Americans have tried Mexican food, they have simultaneously devoured what's in front of them but also desired the next-great thing--the mythical "authenticity" quest, that idea that somehow what we're eating isn't the best possible Mexican dish to consume. It's an idea in Mexico, where the elite look on at our hard-shell tacos and foil-wrapped burritos in askance, as if we're soiling the Mexican tricolor with gusto, and also here in the United States, where celebrity chefs like Rick Bayless and Diana Kennedy deride anything with melted cheese on top and a slush frozen margarita
But the fact of the matter is that Mexican food in this country is as varied and delicious as what we find south of the border and--dare I say it?--as authentic as anything that Montezuma's descendants may make. Here in the United States, we combine the best of both worlds, the Mexican and the American, into creating baroque dishes with a timeless quality. But the United States is also an area where Mexicans forgotten in Mexico have been able to assert themselves with their own unique cuisine, frequently finding fans among Americans unlike in Mexico, where their culinary treasures wouldn't have been able to get them arrested. It's in the United States where Mexican food truly shines.
While there are tens of thousands of Mexican restaurants is the United States, I chose the following seven because they are all wildly different from each other and speak to different traditions. Enjoy!
Gustavo Arellano is the editor of OC Weekly, author of the syndicated column ¡Ask a Mexican! (available on HuffPost Latino Voices), and author of the new book Taco USA: How Mexican Food Conquered America [Scribner, $11.99].
Chubbys Drive-In has no dining room other than the beat-up tables outside, and a counter on which to lean on. But the lines stretch out until three in the morning for their Mexican hamburger, an only-in-Denver Mexican treat. Brace yourselves, folks: underneath a Syracuse Orangeman-hued chile lies the structure of a burrito--a flour tortilla containing refried beans, your choice of meat, and a grilled hamburger patty, almost extant in shape. On top of this is chile flecked with pork smothered completely over the burrito until it's little more than a beached whale over a viscous, spicy sea. The flour tortilla itself is cooked well until it becomes firm, almost crispy, so you can slice off a chunk of Mexican hamburger and it won't flop around on your fork as it enters your mouth. The patty sits in the center, well-done, its beefiness absorbing the pork fat of the chicharrones and the lard of the refried beans. When you order one, the Chubby's staff serves it on a cardboard plate, then puts another plate on top and staples them together, to ensure not a drop of the ambrosia spills and wastes. And, yes: they deliver via FedEx.

This restaurant in LA's Koreatown would make the list even if it wasn't delicious, for the Lopez family that runs it were pioneers in introducing new flavors of Mexican food to the United States during the 1990s, specifically the legendary tastes of the southern state of Oaxaca. But nearly 20 years after it opened, Guelaguetza remains a place to excite the senses with its cuisine: five types of moles (pictured above), the legendary Oaxacan stews that can be as sweet as chocolate or as fiery as hell and take hours to prepare; tlayudas (tortillas as big as basketball hoops) covered with cheese; and fried grasshoppers as bar snacks. While Fernando Lopez and his wife continue to run the restaurant, their children Bricia and Fernando, Jr. just opened a trendy mescal bar inside, ensuring Guelaguetza stays with the times.

This taco truck features great Mexico City cuisine, which is a thousand takes on tacos and quesadillas, but the true treasure can be found in the tacos acorazados, a specialty of Cuernavaca, Morelos that lives up to the heft of its name (acorazado is a battleship). The taco acorazado is simple: massive corn tortilla, rice, and your meat. Alebrije's makes it with milanesa, and this is the richest taco I've ever tasted, more so that chicharrón tacos: imagine fluffy rice, eggy breaded beef, and a tortilla the thickness of a key fob, and you'll understand why another meal isn't necessary for the day if you eat Alebrije's taco acorazado for breakfast--and you should. Besides, how can you NOT love a taco tuck with a Cadillac-pink color scheme?

Bacon-wrapped hot dogs are Mexican? You better believe it! I'm sure gabachos wrapped bacon around franks before Mexis thought of it, but it has become an art form in Tucson, where they're known as Sonoran dogs because everyone there acknowledges that their preferred hot dogs crossed the border from that Mexican state during the 1960s. The king of the Sonora dog in the Old Pueblo is El Güero Canelo, which received praise from the New York Times in their article on the phenomenon. I've been to both of its locations; the original is hole-in-the-wall heaven, the newest as sleek as a Gulfstream hangar, the hot dogs equally wonderful: ;wieners wrapped in bacon, placed snugly into a specially prepared roll upon which eaters can put in everything from mayo to pinto beans, grilled jalapeños to relish. In a region where flour tortillas are king and tortas a central Mexico myth, the Sonora dog is the taco of the region--and their gift to thousands of club-going Angelenos.

New York has always gotten a bad rap for its Mexican food, but us Mexicans know better. First off, its Puebla York, because of the huge population of people from the state of Puebla; secondly, when we're looking for Mexican food, we go to where the Pueblans eat. And in Puebla York, the place to go is Taqueria El Idolo, a taco truck that parks in the Village and also Midtown. Stay away from the regular tacos (overpriced) and go with the tacos árabes--spit roasted pork served in a pita, a legacy of the Lebanese immigrants that flooded central Mexico about a century ago.

This is the third-largest Mexican fast-food chain in the United States, and also one of the least known, because its focus is on the upper Midwest. But because of that, their version of Mexican food is, how can we put it politely... WEIRD. What else can explain their tater tot breakfast burritos, the traditional burrito with honest-to-goodness tater tots taking the place of hash browns or potato bits like in the rest of America? But, incredibly, the tater tots work, adding a crunch and heartiness that feels perfectly at home. What else would you expect from a chain based in Wyoming and which deems its tater tots Potato Olés?

This El Paso chain made national news a couple of years ago when customers nearly started a riot after a fire engulfed one and firefighters announced eaters couldn't return to their food. You'd want to throw a Molotov cocktail, too, if someone denied you their legendary taquitos: stuffed with ground beef, placed in what's essentially lightly spiced tomato soup, then buried underneath noodles of shredded yellow cheese that slowly melts into the broth, creating a goopy-greasy glory unknown to any other Mexican restaurant outside this legendary chain--and trust me, you can't get more Mexican in the most Mexican big-city in America than this institution. El Pasoans don't even bother calling them taquitos: it's either a single order (three) or a double (six, as in the picture above). Oh, and their hot dogs? Served in hamburger buns, and with pinto beans.