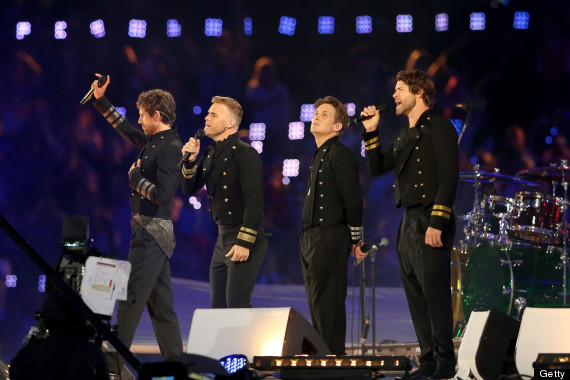 Pudimos apreciar muchísimos artistas británicos durante la ceremonia de clausura de los Juegos Olímpicos de Londres 2012 este domingo 12 de agosto. Un gran despliegue de números musicales fueron siguiéndose uno tras otro, con grandes figuras de la música como Pet Shop Boys, George Michael, Annie Lennox, The Who, el reencuentro de las Spice Girls y Queen, acompañados por Jessie J, entre otros.
Lo que quizá no pasó por la mente de la gran mayoría de los televidentes es el trasfondo de la actuación del grupo Take That, uno de los últimos artistas en presentar su espectáculo, justo cuando llegó el turno de extinguir el Fuego Olímpico.
Este quinteto británico, integrado por los cantantes Robbie Williams, Jason Orange, Gary Barlow, Mark Owen y Howard Donald, es sin duda alguna uno de los más famosos de Inglaterra desde hace más de 20 años.
"Dawn y yo estamos desolados por anunciar que hemos perdido a nuestro bebé. Poppy Barlow falleció el pasado 4 de agosto en Londres. Nuestro deseo ahora es darle un funeral bonito y amar a nuestros tres hijos con todo nuestro corazón. Nos gustaría que este momento de dolor quedara en nuestra privacidad y que sea respetado".
Cuando se hizo pública esta tragedia, era evidente y comprensible que Barlow necesitara de tiempo privado para estar con su esposa, tres hijos y el resto de sus seres queridos, por lo que se decía que Take That ya no aparecería en la clausura de los Juegos Olímpicos.
Robbie Williams, por ejemplo, anunció desde inicios de julio que no acompañaría a sus compañeros porque su esposa Ayda también está a punto de dar a luz y que debía estar a su lado.
Pero no, sorprendentemente, ahí estaba Gary con sus compañeros Jason, Mark y Howard, con la frente en alto y cumpliendo con su país en este indudable esencial evento, brindando una espectacular interpretación de su canción "Rule the World".
No podría yo ni imaginarme el tremendo dolor por el que está pasando en estos momentos la familia Barlow, pero verlo ahí en el escenario me tronó un poquito el corazón y se me hizo un nudo en la garganta. En lo que sin duda alguna será una de las cosas más terribles por las que ha tenido y tendrá que ver en su vida entera, Barlow encontró de dónde sacar el coraje, la fortaleza y valentía suficientes para seguir adelante y cumplir con este compromiso, cuando en verdad bien se lo pudo haber ahorrado.
Llámenlo profesionalismo, amor por su patria, por su trabajo, lo que ustedes quieran, pero el señor Gary Barlow - así como su esposa Dawn, que seguramente también tuvo que ver en la decisión - se merecen todo nuestro respeto y una gran ovación.
Una vez más, nuestras condolencias por la pequeña Poppy.
AQUÍ LAS FOTOS DE GARY Y TAKE THAT:
Clausura Juegos Olímpicos Londres 2012
Y ASÍ PARTICIPARON LAS SPICE GIRLS:
SUBSCRIBE TO & FOLLOW TRUMP'S FIRST 100 DAYS
How will Donald Trump's first 100 days impact YOU? Subscribe, choose the community that you most identify with or want to learn more about and we'll send you the news that matters most once a week throughout Trump's first 100 days in office. Learn more