What follows is a defense of the indefensible: our book.

When we sat down to write this book, which was recently excerpted in GQ, we did some very serious, intensive field research. The kind that involves drinking dozens of bottles of Smirnoff Ice, surfing the Internet, and peer-review. The central question that bedeviled us: Which institutions of higher learning are douchey? And the answer we came up with is: pretty much all of them. Harvard is douchey and so is Arizona State. Because the bottom line is that when you are ages 18 to 22, you are a douchebag. And if you're not, you should be.

If you disagree with us, it's only because you're wrong. If you think, Dude, Cornell isn't douchey, we have a sick pre-med program; or Brown isn't douchey because we help the homeless do finger-painting; or Michigan isn't douchey because it's not Ohio State; or USC isn't douchey -- actually, we can't even imagine defending that point. If you go to USC, just accept the fact that you either think you're going to get your movie made because you have Jeremy Piven's cell-phone number, or you drive a white BMW M3 and drink Muscle Milk, or both -- and be the douche. If you think your college isn't douchey, it's because 1) you take your college, and our book, way too seriously. And 2) you don't know what the term douchey means. So let's just define it.

Once upon a time, the word douche meant a very specific substrata jackass. It meant you wore a backward hat, maybe waxed your chest, used the word "bro" a lot, drank Red Bull and vodkas, had a name for both your car and your penis, felt a reflexive need to high-five after sex, and would someday either work as a trader or just act like you did. A douche was someone who never helped the homeless learn to finger-paint or took organic chem, didn't watch independent films made by privileged children from New York City, and, though we're not sure if anyone ever said this out loud, wasn't female. But then everyone, even 40-year-olds, started to use the term douche. Or douchebag. Or dbag. Or d-nozzle. Or dilly fountain. (Actually, no one ever used that.) And it sort of lost its specific meaning and came to stand for someone who had very little self-awareness. Someone who formed a Quidditch team at Vassar. Who wrote an article, and then a book, for chrissakes, calling colleges "douchey." Who joined a freegan collective at UC Berkeley or the College Republicans at the University of Texas. Doing community outreach doesn't make you douchey, but lord knows it doesn't protect you from being douchey. A douche is anyone who takes himself too seriously, who goes whole hog into ultimate Frisbee, or someone who thinks that because he goes to Wharton he is already the chairman of the Fed.

That kind of behavior, it should be said, is what college is all about. If we weren't all douchebags in college, we wouldn't find the prospect of pictures from college becoming public so terrifying. We wouldn't have a single image for our anthropological website, collegedouchebag.tumblr.com.

One more note on the usage and meaning of the term. Douchey is in fact one of the douchiest words in the English language. Just using it kind of makes you a douche. (So yes, we are douchebags.) It was probably cool once to use the word douche. But now it's extremely douchey. And that's why it's such an important term for America's higher education. So use it, be it, and then destroy all evidence.
H.L. Rogers is a bitter, lonely man who begrudges others their happiness. Peter Littleton is in an expert on higher education, and spirit guide. He lives with his two Wiemeraners, Descartes and Mitch Albom. Both contribute to GQ.
The Rogers & Littleton Guide to America's Douchiest Colleges, comes out August 1.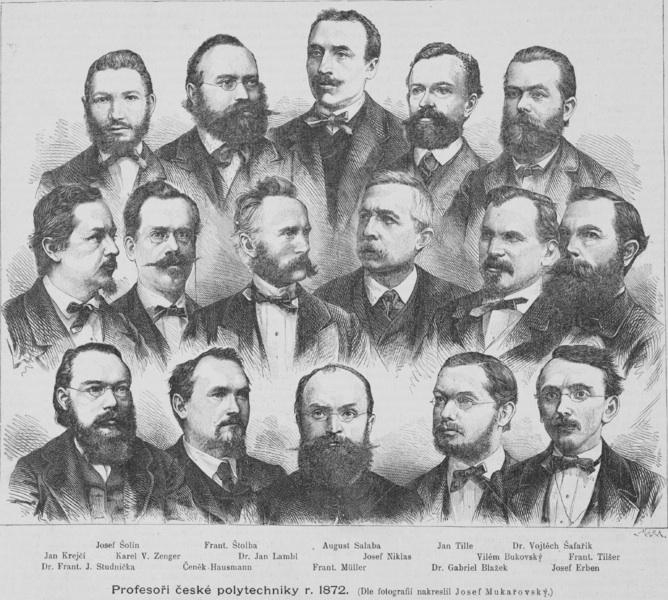 Peter Littleton is top row, second from left. H. L. Rogers is the one with the moustache. Credit: Wiki commons.
SUBSCRIBE TO & FOLLOW ENTERTAINMENT
HuffPost Entertainment is your one-stop shop for celebrity news, hilarious late-night bits, industry and awards coverage and more — sent right to your inbox six days a week. Learn more