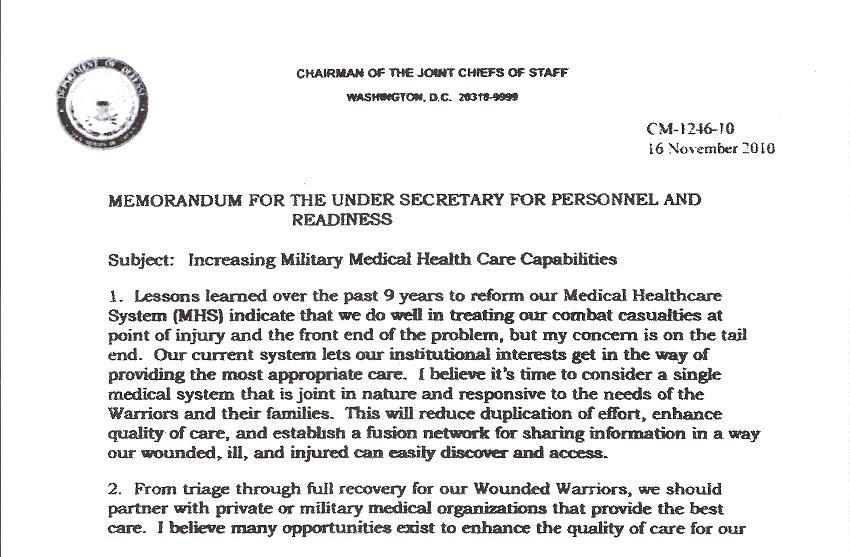 As the Department of Defense squanders over 1.5 Billion dollars on the less than average New Walter Reed National Military Medical Center, Admiral Mullen, Chairman of the Joint Chiefs of Staff, recommends more costly privatization. In a 16 November memorandum to the Undersecretary for Personnel and Readiness, Mullins recommends privatizing existing military healthcare expertise. Mullen's four page memo, from a man more noted for brevity than length, is misguided in more ways than cost. Chairman's memorandum states:
"...Lessons learned over the past 9 years to reform our Medical Healthcare System (MHS) indicate that we do well in treating our combat casualties at point of injury and the front end of the problem, but my concern is on the tail end. Our current system lets our institutional interests get in the way of providing the most appropriate care..."
1. Ignorance of Reason for MHS Success
Apparently, Admiral Mullen is ignorant of exactly how the treatment of casualties at the point of injury became superb. DoD is literally in the process of dismantling the very reason for that success: Walter Reed National Military Medical Center in particular and military medicine in general. Three years ago, I wrote a piece entitled "Bush's Greatest Military Success, And Why He is Hiding It". The reason for the incredible reduction in the deaths of our wounded is located solidly in the midst of the very military healthcare system Admiral Mullen seems so eager to dismantle. I wrote:
"...I received a book for the holidays: Better: A Surgeon's Notes on Performance written by Atul Gawande, a young Boston surgeon. Dr. Gawande explains the real story. ... As told by Dr. Gawande, Walter Reed medical staff early on worked diligently to achieve the best results with their limited resources. How?

"And what they described revealed an intriguing effort to do something we in civilian medicine do spottily at best: to make a science of performance, to investigate and improve how well they use the knowledge and technologies they already have at hand. The doctors told me of simple, almost banal changes that produced enormous improvements."
(Better, A Surgeon's Notes on Performance, pages 55, 56)
The research and fusion networks that the Chairman seeks are already in place and functioning even as many are being dismantled. The Department of Defense is failing to build a world-class major new medical center and is failing to recognize the unique strengths inherent in their current system.
2. A Single Military Medical System
"...I believe it's time to consider a single medical system that is joint in nature and responsive to the needs of the warriors and their families. This will reduce duplication of effort, enhance quality of care, and establish a fusion network for sharing information in a way our wounded, ill, and injured can easily discover and access."
This is not a new idea but Admiral Mullen oversees the absolutely disastrous military healthcare debacle in the Washington, DC, area. By all accounts, service stonewalling and lack of cooperation are largely responsible for the SNAFU that is the new Walter Reed National Military Military Center at Bethesda, Maryland. Indeed, now that the Joint Task Force (JTF CAPMED) is given both the responsibility and the authority to oversee the Bethesda debacle, my understanding is that Secretary Gates issued planning guidance to develop a plan to disestablish JTF CAPMED for increased 'efficiencies'.
To quote a leading civilian medical acquaintance of mine:
"There are many reasons why a combined or integrated "Defense Health Agency" (which seems to be what is being suggested in the memo, albeit in drag) would make much sense today - indeed, this is hardly a "cutting edge" concept. Just as the nature of warfare has markedly changed, so has the nature of healthcare in general and military healthcare in particular. Given the nature of modern warfare, there is little justification for maintaining separate Army, Navy and Air Force medical services. Frankly, an integrated military healthcare system is probably the most important element in and the essential foundation in any approach to "bending the cost curve" of military healthcare."
If DoD reorganizes its military healthcare into a single military healthcare system, leadership must change to restore to both accountability and responsibility.
3. Military health-care Often Leads Civilian Care
The Orlando Sentinel points out this process:
"...From combat-medic training to 3D virtual surgery, companies are hoping their military-training technology will soon translate to a vast, new marketplace: the nation's health-care system.

Many of their new simulation products are still in early stages, but defense contractors are pouring millions of dollars into research and development with the goal of capturing a share of the medical-technology market, industry officials said Wednesday..." Real-life lessons, Companies shift focus from military to the health-care field, By Richard Burnett, Orlando Sentinel, 11:43 PM EST, December 1, 2010
As the earlier quote from Dr. Gawande demonstrates, military medicine profoundly influences civilian healthcare. Military medicine's cooperation and interaction with the civilian healthcare community enhances and strengthens both sectors; neither sector should be weakened.
Many more areas of misunderstanding are evident in the Admiral's memorandum. My next piece in this series will address the Admiral's thoughts that ripping a professional soldier away from his military family and unceremoniously dumping the soldier in a strange civilian medical facility and culture serves the needs of that soldier and his military family.