Consumer spending is responsible for 70% of US economic growth. However, over the last few quarters we have seen a big drop in personal consumption expenditures and an increase in personal savings. Is this the start of a new trend or is this a temporary situation?
From Reuters:
The Conference Board, an industry group, said its consumer confidence index fell to 25.0 in February, the lowest since the index began in 1967, from 34.7 in January.

Consumers' gloomy outlook showed no sign of turning around, according to the report, boding ill for the consumer spending that drives some two-thirds of the U.S. economy.

The data "suggests, unfortunately, that we still haven't found the bottom for the economy," said Zach Pandl, economist at Nomura Securities International in New York.
There are a lot of reasons for this drop.
1.) The job market is terrible. In January 2007 there were 138,080,000 total non-farm jobs in the US compared with 134,580,000 in January 2008 for a total loss of 3.5 million jobs in a 12 month period. 1.77 million have occurred since the October numbers. In other words, job losses are accelerating.
2.) There are two sources of wealth for Americans: stocks and real estate. Stocks are in a bear market. Home prices continue to drop:
The day's U.S. housing data also offered little reason for optimism. Prices of U.S. single-family homes fell 18.5 percent in December from a year earlier, with the pace of decline speeding up, according to the S&P/Case Shiller home price index.

That was the biggest drop since the data series began 21 years ago and suggested prices will probably continue falling in the months ahead, extending a 13-month-old recession.

The S&P/Case Shiller composite index of home prices in 20 metropolitan areas fell 2.5 percent after dipping 2.3 percent in November.

"There are very few, if any, pockets of turnaround that one can see in the data," said David Blitzer, chairman of S&P's index committee. "Most of the nation appears to remain on a downward path."

A separate report from the Federal Housing Finance Agency said single-family home prices fell a record 4.5 percent in the last three months of 2008 compared with a year earlier, though the pace of decline slowed.
Housing will not be anywhere near a bottom until we see the rate of year over year price declines slow. As a result, we can expect to see a continued drop in housing prices over the new 6 months (and probably longer).
As a result of the drop in housing real estate prices, household net worth has dropped 11% since the third quarter of 2007. In short, between real estate and the stock market, people are feeling poorer. That's leading to lower consumer spending: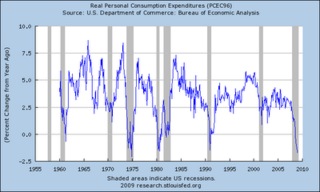 Overall personal consumption expenditures are dropping at fast rates on a year over year basis.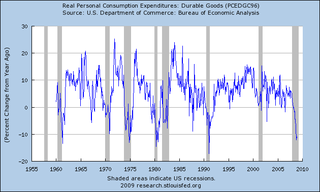 A big reason for this a a drop in durable goods purchases (cars and houses).
But non-durable rates are dropping as well.
And now we are seeing an increase in savings: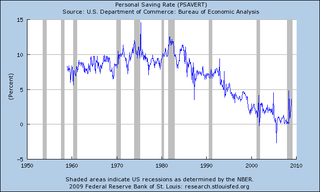 Notice its been declining for the last 20 years or so until it eventually started hovering around 0% and that it has recently spiked up. There are some people who are now arguing the consumer is retrenching completely; meaning, the consumer will no longer be the engine of growth. There are two strong fundamental reasons that support this conclusion.
1.) First, the best reading of job growth during the last expansion is for a total of approximately 8.2 million. In other words, job growth was extremely weak. In addition, we've seen fast rates of job loss over the last year along with real estate and stock market collapses. In other words, the macro environment is such that consumers may be paying a lot of attention to their bottom line and thinking, "I don't need to buy that right now."
2.) Total household debt outstanding has increased from 47% of GDP in 1981 to 96% of GDP in the third quarter of 2008. While there is no bright line in economics that says "above this level the household debt/GDP ratio is bad" I feel fairly certain in saying that when there is almost as much household debt as there is GDP in an economy there are serious problems. The point is the possibility that we are at a saturation level with household debt is pretty high. This leads to the conclusion that the consumer will start to pay his debt down leading to lower consumer spending.