You may know Countess Luann de Lesseps from the popular reality show Real Housewives of New York. However, Luann isn't the typical New Yorker talking at a million miles a second, always on their phone. Lesseps has respect for class, (if you may remember she sang about it in her hit single, "Money Can't Buy You Class"). Lesseps published her first book last year, titled Class With the Countess: How to Live with Elegance and Flair. I had the pleasure of interviewing Lesseps. In part one she dishes on fashion, manners, motherhood and more!
Haley Sherif: Who is your fashion icon?
Countess Lesseps: Besides my mother -- who never left the house without being impeccably dressed -- I would have to say Cate Blanchett, whose effortless yet refined style I admire.

HS: Describe your style in three words.
CL: Simple, classic and elegant.

HS: What are three items every woman should have in her closet?
CL: A classic sheath dress in a flattering color, a silk scarf, and a great pair of high-heeled pumps.

HS: Why did you want to write your book, Class with the Countess?
CL: I felt I could help others by sharing much of what I've learned in my journey from growing up in a small town to marrying a Count and traveling the world.

HS: What's the most important thing you discuss in the book?
CL: The most important point I make in my book is that anyone can learn how to be charming, polite and elegant and that money can't buy you class. Without manners, what do you have?

HS: As a working mother living in New York City, how do you stay organized and make time for yourself?
CL: I keep a schedule on my iPhone where I block out time for exercise and for other activities that keep me feeling and looking good. Making time for myself is very important, and I always say, "When Mommy's happy, everyone's happy."

HS: What is your favorite thing about the city?
CL: It's difficult to choose just one favorite thing about New York City, but I'd have to say how each area and its neighborhoods has its own vibe. In one day, I can meet friends at a fabulous restaurant on the Upper East Side, then shop in an eclectic boutique in the meatpacking district, and then go see a Broadway show. This city has it all and I'm never bored.
HS: What is one fond memory you have?
CL: My fondest recent memory was when I sang a duet with Natalie Cole to my boyfriend Jacques for our anniversary on a boat sailing by the Statue of Liberty!

HS: Why do you think in this modern day and age so many people, adults and children, have lost sight of proper etiquette?
CL: Adults and children are very busy these days and many families never sit down for a meal together where they can use table manners and improve their conversational skills. Also, people have become complacent and more accepting of bad behavior over time. Technology hasn't helped the situation because while we are more connected, we are not more personally connected.

HS: What are some of your pet peeves?
CL: People who talk loudly on their cell phones on public transportation, elevators and in restaurants. Another pet peeve I have is exuberant gum chewing.

HS: Has your love for singing and your success with singing surprised you?
CL: I've always loved singing and I'm grateful that people enjoy my songs, which I did for fun.
HS: How do you maintain being so down to earth while negotiating the public eye?
CL: Being a single mother definitely keeps me down to earth. It's not easy working in the public eye and raising two teenagers, but I manage by staying organized, keeping a good attitude and not taking things too seriously.

HS: What do you do in your down time?
CL: I like to relax at my home in the Hamptons with my family and friends. In the winter, we build fires and play board games and cards. I also enjoy going for walks on the beach with my kids, my boyfriend, and our dogs Aston and OY.

HS: Any final words?
CL: When it comes to fashion, wear what looks good on you and never buy anything simply because it's on sale or is the current trend. Invest in classic pieces that you will wear for years and update your look with accessories.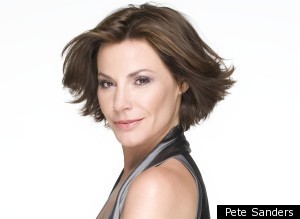 SUBSCRIBE TO & FOLLOW THE MORNING EMAIL
The Morning Email helps you start your workday with everything you need to know: breaking news, entertainment and a dash of fun. Learn more