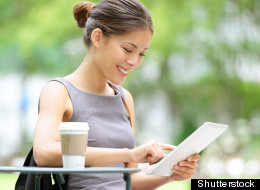 Technology isn't the usually the first thing you think of when it comes to weddings, but the bridal industry is about to be taken over by young, willing and able tech entrepreneurs with one mission: to pull weddings into the 21st century with the latest apps, websites and online tools. After all, we've applied the latest tech to the rest of our lives why not use it to take the stress out of wedding planning too?
So how can you use this to your advantage? Before delving into wedding planning mode, arm yourself with the best tech tools to make things fun, easy and get what you really want.
Here are a couple of key areas where wedding and technology collide to make wedding planning a little easier and your big day a lot more fun!
5 Must Have Tech Tools For Wedding Planning
Finding inspiration for your wedding can be challenging and collecting all of the wonderful tidbits you come across online can also be challenging. This is where visual inspiration boards come in handy. Sites like Pinterest and Lover.ly are great ways to find, collect and scrapbook all of you wedding likes and ideas.

Thinking of buying disposable cameras so your guests can take photos at your wedding? Here's a better option: Apps like Snapable let you create an online album and allow guests to instantly upload the photos they take through a mobile app. It's less expensive, more environmentally friendly, and means you don't have to chase friends and family for photos after the wedding.

Your first thought when it comes to a wedding registry is probably a big box store. But scanning toasters and tea towels isn't for everyone and limits you to what's available in that particular store. Try an online wedding registry that allows you to add anything from anywhere, or register for cash, and provides guests with a fun way to collaborate on big-ticket gifts.

Wedding planning requires that you and your partner stay organized and communicative. Pair is a mobile app for couples to stay connected and a great way to stay organized as you plan your wedding. Create task lists, keep track of important dates and stay in communication as your big day approaches.

A wedding website is no longer nice to have, but a must have. Luckily, Wordpress has made it easier with customized themes just for your wedding. Set up a free account, choose your favorite wedding theme and customize the images and wedding details, and colors to suit your big day.
Now that you have the latest "WedTech" tools at your disposable, you can feel confident that your wedding will happen your way!
Follow Hana Abaza on Twitter: www.twitter.com/HanaAbaza