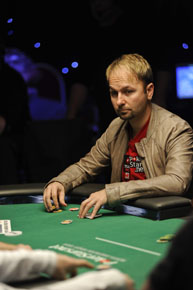 The North American Poker Tour (NAPT) is wrapping up this week at the Mohegan Sun casino in Connecticut. Such poker pro luminaries as Joe Cada, Vanessa Rousso, Greg Raymer, and Gavin Griffin were on hand for the five-day, $5,000 buy-in championship Main Event, which smashed the Mohegan Sun's record for total prize pool.
$3,264,244 is not a bad lump of cash to win while the rest of the country is in the midst of a horrible recession.
We sit in a time of economic instability. Millions of Americans have lost jobs. California teeters at a 12.8% unemployment rate. Yet, high-stakes poker is on a trajectory course upwards in terms of popularity-huge player traffic is generated to such online sites as PokerStars. What's the reason behind the surge? Has poker playing now become a viable career option for those currently out of work -- despite the fact that it's a profession where one is constantly faced with the prospect of losing large sums of money?
What do the pros think?
"I know more people since the economy has gone bad, who didn't have much else going on, who decided to work hard at poker," says card table superstar Daniel Negreanu. He professes: "They're surviving and they're doing well. I don't think it's all that difficult to do." (An easy claim to make for one who is ranked second in all-time career earnings.) Negreanu continues: "I'd say it's easier to make a living these days then ever before. When I started playing poker there was no online poker--you had to sit at one table and that was it." As a teen rounder in Toronto, Negreanu had to seek out backroom card games. Now, the new Internet poker generation can play multiple games at once right from their laptop. "Instead of playing the higher limits you can play twelve screens at the lower limits and you could really grind out a bankroll slowly and carefully."
Does throwing down thousands of dollars of chips each hand during a time of recession change the level of play at the NAPT?
"No, I don't think that has any bearing on it at all," Negreanu says. "In a tournament some are always going to play more scared than others. Once you put the money in-it's in and you don't really think about it. I don't think the economy has any effect in that situation."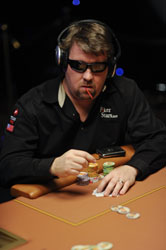 2003 World Series of Poker (WSOP) champ, Chris Moneymaker, has seen his share of poker pros who have had difficulties during the recession. One of his friends-a pro player for the past ten years -- has been on a bad downward spiral for the past four-six months. "He doesn't have a whole lot of options. He has a ten year gap in his resume-he can't do anything else." Moneymaker summarizes about the shift in poker: "I play with a lot of kids who have no respect for money. You hear all the stories of someone who has a million in their bank account and the next week they're broke. That's great if you're single, but I have a family." Being realistic about the hardships of the economy, Moneymaker has a more conservative approach to his game: "I play at my limits. I play within my means." He stresses again: "I have a family."
As the recession rages on, what's the smartest way to make it as a professional poker player?
"I'd advice all players to have a strong economic plan," recommends Dennis Phillips--who placed 3rd in the 2008 WSOP. While working as an account manager for a trucking company, Phillips came from nowhere by qualifying for the WSOP Main Event through a $200 satellite tournament at Harrah's casino in St. Louis. Since then, he's parlayed his total winnings (exceeding $4,700,000) into opening a slew of commercial businesses around the country. With a broad smile, Phillips rejoices at the origins of his new entrepreneurial pursuits outside of poker: "2008-that was a life changer!"
Meanwhile, Daniel Negreanu's poker star is so bright that spreading his brand isn't even a concern to him. "I don't spend too much time thinking about that, " he says. Negreanu leaves
such matters as TV offers, commercials, book deals, and endorsement ventures to his handlers. "People will come up to me and say, 'Hey I got a great opportunity.' And I'll say, 'Great. I don't want to talk about because I have an agent.' (Pause.) It's boring to me."
Boring to some. A viable means of steady income for other players. Then again, there's only one Daniel Negreanu.
NAPT will be broadcast on ESPN2 on Monday nights from 9pm-11pm EST starting April 19th and running for 16 hours..
Read more Harmon Leon at SF Gate and True/Slant.
SUBSCRIBE TO & FOLLOW LIFESTYLE
We're basically your best friend… with better taste. Learn more