Now that the government shutdown is over (for now) and debt default avoided (for now), the Tea Party extremists in Congress will likely get back to their more typical day jobs of denying climate change and trying to undermine environmental protection. In the midst of the shutdown we told you on our Facebook page about legislation introduced by Rep. David McKinley of West Virginia that would, if enacted, undo recently proposed rules to limit carbon pollution at new coal-fired power plants.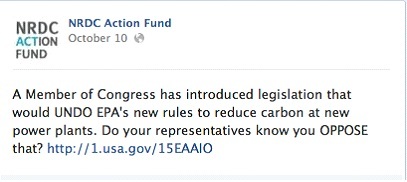 The resolution, H.J. 64, was introduced pursuant to the Congressional Review Act (CRA). The CRA allows for Congress to formally "disapprove" of major rules issued by executive agencies. Passage of a CRA resolution results in the rule not going into effect and prevents the agency from ever promulgating a substantially similar rule again. Keep in mind, agencies issue rules pursuant to the laws previously passed by Congress. And realize that McKinley's legislative weapon of choice may only disapprove final rules, not mere proposed rules like the one released by EPA for public input. But setting aside this obvious defect, if the McKinley resolution were to succeed, EPA's hands would be tied in implementing a key part of the Clean Air Act's direction to limit the harm of a dangerous air pollutant (carbon) because EPA would be prohibited from issuing a similar rule to limit carbon coming from new power plants.
While McKinley may be getting support from his coal industry supporters, it's important for fans of a stable climate to keep in mind that this bill has little support outside of the extreme Tea Party wing of Congress and those with vested interests in building new, dirty coal plants. Here are a few reminders for representatives who might be considering sponsoring the McKinley resolution:
1. Americans of all political stripes want to ACT on climate. The most recent polling finds that 87 percent of Americans support some EPA action on climate change, including 78 percent of Republicans and 94 percent of Democrats.
2. Doomed to fail. Congress has considered CRA resolutions that attempted to undermine climate action and the Clean Air Act recently. Each time a majority of senators has rejected these dangerous attempts to harm public health.
3. President Obama cares about climate change. "Today, for the sake of our children, and the health and safety of all Americans, I'm directing the Environmental Protection Agency to put an end to the limitless dumping of carbon pollution from our power plants, and complete new pollution standards for both new and existing power plants." President Obama uttered these words in his June speech on climate change. The President has the authority to veto a CRA resolution. There is no way President Obama would participate in undermining something he explicitly directed EPA to do.
It's time for Congress to get to work, solving the real problems that face this country. They should stop wasting time on efforts that are both unpopular and unlikely to succeed. The question for you, dear readers, is whether your representatives know how you feel on this issue.