Punk rock taught me to question everything, and if it didn't seem right or just, to try to use my voice to change it.
Over the years, that is what I have done. I have my nonprofit, but a big component of my work is really supporting the underdog -- people the media may not recognize.
So, there are a few things that I REALLY LOVE -- one is to find inspiring people, and to raise awareness for them as best I can.
The other is seeing peoples' voices recognized -- really, the power of the people.
While on Facebook three days ago, I was invited by a record label to join "People Opposed to the Michael Vick Reality Show."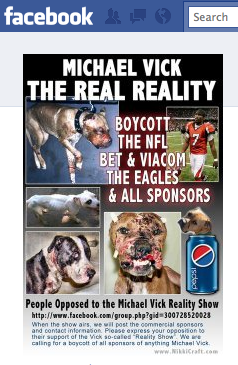 I checked it out, and found a really well organized page.
It explained clearly that Vick is profiting from the show, and that he would not have a show at all if he had not tortured animals.
There were frequently updated contact links for all sponsors, and members were re-posting the replies they'd received.
In the days I was monitoring it they were gaining 500+ members a day.
Checkers, 7-UP, Lysol, KFC, McDonalds and Chevy are still supporters.
However, other companies are getting the message:
"2/4/10 Update: Nivea ended their commercial sponsorship of the show after being inundated with customer e-mails complaining about their support of the program.

2/5/10 Update: Pizza Hut issued a press release informing the public that they asked Black Entertainment Television (BET) to end their commercial support of the show.

2/5/10 Update: Denny's Restaurant contacted BET and ended their support after receiving e-mails from concerned customers expressing their opposition to the show.

2/6/10 Update: L'Oreal issued a press release that they have terminated their support of the Michael Vick "Reality" Show and apologized for offending L'Oreal customers.

2/8/10 Update: Nationwide Insurance issued a press release announcing that they asked BET to pull their ads from the Michael Vick Reality Show and that they do not support the program and do not wish to have any association with it. They stated the huge volume of calls from customers prompted them to change their position. Initially, they stated they were not in the business of judging shows that aired their commercials.

2/9/10 Update: I spoke with a representative from Customer Relations at Dave and Busters today. She told me that they contacted BET and insisted that they pull their ads from the show. She stated they have been receiving calls all week and got the message.

2/10/10 Update: Walden University, Ballys, Applebees, and TurboTax all ended their sponsorship with the Vick show today citing that it is inconsistent with their values after receiving countless e-mails and phone calls from irate customers.

2/11/10 Update: Maybelline and 5-Hour Energy pulled their ads from the Vick show."
I was amazed. One person started a group on Facebook. Others agreed with the message. Eventually, 16,000 people collectively banded together to tell corporations to be more socially responsible.
Companies listened.
PS: BET -- if you are feeling so compelled to educate children on the evils of dog fighting, maybe you should use a spokesperson who, well, HASN'T DONE IT and quit rewarding deplorable behavior.
I suggest "Sugar" Shane Mosley: Watch his PSA here.
SUBSCRIBE TO & FOLLOW MUST READS
The internet's best stories, and interviews with the people who tell them. Learn more