As some of you may have read on my blog, or on the International Campaign for Tibet's blog, I have been fortunate enough to work with and teach a VERY amazing man. I adore Geshela, and cherish the time I spend with him. Today, we received copies of the movie made about him and Damchoe -- and the children for whom they care.
The aim of Save Zanskar is to promote education, and save the distinct culture of this very poor, traditionally Tibetan region of northern India.
In 2003, Geshe Lobsang Yonten started what was to become the foundation of Save Zanskar when he brought 17 poor children from Zanskar to Manali and Dharamsala, India for schooling -- pledging to their parents to care for them as his own.
It has been six years since Geshela and the children made their journey from Zanskar. This July, 2010, Geshela would like to reunite the children with their families for the first time in six years.
Please note, Geshela currently receives no funding from Warrior Productions who produced his story, nor from larger screenings, such as those at the Rubin Museum in New York.
To anyone who has emailed me over the past three years -- asking how you can make a difference, this is a perfect way. Invite some friends over, suggest they each make a small contribution if they are able. The movie is amazing, it's narrated by Richard Gere. There is a preview available on Geshela's website.
A limited number of copies are available for no charge, please just e-mail if you are interested in receiving a copy!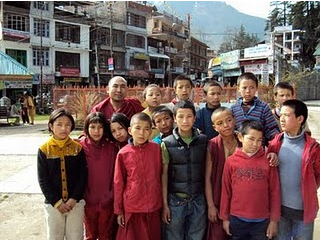 FOLLOW HUFFPOST