The Uganda I know is a strikingly beautiful and complex country. While the Kony 2012 video has brought a wave of attention to Uganda, subsequent headlines have often failed to target inspiring women overcoming great odds -- many of whom are doing nothing less than brightening the future for other Ugandans and their families.
One such woman is Beatrice Anena, a 42-year-old jewelry maker and mother of four. Her soft voice announces a gentle woman. But talk to her and you'll quickly learn that gentle is in no way a synonym for weak. The hardships Beatrice has overcome to build a better life for her family prove she is as tough as any prize fighter.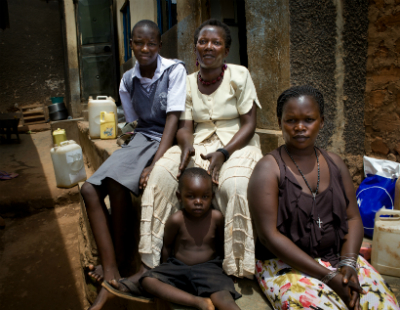 Beatrice Anena with her family (two daughters, one grandson) (Photo credit: Duncan Cameron)
Kidnapped by rebels in northern Uganda when she was only 14, Beatrice was dragged to the bush and forced to become a soldier. Rescued by government forces after a few months, she eventually married a soldier. Beatrice and her husband moved to eastern Uganda to rebuild their lives. Together they had four children, but sadly their life together was cut short when he died of AIDS.
Beatrice moved with her children to a slum on the outskirts of Kampala, where she began working at a nearby stone quarry. In 2004, Beatrice tested positive for HIV. Her health declined and she became too weak for heavy lifting. Her eldest daughter dropped out of school to support the family.
Beatrice eventually received medical treatment. When her energy returned, she turned to making jewelry from beads and paper. Her jewelry sold quickly but she couldn't produce enough to support her family. Beatrice needed a boost.
In 2010, CARE invited Beatrice and 20 of her neighbors to form a village savings and loan association (VSLA). VSLA members meet each week to learn business skills and deposit small amounts of money in the group's savings box. For Beatrice, she started saving $4 a week. Over time, her group had saved enough to start making loans to individual members. Some group members used their loans for household expenses like paying school tuition. Others funded their small businesses. The women repay their loans with interest, which is distributed among group members as dividends earned on their savings. VSLAs have a near 100 percent repayment rate.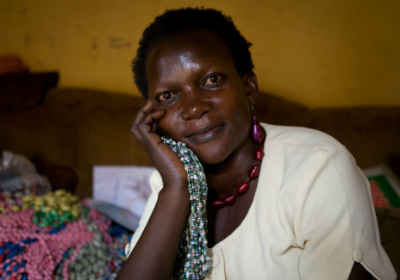 Portrait of Beatrice Anena with jewelry she makes (Photo credit: Duncan Cameron
Every VSLA begins with a year of intensive financial training. During training, Beatrice was presented with ideas many of us take for granted: budgeting, thriftiness, earned interest, profit-and-loss and investment.
Beatrice's group is called "Friends for Life." With support from CARE and her friends, she began investing in her jewelry business. She bought tools to produce her popular jewelry in larger quantities and hired neighbors to help her ramp up production. In just a short time, Beatrice was earning enough money to pay her household bills, school fees and health clinic visits. To guard against the ups and downs in the jewelry business, she bought a plot of land and built a house on it to rent and diversify her income. This entrepreneurial woman also built a public water tap and charges a few cents for people to use it. Less than two years ago, Beatrice described herself as hopeless. Today, she says, with her soft tone, that she's confident her children will attend college.
Beatrice, like millions of other women around the world, had everything she needed for success trapped inside her. What CARE offered was a path -- a ladder to get her over the wall that was holding her back. VSLAs don't solve all problems but they do provide a solid first rung for people like Beatrice who are ready to climb and bring their families and communities with them.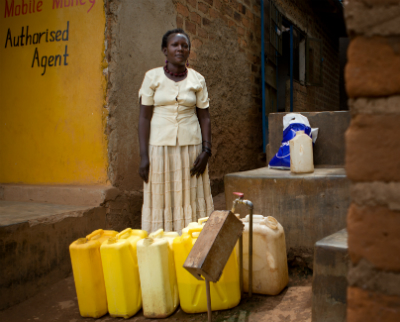 Beatrice Anena in front of the water tap she invested in (Photo credit: Duncan Cameron)
With nearly 3 million VSLA participants in 26 countries in Africa, CARE is the largest non-governmental provider of financial services in Africa. The numbers will continue to grow as we work with and empower other women like Beatrice.
So when you think of Uganda, I hope you remember how a small boost helped Beatrice climb the ladder.
Dr. Helene D. Gayle is president and CEO of CARE, the global poverty-fighting organization. She is currently in Uganda, visiting communities and women like Beatrice.
SUBSCRIBE TO & FOLLOW TRUMP'S FIRST 100 DAYS
How will Donald Trump's first 100 days impact YOU? Subscribe, choose the community that you most identify with or want to learn more about and we'll send you the news that matters most once a week throughout Trump's first 100 days in office. Learn more