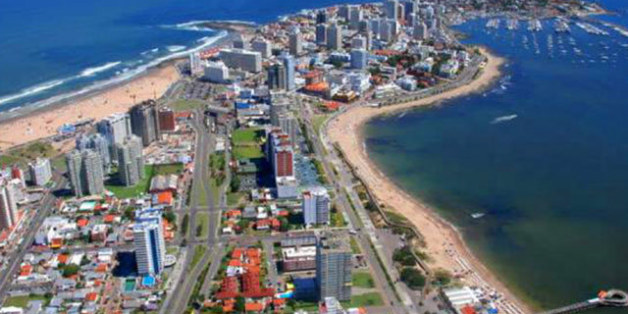 By Chris Simunek
Despite the fact that the temperature in its capital city reached a balmy 79 degrees today, Uruguay just became the coolest nation on the planet. The other 195 countries squatting space on the big, blue marble who are too afraid to legalize marijuana should keep their eyes trained on the 68,000 square miles contained within Uruguay's borders, if only to assuage their fears of an impending legal-marijuana zombie apocalypse. Pot is legal in Uruguay, and HIGH TIMES is not afraid to predict that there will be no cannajunkies mainlining THC on its streets anytime soon. The tides will continue to rise and fall on Uruguay's sovereign shores, the sun will still rise and set over its land, and life in República Oriental del Uruguay will proceed as normal.

Yesterday, Uruguay's senate gave congressional approval to a plan that will create a legal marketplace for marijuana. The government intends to control all aspects of the new industry, from farmer to consumer. Uruguayan citizens will be able to buy up to 40 grams a month at pharmacies, and obtain licenses to cultivate up to six plants at home. Cooperatives, known as "growers clubs," will be allowed to cultivate up to 99 plants collectively.

It's a move that has been anticipated for some time. Last October in Denver, at the 2013 Drug Reform Policy Conference, Uruguay's drug czar openly acknowledged Colorado's impending legalization a model for his own country. Julio Calzada toured dispensaries and growrooms, then declared, "We have thousands of deaths, simply a product of prohibition. And here you have a very regulated market, marijuana that is produced in a controlled fashion. That is where we are going." Last Sunday, when interviewed by the Brazilian daily, A Folha de São Paulo, Uruguay's President José Mujica made a global plea for help in his country's efforts.
"We ask the world to help us create this experience. It will allow us to adopt a socio-political experiment to address the serious problem of drug trafficking... the effect of the drug traffic is worse than the drug."
What will be interesting to see is whether the other nations in South and Central America, all of whom bear the scars of the Drug War in one form or another, will follow suit. The phrase "domino theory" was used during the Cold War to describe a doomsday scenario whereby countries fall one-by-one to communism, and to justify Vietnam body counts and Latin American Death Squads. We hope the phrase will be redeemed in regards to drug policy in those countries existing south of the Rio Grande, and who bear the brunt of the violence associated with America's unquenchable thirst for narcotics. There is plenty of evidence to believe that Uruguay might only be the first in a succession of countries to defy Washington's militaristic model for confronting the western hemisphere's drug problem. Last June, a coalition of 160 civil rights groups sent an open letter to the Organization of American States General Assembly Meeting in Antigua, Guatemala, calling on, "Our governments to acknowledge the failed security policies that have militarized citizen security and only exacerbated the problem, and are directly contributing to increased human suffering in the region." The OAS itself issued a report indicating, "A willingness to explore nontraditional approaches to the subject."
Just days before the historic vote in Uruguay an unlikely supporter weighed in on the subject of legal marijuana in the Americas. William Jefferson Clinton, America's inhalation-impaired 42nd President commented to Fusion TV, "The drug issue should be decided by people in each country, based on what they think is right... We have a process in America for doing it that's being revisited state by state. And Latin America is free to do the same thing....It's obvious that attitudes are changing and opening up."
As to Slick Willy's change of heart, HIGH TIMES says, "Better late than never." According to the FBI's Uniform Crime Report, marijuana arrests during the Clinton administration rose annually from 342,314 in 1992, when he was elected, to 734,498 in 2000, his last full year in office -- a record high at the time.