Actual Title - Finale, Part I
We're in the home stretch now, cats 'n' kittens. I'm going to attempt to streamline this week's recap so we can fully examine the Final Four individually and make our assessments as to their winnability for the endgame, Mercedes Benz Fashion Week (insert audio clip here of choir singing). Besides the unconventional challenge, the episode where Tim visits the finalists at home is always one of my very favorites. I love seeing Tim traipsing around the Midwest or some other area where he looks completely out of place. I love it when he does things we never see him do ordinarily. In the case of this season, that would include boating with Anya in Trinidad, cooing over Kimberly's baby niece, brunching with Josh and Josh's sister in Queens, and puffing up five flights of stairs to Viktor's studio. Deelish.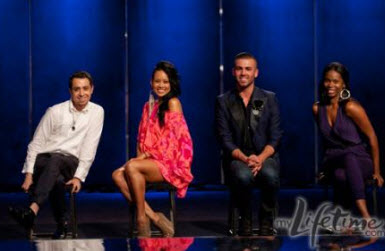 As you'll recall, last week the judges sent Laura Kathleen and her annoying voice home and the smoke cleared to reveal the Final Four: Viktor Luna, Joshua McKinley, Anya Ayoung-Chee, and Kimberly Goldson. They are dispatched back home with 9K each and a mere five weeks to create a ten-look collection. Do you remember, way back to Season One, when the finalists had four months to prepare for Fashion Week? If nothing else proves that life has accelerated since 2005, that does. Jeez Louise.
Tim pops in on each of the Final Four three weeks into the process to see how they're doing. He visits Kimberly in White Plains, Maryland where she appears to be staying with her sister. Kimberly is determined to be the first African-American designer on Project Runway to show at Fashion Week and make her mother proud (Note: each of the Final Four has a dead family member they're honoring with their work. Is this a first on the show?). Next up, Anya - Tim meets two of her brothers and learns that the impetus behind Anya's designing is her brother Pilar who died at the age of 18. The pristine island of Tobago is Anya's inspiration but she hasn't done anything except choose her fabrics; she's stuck and can't even sketch. This does not augur well; Tim gives her a pep talk. Tim goes to Viktor's place, a fifth floor walkup in Manhattan ("five flights of stairs, Grandpa needs a rest!" - Tim). Viktor's inspiration is, like Anya's, a deceased brother. He recently went to Guadalajara and took some photographs of places he used to visit when he grew up there and used these as the basis of his collection. There's a TDF studded white leather jacket hanging on that rack that makes me think he's going to walk away with the win. Tim declares Viktor's a wow collection and warns him not to overthink, "let your viscera dictate."
The last stop is to see Josh in Sunnyside, Queens. After brunch with Josh's sister and a visit to Josh's studio, Josh has only two pieces left to work with. "Can I be blunt...I think it's on the edge of looking cheap," frowns Tim as they start to peruse Josh's rack. A textile purchased as one of the cornerstone looks of his collection is eschewed by Tim completely as "major homely...makes me want to weep." He advises Josh that it looks like he's trying too hard and "where's the sex?" It almost makes one wish for an exposed zipper.
Two weeks later the Final Four reconvene, this time at a penthouse suite at the Hudson Hotel. After a brief champagne toast with Tim, they learn that, naturally, the competition isn't yet over for the coveted spots at Fashion Week; they have one more challenge to whittle them down from four to three. They are told they will be presenting a three-look mini collection to the judges before trundling their clothing racks over to Lincoln Center.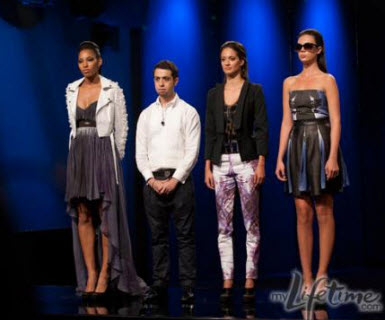 Viktor, per usual, is completely ready to go while the other three are still working right up to runway time. Viktor's garments are praised highly by the judges (thank God no guest judge muddies the waters by appearing on the show to promote a reality TV show or movie or book this week), the only caveat being that "we told you to turn up the volume but you don't have to go all the way" per MK. Heidi is so entranced by the white leather jacket she even tries it on and therefore we get to see that it has a very Mondo-like inside lining.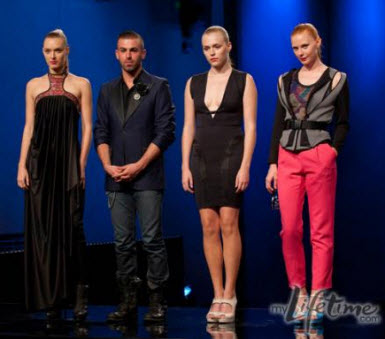 Josh has wisely kept his Joshier looks in the workroom. Nina is very impressed by the styling and calls him "a great designer." In other words, he's in like Flint. Kimberly's three outfits don't fare quite so well. Her over-accessorizing kills the looks, which MK calls full of color and sex appeal. The judges all hate the bubble butt on the fuschia skirt. Anya fares even worse. Her model is almost falling out of the bathing suit, per Heidi. The judges hate the gold satin evening gown, which MK says looks "tortured." In a genius Korsism, he calls the shoes one of the models has on "something a bad newscaster would wear." Nina warns Anya to embrace what she's good at since her aesthetic is so different from the other three.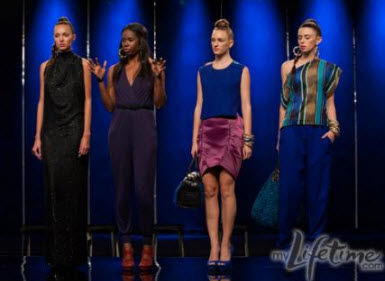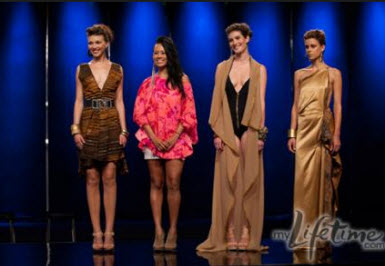 In the green room, our Final Four hold hands and honor each other's company on the journey. Very New Age. No surprise, Josh and Viktor are in. Anya and Kimberly are the bottom two and are both told they have a lot of potential but also a lot of problems. In the Project Runway version of Chinese water torture, Kimberly is told she is in and Anya is told after a few agonizing minutes that she is also in. She joins the others in the green room to celebrate, and Josh is less than pleased as he thinks, based on today's critiques, that neither of the girls should be showing at FW. I hate to say this, but I might even agree with him on this. And sew it goes! Meet you back here Thursday (perhaps even live blogging, I'll see if I can work something out) for the Finale Finale.
Let's examine the Final Four in terms of their wins and losses over the span of this season. Anya's had a total of three wins and been in the top 3 three times. Viktor and Josh have both had two wins total, Viktor has been in the top 3 two times whereas Josh has been in the top 3 four times. Kimberly has had one win and been in the top 3 twice.
Remember lo those many weeks ago when we had all these folks on the show? First designer to go: Rafael Cox (He's the one who thought Nina Garcia was sending flirtatious messages through her eyes to him). Where be he now?!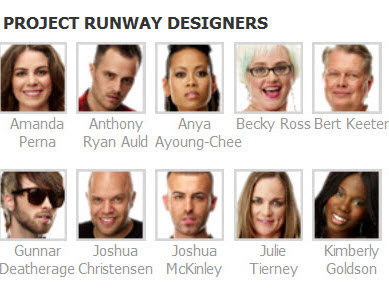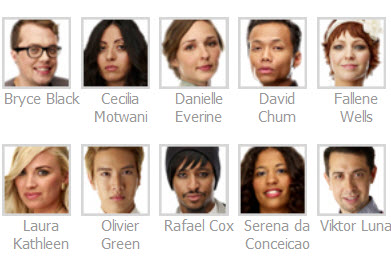 Those Were the Days, My Friend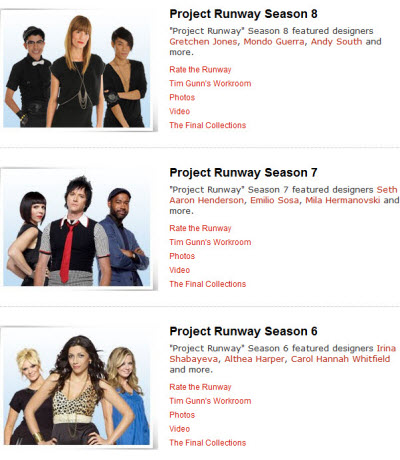 Dialing Back Even Further in the Wayback Machine...
Thanks to the official website, we have the opportunity to learn more than we ever wanted to know about each of the FF. To wit:
MORE ABOUT ANYA, Age 29, Port of Spain, Trinidad and Tobago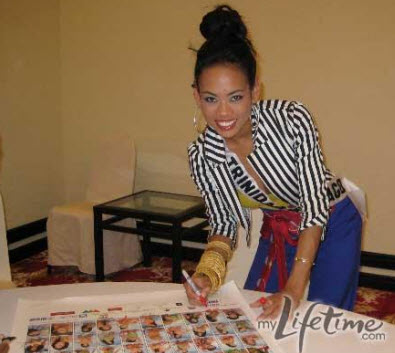 Why do you think you will win Project Runway? I am highly competitive, I have many of the elements that comprise a winner on this show, and I have a deep passion for representing not just me but also where I am from, on an international scale.
First garment ever made? A slouchy gray jumpsuit that I wore to Miss Universe.
What's playing on your iPod when you're designing? Reggae, soca, jazz, hip-hop, pop.
Favorite designers? Haider Ackermann, Stella McCartney, Gareth Pugh, Dries Van Noten, Yohji Yamamoto, Issey Miyake, Alexander McQueen.
Style icons? Kate Moss, Coco Chanel, Frida, Tom Ford, Rachel Roy.
What celebrity would you like to design for? Rihanna. I'd like to design a whole wardrobe for her!
What's your favorite material or fabric to work with? Jersey.
Why are you (or aren't you) easy to live with? Easy because I keep common areas neat and am quiet when others are around. Not so easy when I am designing a collection and there is fabric everywhere. Also, I do not cook.
What are your favorite movies and TV shows? Movies: Wasteland, Frida, City of God, The Pianist. TV: Seinfeld, Curb Your Enthusiasm, Entourage, The Daily Show, Project Runway.
What are your favorite books and authors? The Alchemist, The Diary of Anne Frank.
iPhone, Android or BlackBerry? BlackBerry.
Favorite designer from past seasons of Project Runway? Mondo.
How did you end up auditioning for Project Runway? I saw a tweet mentioning the deadline for PR applications and decided to apply on a whim.
MORE ABOUT JOSH, age 25, Sunnyside, Queens, New York


Why do you think you will win Project Runway? I am strong and courageous, and live my life each day with desire, dedication and determination to be better than I was the day before. I plan on giving each challenge and each opportunity 150 percent, because that's all I know how to do.
Favorite designer(s)? Jean Paul Gaultier, Viktor and Rolf, Gianni Versace.
What is a fashion must? Tailored blazers and a haute pair of boots.
What's your favorite material or fabric to work with? I love neoprene and leather!
Who are your favorite style icons? I look to Franco Moschino and Gianni Versace when in need of a boost! But my hair icons would definitely be a Cary Grant and James Dean mix!
Any other cultures or places you wish you could design for? Is the leather community a culture? Also the Army: My brother is serving in Iraq, and I would love to give to my country through high-tech design to make their jobs easier and more efficient.
What are your hobbies besides designing? Running, thrifting, experimenting with makeup, walking the streets of NY, watching movies.
What are your favorite movies and TV shows? Movies: 54, The Thomas Crown Affair, Burlesque, Pretty Woman, and don't spill this, but any movie with J.Lo is a guilty pleasure. TV: I am a huge fan of Law and Order and CSI, love a good mystery and then a discovery, all in one hour!
What are your favorite books and authors? Malcolm Gladwell, Eckhart Tolle.
iPhone, Android or BlackBerry? iPhone.
Favorite food? Carpaccio de manzo, mussels and frites, pizza, steak, sour gummy worms!
Beer or wine? Vodka! An Amanda Bellows, please! Two lemons and black straws, cuz black is chic!
Biggest pet peeve? Putting toilet paper on the roll backwards. It becomes inconvenient and annoying!
Who was your favorite past Project Runway designer? Really enjoyed Stella and her leather.
How did you end up auditioning for Project Runway? I had gone to open calls three times before, and submitted through the mail once.
MORE ABOUT KIMBERLY, Age 35, Brooklyn, NY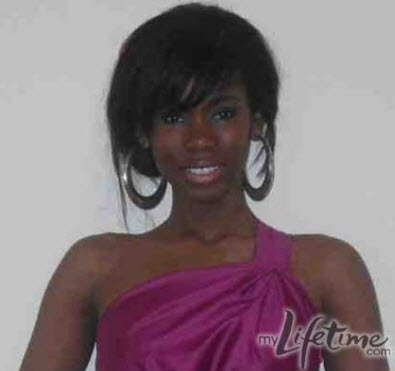 Why do you think you will win Project Runway? I have creative design ideas with a fresh perspective. Also, I think I have the personality (fun, bubbly, tough when necessary, sensitive at times) to win the TV portion of the competition
Favorite designer(s)? Oscar de la Renta, Alice and Olivia, Marchesa, Monique Lhullier, Christian Siriano.
What is a fashion must? Great shoes.
What's the ugliest thing you've ever worn? Fendi pumps with a chunky two-inch heel with the zucca logo all over them. Trash!
Who are your favorite style icons? Sarah Jessica Parker.
What's your favorite hangout back home? Dekalb Avenue in Brooklyn, New York. Any restaurant along that street with good food, friends and cocktails!
What are your favorite movies and TV shows? Movies: The Wizard of Oz, Grease, Coming to America. TV: Law and Order: SVU, Project Runway, Oprah (and now she's gone!).
Favorite Twitter accounts? The Kardashian sisters.
What are your favorite books and authors? The Red Tent by Anita Diamant and the Bible.
iPhone or BlackBerry? Android.
Favorite food? Sushi, oysters, and macaroni and cheese.
Favorite designer from past seasons of Project Runway? Christian Siriano.
How did you end up auditioning for Project Runway? I stumbled upon the casting call a week before the deadline. I rushed my video and application in, and here I am. Yay! I auditioned for PR once before, for Season 6.
MORE ABOUT VIKTOR, Age 30, New York, NY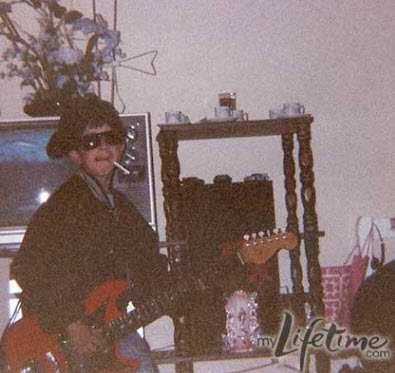 Why do you think you will win Project Runway? This is my passion, and I am a very competitive person who is always looking to strive toward success. I listen well, I have a good sense of style editing, and know how to push the envelope but still maintain chicness, sophistication and excitement.
Favorite designer(s)? McQueen, Boudicca, Cristobal Balenciaga, Prada, Marchesa, Zero+Maria Cornejo, Comme des Garcons, Thom Browne.
What is a fashion must? PRADA, shoes, sunglasses, sports coats, bags.
What's influenced your designs over the years? My influences are my Goth/punk years, and I try to apply the hard edge of that era but also bring luxury and sophistication of now. Oh and sexy too.
What's your favorite material or fabric to work with? Neoprene, spandex, chiffon, tulle, silk georgette and cottons. Also I like to experiment with unconventional materials at times.
What fashion faux pas drives you crazy? Ugg boots in the summer.
Who are your favorite style icons? Daphne Guinness and Bjork.
What celebrity would you like to design for? Bjork. I would make a futuristic voluminous gown and style her very alien-like. Or Roisin Murphy, a very sleek jacket with some leather-like fabric pants and a glossy top.
What's your favorite hangout back home? Central Park and Fred's at Barneys New York.
What are your favorite movies and TV shows? Movies: Back to the Future, Avatar, Like Water for Chocolate, To Wong Foo. TV: Project Runway, The Walking Dead, Strangers With Candy.
What are your favorite books and authors? Zecharia Sitchin and all his books!
iPhone, Android or BlackBerry? iPhone.

Guiltiest pleasure? Shoes.
Favorite designer from past seasons of Project Runway? Jay, Christian Siriano, Mondo Guerra.
How did you end up auditioning for Project Runway? Something told me to do it, so I went to the audition and I was so nervous, but at the end had a fab time.

Project Runway airs on Lifetime TV Thursdays at 9pm.
SUBSCRIBE AND FOLLOW
Get top stories and blog posts emailed to me each day. Newsletters may offer personalized content or advertisements.
Learn more