extra extra read all about it
I rock the mike ain't no doubt about it
because I'm extra I'm feeling extra I'm gonna bless ya
what? huh!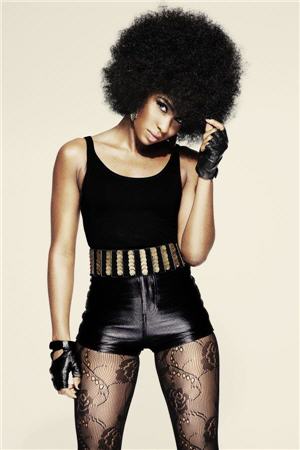 So chants Shea Rose in the song "Extraordinary Girl," from her kickass 2011 mixtape Little Warrior. Rose is having quite the year (and it's only April!), and looks forward to this Saturday, April 21, where she'll be opening the show for Australian artist Sam Sparro at New York City's Highline Ballroom. A recent graduate of the Berklee College of Music, she won raves as the Red Bull Soundstage featured artist at SXSW just a few weeks ago. She also garnered the SESAC National Performance Activity Award for her collaboration on Terri Lynne Carrington's Best Jazz Vocal Grammy winning album The Mosaic Project.
Last fall Rose was awarded R&B/Soul/Urban Contemporary Artist of the Year after tearing the house down with her amazing set at the Boston Music Awards. The Boston Globe wrote that Shea "proved herself the Boston artist most likely to make an impact on the national stage this year with a soulful set of hip-hop-inflected funk and rock -- and a crack band that showcased the vibrant singer's star power." According to Globe writer James Reed, "She is set to have an eventful 2012."
Coming from a musical family -- her grandfather played jazz organ at Boston's Hi-Hat Lounge, her dad was a bass player, and her brother is a drummer who sometimes collaborates with her on songwriting -- Shea grew up listening to "everything I could get my hands on from Stevie Wonder to Nina Simone to Jeff Buckley... it's all soul music to me." As a young girl, she was entranced by music and interned at MTV, writing scripts for veejays. Working around musicians in New York inspired her to return home to Boston and enroll at the Berklee College of Music. The Little Warrior mixtape was made with help from some Berklee friends like Carl Seante, Kywon Q Kim, Kofi Owusu-Ofori, as well as her brother Daniel. Queen Latifah, who chose her as a spokesmodel for the Cover Girl/Ignite Your Persona campaign, has called her "America's next female rapper."
Rose is also heavily involved in her own social change initiative, My Angel Wears A Fro. "My Angel Wears A Fro came about in 2009 when I became the student leader for The Movement @ Berklee, a volunteer program at my college," she explained. "I set up volunteer initiatives between Berklee students, faculty and staff and partner organizations like The Boys & Girls Clubs in Boston. I began to realize how important giving back to my community, our nation and the world at large is, so I decided that every year I would do something to give back to my community through a music for social change performance, music clinic or volunteer opportunity. "
Shea plans to head into the studio soon to start work on her second full-length EP, Dance This Mess Around. According to Lauren Carter of the Boston Herald, "Shea Rose has created her own niche... a blend of hip-hop, R&B, jazz, funk and rock that leaves her virtually peerless in the urban-music world." Steve Morse, former music critic at the Boston Globe, described her as "that rare artist who can bridge diverse styles such as soul, funk, rock, rap and jazz -- and bring her unique stamp to each." It's clear that she is, absolutely, an Extraordinary Girl.
More information on Shea Rose can be found at her website www.shearose.com
SUBSCRIBE TO & FOLLOW ENTERTAINMENT
THE spot for your favorite fan theories and the best Netflix recs. Learn more