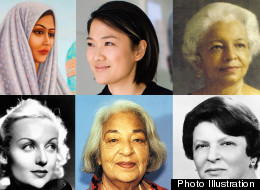 "Women and men have been and will always be equal in the sight of God" --Bahá'u'lláh.
For Bahá'ís, equality and empowerment are essential spiritual principles. This is illuminated by the metaphor "The world of humanity is possessed of two wings: the male and the female. When the two wings ... become equivalent in strength, enjoying the same prerogatives, the flight of [humanity] will be exceedingly lofty and extraordinary.
With these emphatic statements, the worldwide Bahá'í community has been at the forefront of the movement to advance the rights of women since its start more than 160 years ago, resulting in countless Bahá'í women of startlingly diverse backgrounds influencing many fields. Below are just a few.
This article is dedicated to Mahvash and Fariba, and countless unjustly imprisoned women and men worldwide. Their courage, fortitude and inspiration build a better world for all.
10 Baha'i Women That Everyone Should Know
Tahirih (ca. 1817-1852), eminent Iranian poet-scholar; one of the original 19 followers of the early Baha'i movement. As she was put to death she exclaimed, "You can kill me as soon as you like, but you cannot stop the emancipation of women." She is considered the first woman suffrage martyr.

Carole Lombard (1908-1942), considered the most successful actress in 1930s Hollywood and a pioneer in "screwball comedy," was married to Clark Gable and said to have been Lucille Ball's inspiration for "I Love Lucy." She died tragically at age 33 in a plane crash on her way home from a war bonds rally that raised more than $2 million. President Franklin D. Roosevelt called her the first woman to die for her country in World War II, and she was posthumously awarded the Presidential Medal of Freedom.

Dorothy Nelson (b. 1928) is a United States Federal Judge who started and popularized mediation in U.S. courts. She was the University of Southern California's (USC) first woman law professor. When named its Dean in 1969, she became the first woman dean of a major American law school. She is the longest-serving member of the U.S. Baha'i administrative council.

Zhang Xin (b. 1965). A former factory worker, Zhang is CEO of Beijing's largest commercial real estate developer, regularly featured on lists like Forbes magazine's "World's Most Powerful Women" and "Top Ten Billionaire Women We Admire." She was just featured in the Newsweek cover story "The Rise of China's Billionaire Tiger Women," and is known for her commitment to justice, equality and ethical business. See an interview with Fareed Zakaria of CNN here.

Patricia Locke, Tawacin WasteWin, "she of good consciousness, a compassionate woman" (1928-2001)' won a 1991 MacArthur Foundation "genius award" for her groundbreaking work to preserve Native American languages and cultures which had previously been suppressed, and in 2005 was inducted into the National Women's Hall of Fame. She helped organize 17 tribally-run Lakota colleges and served on the U.S. Baha'i administrative council.

Mildred Root Mottahedeh (1908-2000), co-founder of the Mottahedeh fine china company and global leader in business, design and philanthropy. Her designs have graced the tables of the White House and three Presidential inaugurations. Present for the signing of the original United Nations charter, her commitment to global peace and prosperity was manifest in her pioneering support for girls' education 50+ years ago, particularly in India.

Layli Miller-Muro (b. 1972), just named by Newsweek magazine among its 150 Fearless Women Leaders, Layli also received the 2012 Diane Von Furstenberg People's Voice Award for her service as Founder and CEO of the Tahirih Justice Center (named for Tahirih on this list), which protects immigrant women fleeing violence, and winner of the Washington Post's Award for Excellence in Non-Profit Management.

Mahvash Sabet and Fariba Kamalabadi (b. 1953 and 1963 respectively), charged with "corruption on earth," they are in their third year of a 20 year sentence in the harshest Iranian prisons. Both were volunteer leaders of the Baha'i Institute of Higher Education (BIHE), serving Iranian youth denied access to higher education. Despite the regime's best efforts to destroy it, BIHE is recognized by Harvard and other top universities worldwide.

H. Elsie Austin (1908-2004), was a pioneer in the civil rights movement. In 1930 she was the first African-American woman to graduate from the University of Cincinnati College of Law and to serve as Assistant Attorney-General of Ohio. She spent her career in public service and she created the U.S. Information Agency's first women's activities program in Africa.

Her Majesty, Queen Marie of Romania (1875-1938), a granddaughter of England's Queen Victoria on one side and Tsar Alexander II of Russia on her mother's side, is considered the first member of royalty to declare herself a Baha'i. During WWI she volunteered as a Red Cross nurse to help the sick and wounded. After the war ended, she represented Romania at Versailles, gaining back territory lost during the war.
Follow Homa Sabet Tavangar on Twitter: www.twitter.com/growingupglobal