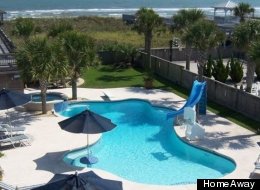 Hours of sitting in front of the TV watching the Summer Olympics might inspire you to engage in a little friendly competition of your own. But what if you don't have a venue for tennis, swimming, or beach volleyball in your backyard? Rent a vacation home that does!
These 10 amazing rentals have the sport courts and water venues you need for hours of play, along with space for your gang to relax and hang out together.
So round up your team for an active vacation, Olympic-style, where bragging rights take their place next to sunscreen and drinks with little umbrellas in them.
Top 10 Sporty Spots to Host Your Own Olympics
Host your own Summer Olympics at this Ocean Isle Beach house in North Carolina. The competition will heat up on the diving board, the water slide and at the pool basketball hoop, but you can cool off in the surf, just a few steps away.

Dominate the water polo and the "Marco-Polo" in Bradenton, FL, where you can also host a tennis tourney on the adjacent courts.

Your adoring fans may miss the diving action as they relax by this San Antonio home's pretty pool.

Show off your best one-and-a-half-with-a-twist in this sunny pool on vacation in Hilton Head Island.

Swim for your personal best at this Scottsdale home with a pool, then take on your competition - er, family - on the putting green.

Make sure you assign someone to the task of photographer to capture the action in this picturesque Austin vacation home's swimming pool.

The championship courts at this Kohala Coast vacation house will inspire you to practice your game.

There's plenty of Olympic-style fun at this Palm Desert, CA, home -- swimming, tennis and ping-pong.

Charge the net at this vacation rental on Marco Island in Florida, where you can also organize a friendly game of bocce ball.

Show the swimming competition who's the best at handstands, chicken fights and belly flops at this screened-in pool in Clermont, FL, 10 minutes from Disney World.
--posted by Kiley for the HomeAway team
Follow Home Away on Twitter: www.twitter.com/HomeAway