There's nothing like a good old-fashioned hayride to get you into the Halloween spirit. Here are some of the best across the country: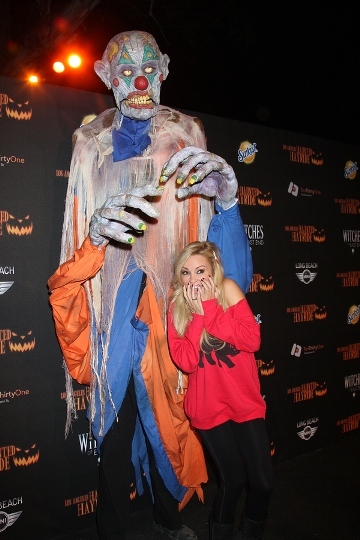 Star Bridget Marquardt poses with a scary clown at the premier of the Los Angeles Haunted Hayride.
1. Headless Horesman's Hayrides
The legendary Headless Horesman Hayride will take you on a one-mile journey into your future... but the problem is your future has been cursed! The most veteran of all haunted house goers and horror movie watchers will not make it through this hayride without letting loose a scream (or three).
2. Bates Motel Hayride
Seventy-five actors and 25 scenes -- including a drive thru insane asylum, over the top pyrotechnics and "petrifying" clowns (as one reviewer put it) -- all add up to one scary hayride. The Bates Motel includes a haunted house, trail and hayride.
3. Dead End Hayride
You may have to drive a little outside your comfort zone to enjoy this hayride, but that makes it all the scarier. The Dead End Hayride will take you deep into the dark woods, never to be seen again (Just kidding about that last part!).
4. Los Angeles Haunted Hayride
Parking and waiting in line can be a hassle, but if you get to this haunted hayride early enough, you can focus your full attention on the thrills. L.A.'s hayride might not be quite as terrifying as some, but it's a lot of fun and has plenty of high quality, well-designed scares up its sleeves. Plus, the setting is in beautiful Griffith Park!
5. Not-So-Spooky Hayride
Not all haunted hayrides have to keep you up at night. This attraction -- along with Abby Cadabby's Magical Halloween Maze, the Rubber Duckie Costume Party and the Count's Un-Haunted Castle Maze -- is a great one for the entire family, especially if you want some photo ops with Sesame Street's most lovable characters.
-- by Laura Hoot