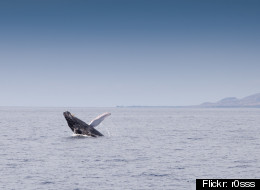 Rockefeller Center is crowded, snow is overrated, the in-laws are nosy and the cat always gets stuck in the Christmas tree. Why not switch things up this holiday season? Consider Maui for Christmas -- it's different, it's sunny, it's Hawaii at its best, and it's even got humpback whales!
Replace door-to-door caroling with tree-to-tree zip lining, snow men with sandcastles and extended family with extended peace and quiet. Here are seven reasons you should go to Maui this Christmas.
Posted by Laura for the HomeAway Team
7 Reasons You Should Go to Maui This Christmas
Okay, so roundtrip airfare to Hawaii can be a little offensive. A couple tips to keep costs low: book a "red eye" flight (think 3 am departure) with multiple stops, and do your flying on week days (except for Christmas day, which is a Tuesday). Once you get to Maui, relax. It's easy to save money from this point on, especially if you consider Maui vacation rentals. For example, beach houses in Lahaina start at $59 a night. Plus, they're bigger than hotels and come with full kitchens for cheap nights dining in. What's Free: • Iao Valley State Park • Wailua River State Park • Wai'anapanapa State Park • Dazzling beaches, like Kaanapali Beach • The gallery at the Maui Arts & Cultural Center • Scenic drives along Hana Highway What's Cheap: • $3: entrance to the Haleakalā National Park • $35: admission to the Maui Ocean Center Aquarium (in Wailuku) for a week • $3: admission to the Whalers Village Museum in Lahaina • $5: tours at the historic Kamokila Hawaiian Village in Wailua

… or surfing, snorkeling, scuba diving, sun bathing, fishing, seashell collecting - you name it! December weather is fantastic, with temperatures hovering in the 70s. Be prepared for the occasional shower, though, as rain makes many appearances this month. However, a few drops are easy to overlook since Maui sports the best beaches in all of Hawaii. Top Maui Beaches • Kaanapali Beach – for snorkeling • Kamaole Beach Park in Kihei– for traditional fun in the sun (sand volleyball, etc) • Hamoa Beach in Hana – for body surfing • Kahana Beach Park – for windsurfing • Keawakapu Beach – for collecting seashells

December kicks off whale watching season in Maui. If you're in the west or south part of the island, you're in for a treat. The mountains tower over the water here, making the shores quiet, calm and easy for spotting humpbacks (which almost went extinct during Maui's historic whaling days). The pier on Lahaina Harbor is a great viewing spot, as is Maalaea Harbor and McGregor Point. But if you really want to get up close and personal with these giant beasts, hop on a tour. Also, don't forget the Whalers Village Museum in Lahaina.

Soak up views of west Maui's north shore while you dine at the casually elegant Plantation House in Kapalua (start with some sushi or calamari and then work your way up to a Filet Mignon or New York Strip). Or try the champagne-poached Lobster at the Hula Grill, a beach house restaurant in Kaanapali. For breakfast, there's no better bet than Lahaina's Duke's Beach House, where you can order Hawaiian-style eggs, omelets, pancakes and French toast. There's also renowned sashimi at Mama's Fish House in Paia, and the Lahaina Grill (in Lahaina), where you can feast on everything from escargot to ribs to veal. Staying in Hana? Don't miss out on mouthwatering coconut ice cream at Coconut Glen's. Many Maui restaurants serve a Christmas dinner.

Traveling with your sweetie, or perhaps the whole crew (kiddos plus the family dog)? There's no bickering over the itinerary in Maui, because everyone is guaranteed good memories. Maui is both romantic and kid-friendly, an enviable combo. • Golfers: You've hit the jackpot. World-class courses with a view are scattered all over the island – favorites include the Plantation Course in Kapalua and the Wailea Golf Club. • Adrenaline junkies: Go zip lining, or take it up a notch with some sky diving. • Nature lovers: Whale watching on McGregor Point, hiking and riding horseback at Haleakalā National Park, spying on endangered birds at the Hanawi Natural Forest Reserve in East Maui… Maui is nature at its most tantalizing. • Kids: Besides the beach, there's the Maui Ocean Center Aquarium in Maalaea, the Birdstand in Lahaina, and Glow Putt Mini Golf, also in Lahaina. • Couples: Head to hard-to-reach Paako Beach on the South Shore for a beachfront stroll at sunset, or if you're in Kapalua, grab a bite to eat at Merriman's, known for fresh, local catches and great views. • Shoppers: The best hubs are the Shops at Wailea and Whalers Village in Lahaina.

"Christmas vacation" is almost an oxymoron when you're home over the holidays. The jam-packed shops, back-to-back parties, and visits from the relatives make the holiday season busy, dizzying, and maybe even headache-inducing. But in Maui, the "Aloha Spirit" outshines the "Holiday Spirit." You can still visit Santa, go holiday shopping, and hang out with loved ones, but you can also sneak away to a secluded beach and sneak out of family obligations back home. If you're having trouble unwinding, get a "Lomi-Lomi" massage at one of Maui's top spas, like the Spa at Black Rock in Kaanapali.

The trees of Banyan Tree Park in downtown Lahaina light up, and holiday crooners serenade souvenir hunters at the Shops at Wailea. If you visit in early- to mid-December, you can attend a generous offering of Christmas concerts, parades and tree lightings all over the island. Book a beach house and you can decorate, set up a tree and even cook up a holiday ham for the family.
Follow Home Away on Twitter: www.twitter.com/HomeAway